Make bridal bouquet designs
Loose hand ties
It takes a little practice to make bridal bouquet designs like a professional florist.  Modern bouquet designs are typically large and lush, mixing combinations of flowing greenery, large headed flowers and draping accents.
Click on each thumbnail image below for a step by step demonstration of various techniques for achieving this look.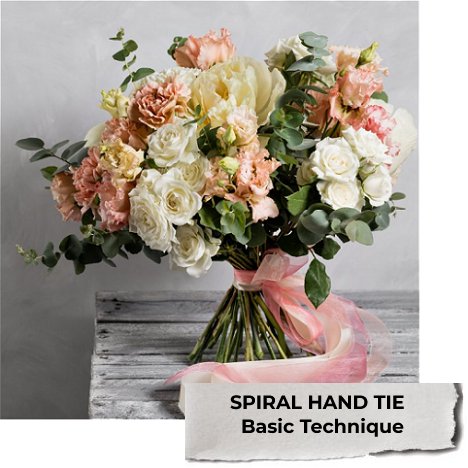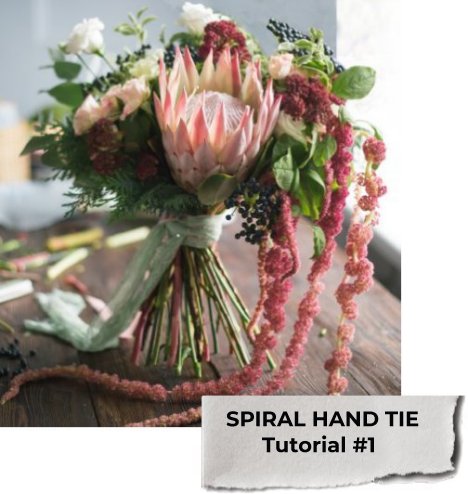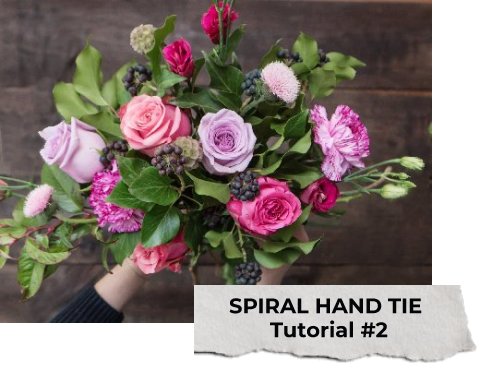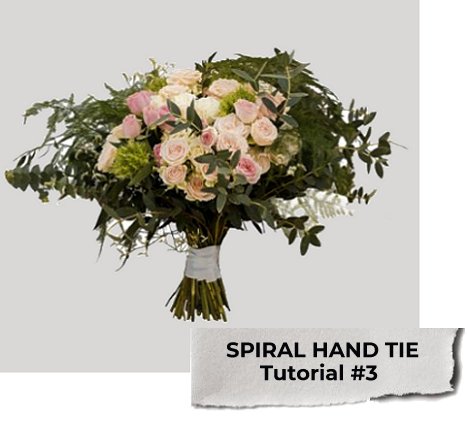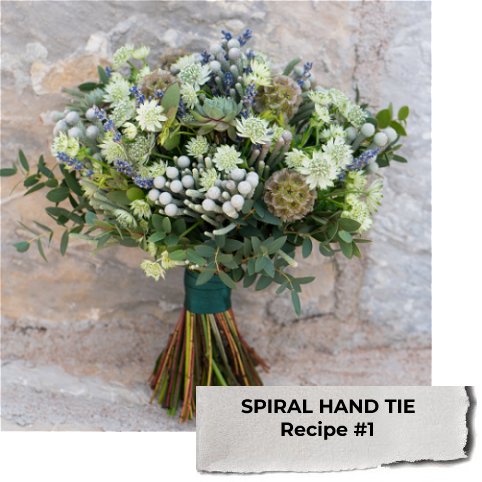 Prepare you design space ahead of time, giving yourself plenty of room with your floral tools close at hand.  You'll need floral scissors, heavy pruners, and either waxed string or floral adhesive for binding the design once completed.
I like to line up the different flower and greenery in vases in front of me within easy reach as I construct the bridal bouquet.
Most modern hand tied designs are either round or asymmetrical (wider on the sides).  If you want a wider oval design, after you've achieve the inner portion, add more to each sides, creating more of an oval rather than a perfect round circle of flower heads.
Choose flowers for not only color, but for a variety of head shapes and textures, making your final design more interesting.  Don't forget to incorporate different varieties of greenery.  That is a wonderful way to stretch the flower budget and add interest.  Mix up your choices, giving different shades of green to the pale velvety textures of lamb's ear or dusty miller.  This is harder for some DIY brides who are purchasing their flowers and greenery on the internet.  Some wholesale sites demand that their customers buy in huge quantities.  I sell both in single bunches (to let you afford to mix up your flower and greenery choices) or buy in larger quantity lots (shipped straight from the farm to save you money and shipping costs).
Keep in mind that some flowers do not hold up well without a water source (such as a bouquet holder).  That's when you might want to consider using a "mock hand tie" - where the flowers are actually in a flower foam holder, but the handle is hidden beneath the steps of the flowers creating the illusion of a traditional hand tied design.
Once you explore the tutorials, you can then move on to the bouquet recipe pages, which show you many different looks.  Don't feel like you have to copy a bouquet exactly as shown.  Substitute either colors or flower and greenery varieties. Both the flowers and greens are identified in each tutorial so you can recreate them for yourself!