Make Your Own Bridal Bouquets
To make your own bridal bouquets takes time and a lot of planning.  Flowers are a large part of a bride's budget and can quickly run up the total bill.  Pick and choose what you would like to make, whether it is your own bridal bouquets, corsages, boutonnieres, centerpieces or your outside wedding decorations.
Don't overwhelm yourself by taking on too many projects, but pick and choose what would cost you the most.
This tutorial explains how to make a Spiral hand tied bouquet.  It can be a little tricky, because you have to hold your flowers in one hand while adding each flower variety with your free hand
The technique for spiral hand ties is the same whether you are using greenery or different varieties of flowers.  The spiral is extremely popular with today's brides and can be finished up with ribbon ties, bows, decorative wire or other finishing decor.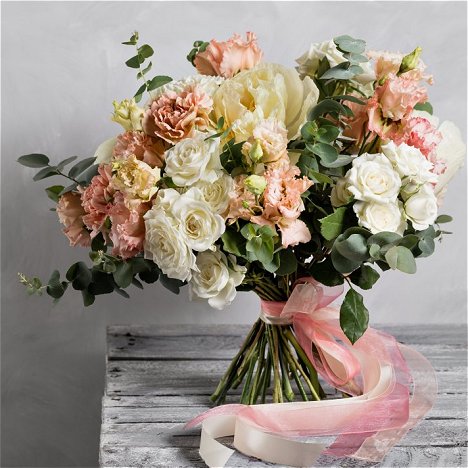 If your goal is to save money, add in lots of greens and some cost conscious flower varieties.  Eucalyptus, leather leaf fern and seeded eucalyptus add a lovely accent of different colors and designs.  
My video tutorial below demonstrates just one of the many tutorials that teach how to make your own bridal bouquets.   I have even longer, more detailed tutorials for wedding bouquets that show you photo by photo with a full explanation of every step. They include directions for round, crescent, hand tied, cascading, teardrop, free style and arm bouquets.
I suggest you have all your flower varieties laid out on your work table or lined up in vases, which gives you easy access to the next flower or green you need to add after rotating your bouquet.