cascading wedding bouquets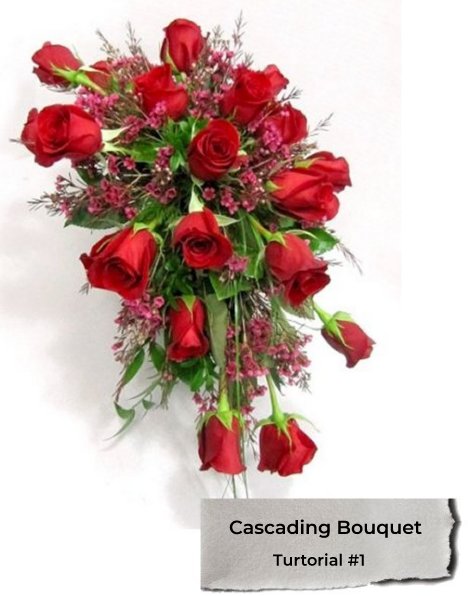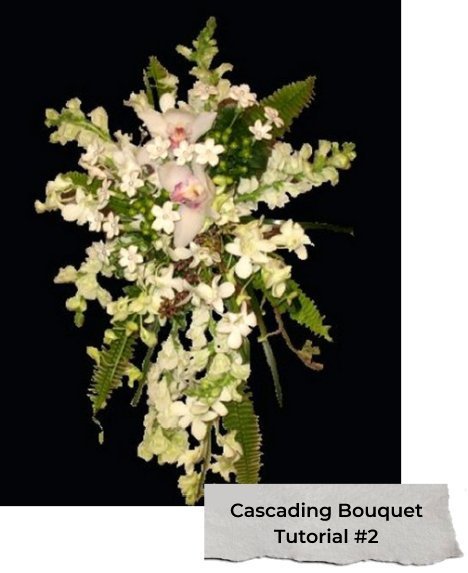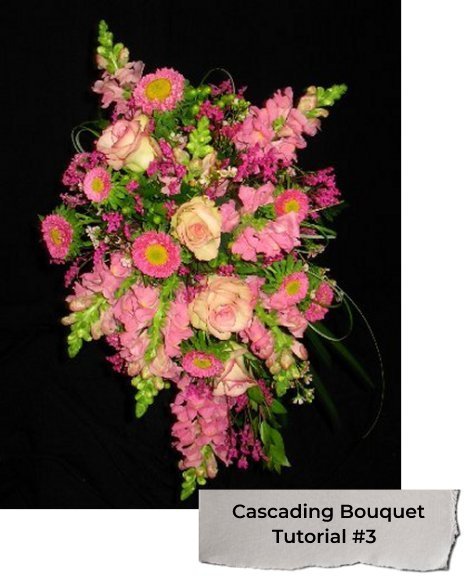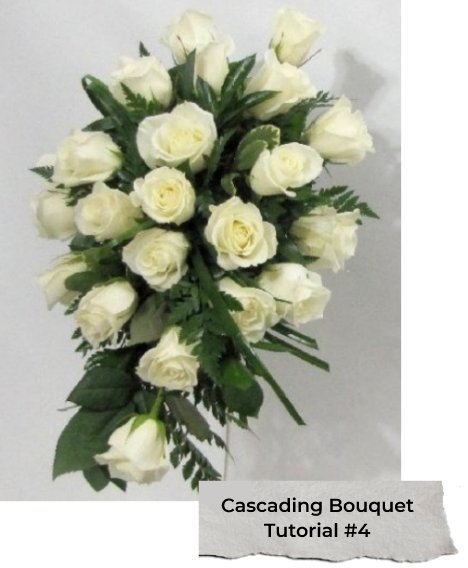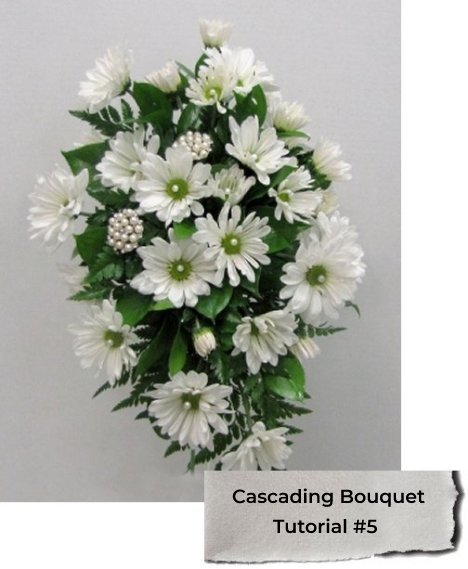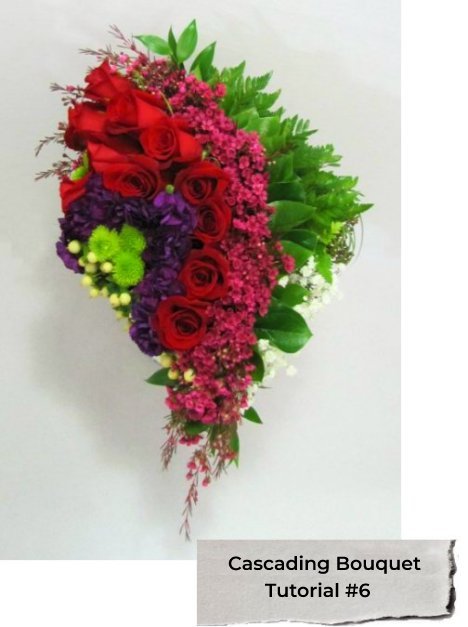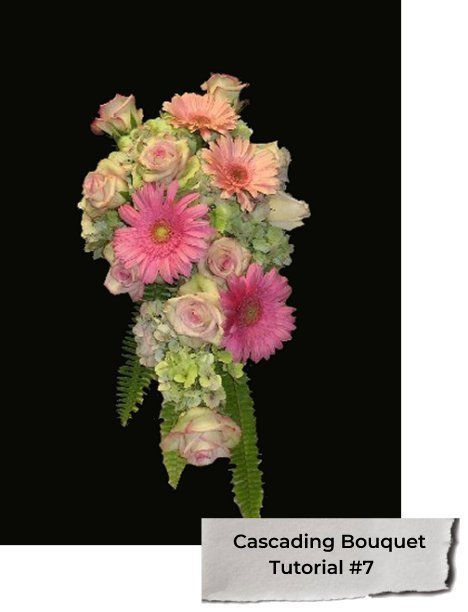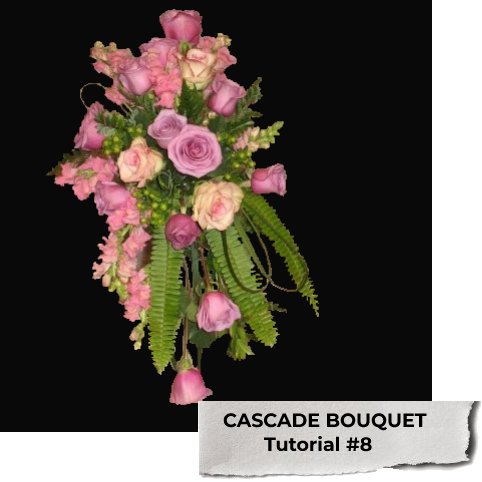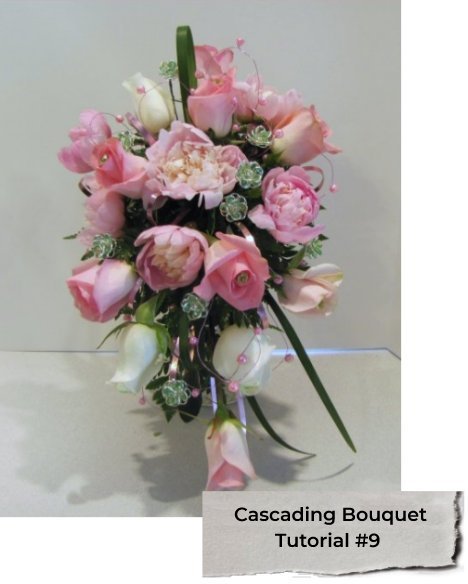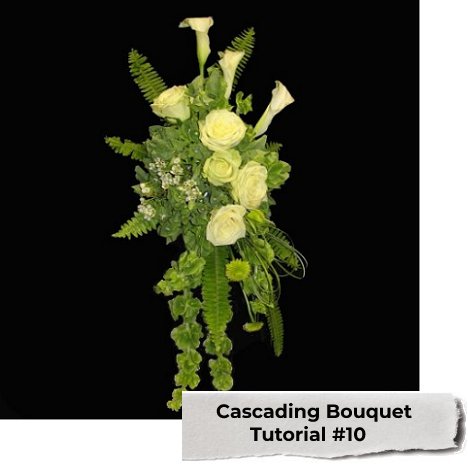 Following my step by step tutorials will have you designing cascading wedding bouquets in no time.  Tips and tricks used by professional florists to complete flower designs quickly and keeping them in top fresh state for the wedding day.
You will find products and fresh flower lists for each tutorial, but don't feel like you have to follow them to the letter.  I break down all the basic bouquet shapes in my tutorials.  You can change the flower recipes to include your favorite flower varieties and colors.
Cascading wedding bouquets should always be made scaled to the size of the bride.  Believe it or not, fresh wedding bouquets can be pretty hefty to carry down that aisle, so keep a full length mirror handy while designing so you can hold the bouquet in front of you and judge how big you should make it.
I also recommend that you write up bouquet recipes for every floral you plan on making - counting out estimated flower stems needed for each design.  With these recipes as handy references, you can feel confident in ordering the right number of flowers.
As soon as the flowers arrive and you've cut and processed them correctly, you can separate out in separate buckets for the attendant's bouquets, corsage work, boutonnieres and (of course), setting aside the best blooms for the  the bridal bouquet.
This keeps you from being tempted to "add just one more" . . . and eventually running yourself short as you get down to the final corsage or boutonniere.
Years ago it was typical to designing cascading wedding bouquets by hooking a wire completely through the bouquet holder and wiring it in place.  Nobody wants that beautiful cascade to fall out halfway down the church aisle!
No worries with today's modern cascades!  I use a handy product called Floralock Stem Adhesive.  Once you are completely done designing, shake the adhesive can throughly  (no . . . really shake it like crazy to aerate the glue properly), attach the red nozzle that comes with the can and insert it carefully in between the flower heads and squirt on the stem insertion points in the Maxlife florist floam.
Short bursts are the best, so as not to have too much glue come out at one time and drip down the bouquet handle.  Rotate the bouquet while spraying, taking care to squirt a little of the adhesive around every flower stem.  The glue dries quickly and the stems stay fast to where they belong!
Do not spray so much glue that it drips down over the handle, or your bride will be carrying a sticky mess.
Once you've familiarized yourself with all my cascading bouquet tutorials, move on to the cascading recipes for all kinds of different flower varieties and color palettes.