How to make a bridal bouquet
Following links on this website and making a purchase could result in a commission to the owner of the website
Learning how to make bridal bouquet designs centers around basic skills.  This includes processing fresh flowers correctly and mastering the art of greening.  Many different version of the same bouquet can look very different simply by changing flower varieties or color.
For example, this bouquet uses the same greening steps as shown in a previous tutorial for making a pink wedding bouquet.  
Now let's change that same bouquet into a completely different look by using  different focal and secondary flowers.
The former bouquet is very "pink" and features snapdragons, wax flower and dyed statice.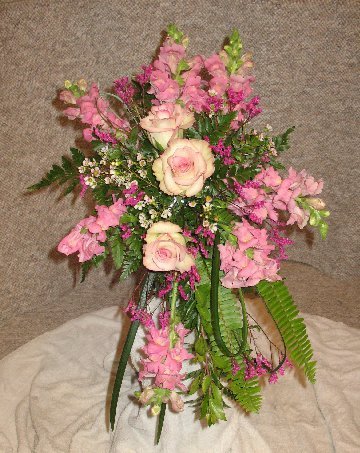 After you've complete the basic greening, I'll show you how to make this bridal bouquet.  You'll need the following:
1 Grande Slanted Belle Bouquet Holder (straight if you want to do a "mock hand tie" look.
8 stems leather leaf fern
2 stems flat sword fern
1/2 bunch Lily Grass
1/2 bunch Bear Grass
12 lavender roses
4 stem Volk (Bright Blue) Delphinium
12 stems white stephanotis
12 stephanotis stems
3 miniature pink (variegated) carnations
3 stems lavender freesia
2 stems green hypericum
Floralock Stem Adhesive
Finishing Touch Flower Sealant
Wired Cowee picks, toothpicks or wooden skewers
Green the bouquet holder as shown in previous tutorial.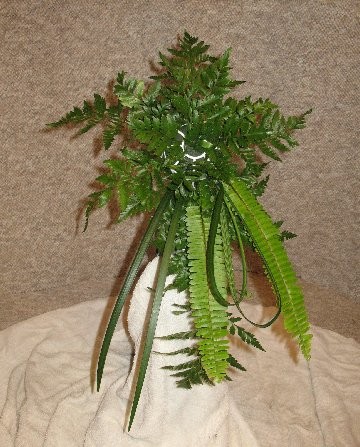 Peel away any damaged or discolored outer rose petals.
Pay attention not only to inserting roses once (inserting and removing several times can degrade the florist foam), but the angle in which you insert the roses.
Insert your lavender roses as show, with the center rose facing straight out, the next rose up tilting away from center rose and the final, top rose facing straight upwards.   As the main focal flower, the rose in the center is protruding out slightly farther than the other two roses.
Depth perception is a key element of flower design.  
Hypericum is a wonderful accent.  Not only does it add a bright accent color, the round clusters of berries ad a lovely texture difference.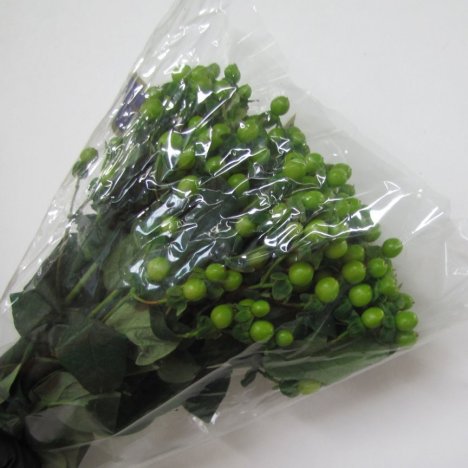 Now cut your hypericum berries into manageable lengths.  Their own natural stems are firm and slide easily into the floral foam.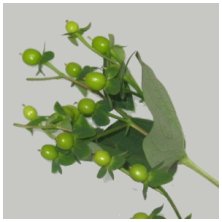 Place 3 or 4 clusters of berries surrounding the center focal flowers.  Add a longer rose at the bottom, defining the length of your final cascade.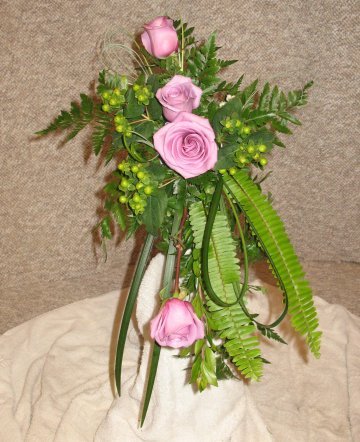 Cut two roses and insert them around the perimeter of the bouquet, with the rose facing outward (a 90 degree angle from the center rose).
Place more of your roses in the bridal bouquet, taking care what direction each flower head faces.  Note that I do "cluster" roses . . .  meaning I don't do perfect distances from each other.  Changing depths and flower clusters give a more casual look to this cascade.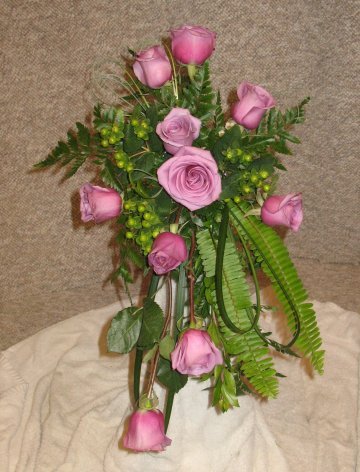 On the previous bouquet, I used bright pink snapdragons.  To make this bridal bouquet, I'm substituting a different linier flower.  Bright electric blue gives a huge pop of color, contrasting with the cool blue-violet of the roses.
Cut your delphinium stems into different lengths and tuck in between the roses and hypernicum berries.
Stephanotis typically come in a pack of 25 blooms to a box.  These flowers are also known as jasmine and have a lovely fragrance.  Treat them carefully, refrigerating until use and taking care to wash your hands before handling.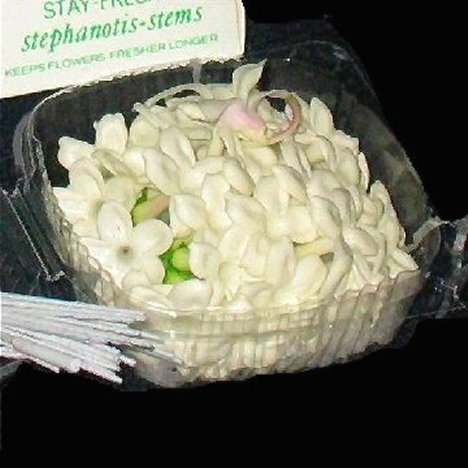 The white petals are delicate and can brown easily from the oils off your fingers.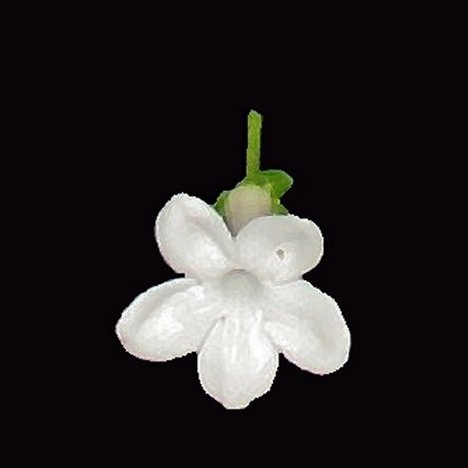 Stephanotis stems are wired and have an absorbent tightly rolled cotton top that is gently inserted into the throat of the flower.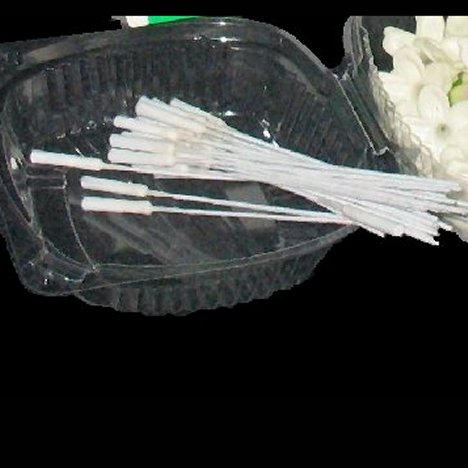 Soak the flower pics in water treated with a flower food.  Pop off the leaf cluster at the bottom and gently insert the wet stephanotis pic into the bottom of the flower.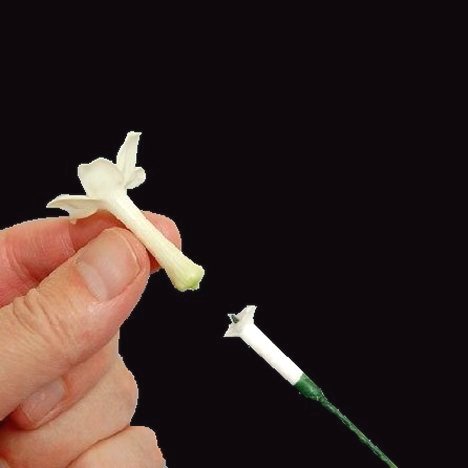 Now you have a hydrated flower with a built in wire stem for insertion into your bridal bouquet.
I pick all the stephanotis blooms I will need for making the design and insert them into a stiff styrofoam base until needed.  Mist with Finishing Touch and refrigerate after dry.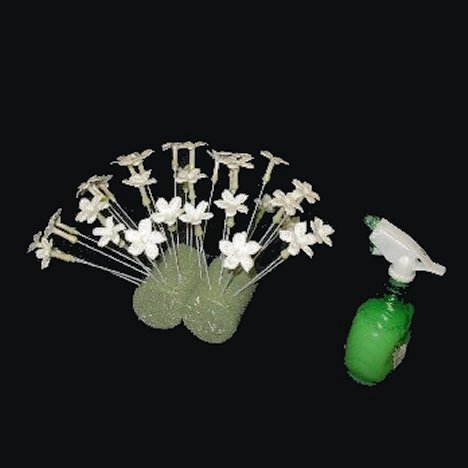 If you wish, cut pearl headed corsage pins to a shorter length and insert into the center of the white blooms.  You have to be extremely careful when cutting the pins, as the shards of metal could be dangerous.  Take extra precautions and always wear safety goggles.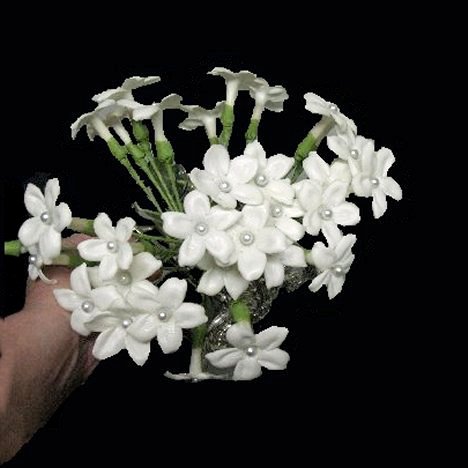 Remember to cluster some, and spread the other stephanotis in between the other flower heads.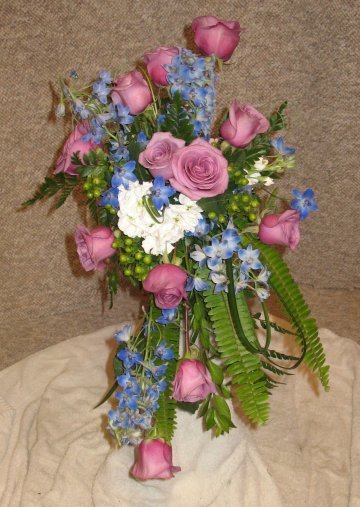 Scatter these lovely star flowers within the bridal bouquet, clustering here or there.  Now cut the miniature carnations and lavender freesia  to lengths and use as the final accent flowers.  
I have several tutorials on how to make bridal bouquet designs that teach how to create a "mock hand tie" by using the discarded flower stems.  You can also finish with either a decorative wire wrap or ribbon wrap.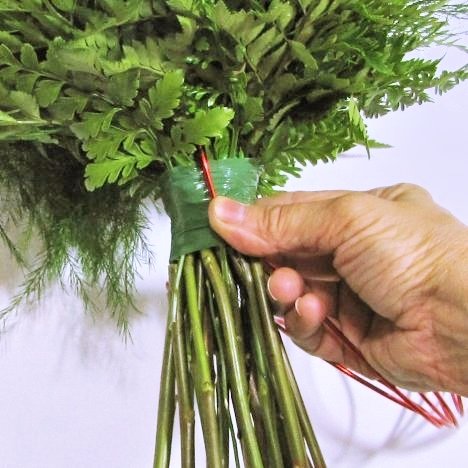 I typically use Floralock Stem Adhesive to secure the flowers into the bouquet holder.  Follow the directions on the can and always SHAKE THOROUGHLY.  This aerates the adhesive and lets you use all the can. 
Insert the red nozzle in between the flowers and give short bursts where the stems insert into the foam.  Allow to dry and don't overdo, as glue can drip down over the handle and make it stickly.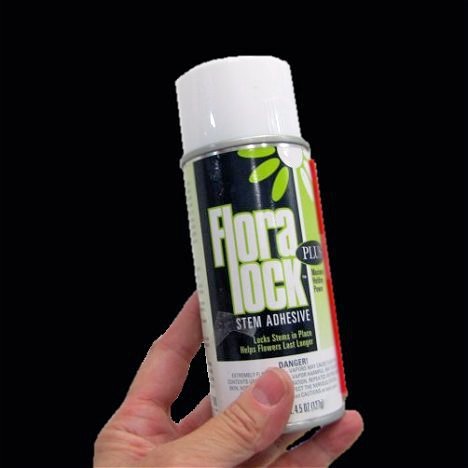 Always mist the finished bouquet with a flower sealant such as Finishing Touch and allow to dry before placing the bouquet in refrigerated storage.  Remember that the backs of home refrigerators can be too cold, so don't place them in that area.  
Refrigerators are typically colder than a professional flower cooler, so turn it up a few degrees.  Never store your flowers with any type of fruit, which can give off a gas that could affect the flowers.