topiary wedding centerpieces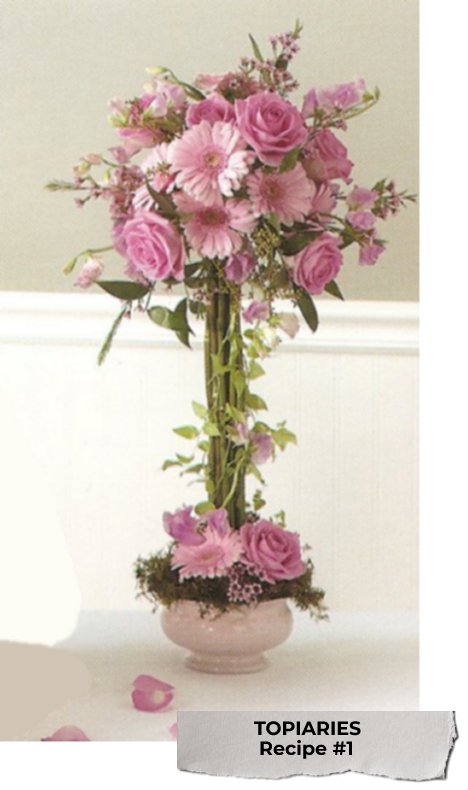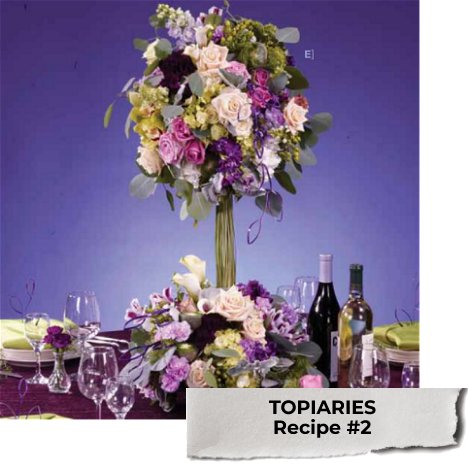 Topiary wedding centerpieces can be a little bit challenging for the DIY bride.  The actual flower design is like other centerpieces, but it is the mechanic construction of the piece that is more time consuming.  You must build the framework of your topiary and create it so you can put the final design together at the venue.
Although you could construction the entire topiary at home, both the height and style of this flower centerpiece is difficult to transport.  Even professional florists don't like to hand their floral masterpiece over to a delivery driver who may take those corners at little too fast!
That being said, you still want most of the work to be done so that these centerpieces can be assembled quickly and move on to other projects.
One thing you'll notice is that most of my tutorials use Oasis Netted Spheres.  Florist foam suspended into the air has a lot of weight plus a lot of flower stem insertions.  The netting helps maintain the integrity of the foam.  Before the netting option was available, florists would wrap their foam balls with waterproof greening tape to help support the ball.
You also must ask yourself what you plan to use to suspend the sphere in the air.  Wet foam is heavy, so be sure that your center support is strong enough to hold it securely.  You may not want a wooden dowel to show, but you can always conceal it with curly willow, trailing greenery or ribbon.  
The next consideration is the base.  You want to be sure to counterbalance any elevated flower arrangement with a large and heavy enough base to keep it steady.  It would be quite embarrassing if one of your beautiful florals toppled over into a wedding guest's plate during supper!
Like all fresh flower designs, be sure to start with the correct method of processing your flowers the moment they land on your doorstep.  This step is critical, as is the use of several professional products that help slow the aging process.  Keeping those designs fresh through your wedding day by following a few basic steps and remembering that flowers are a living product that need both food and water to last a long time.
Be sure to browse all the flower tutorials.  You'll pick up many handy design tips that will make YOUR designs the hit of the evening!