topiary wedding centerpieces
Following links on this website and making a purchase could result in a commission to the owner of the website
Topiary wedding centerpieces can be used as a large altar spray, to greet guests at a foyer table, an outdoor wedding decoration or to grace a luxurious banquet table.  Although it takes longer to construct, this beautiful flower decoration is well worth the time.
To create a similar look, you'll need the following products, supplies and fresh flowers:
Always float soak florist foam in water treated with a professional florist food.  Please don't skip the recommended products.  Treating your flowers and processing them as a florist would ensures that your farm fresh flowers stay beautiful up to and through your wedding day.
The gladiolus need to be allowed to open as fully as possible (place in a bucket near a warm window - but do NOT place in direct hot sun).  The gladiolus stems are going to be the middle support for the topiary.  Cut the stems off just an inch or so below the bottom florets.  
Insert 1/2 of the florist brick into the corso cage and the second half into the terra cotta container.  Leave the plug in the container so it doesn't leak.
Insert the glad stems deeping into the center of the foam, very closely together.  Bind with Oasis waterproof tape.
Insert the corso cage onto the top cut portion of the gladiolus stems.  Insert several of the 12" wooden stakes down through the corsage cage into the gladiolus stems center support.  On the underside of the corso cage, insert two crossed wooden stakes and cut closely to the center support.  The point is to make sure the corso cage is firmly attached to the center support stems.
Cut the gladiolus blooms apart, leaving a slanted cut to insert into the corso cage foam.  Add the rest of the flowers as shown in the photo.
Fill in the top of the clay pot with cut stems of miniature myrtle.  Conceal the waterproof tape on the support with lavender ribbon, folding the cut end of the ribbon over and pinning into place with corsage pins.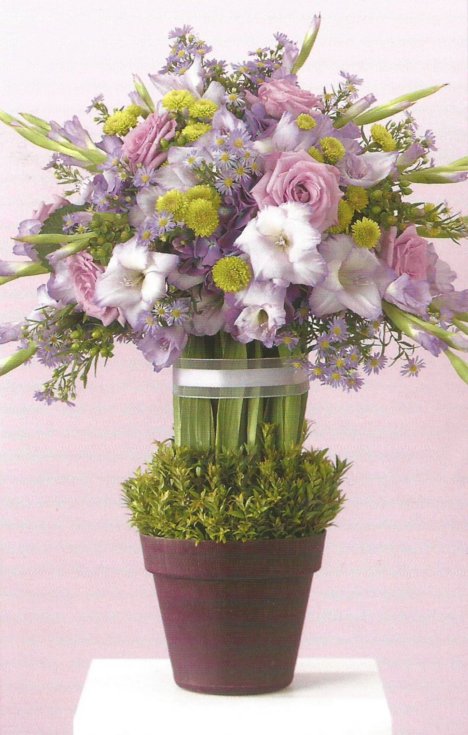 If you have never designed before, and need more detailed help, be sure to read through the detailed tutorials for wedding floral centerpieces.  You will find photos that walk you through every detail, including bricking in foam, flower preparation and more.