white candelabra flowers
Following links on this website and making a purchase could result in a commission to the owner of the website
These white candelabra flowers look like a swag, but were really created on half of a wreath form.  To create a similar decoration, you'll need the following supplies and flowers: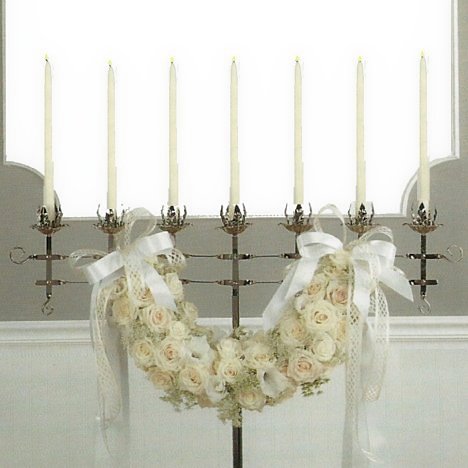 Always start by learning how to process wholesale flowers correctly.  It is so important to treat your flowers like a florist would, especially since you don't have the advantage of a walk in cooler.  Treat your flowers right and they will have a longer life in regular indoor temperatures.
Always cut your flowers with a sharp florist knife.  Do NOT use household scissors.  If you want instructions on wiring individual gladiolus florets, check out this tutorial.
Cut the mache wreath in half.  Soak in water treated with Crystal Clear Flower Food.  Using a pointed knife, drill a hole into the cut edge of the foam wreath.  This is where you will thread a taped wire through to attach your ribbons for hanging.
Arrange flowers on wreath.  Secure with Floralock Stem Adhesive.  Tape several wires with white stem wrap.  Poke these wires through the holes in the cut edges of the wreath.  Form a circle that the ribbons will slip through when at the church.
After delivery to church, slip the ribbons through the wired attachment, creating shoetie ribbons as shown in photo to attach to candelabra .  It is wise to secure with taped wires as well, as the weight of the wreath can be rather heavy with the wet foam and the flower heads.
Mist well with Finishing Touch or Crowning Glory.  Store in cool area away from light until wedding day.  Replenish water each day by dribbling under water faucet.  Do not allow foam to go dry.  Remist flower heads each day.
candelabra flower design tips