wedding candelabra decorations
Following links on this website and making a purchase could result in a commission to the owner of the website
Beautiful wedding candelabra decorations can be created days ahead of time.  With the correct Oasis products, you can learn how to create similar flower decor for your own wedding candelabra.
Here is a list of the supplies you'll need for ONE candelabra: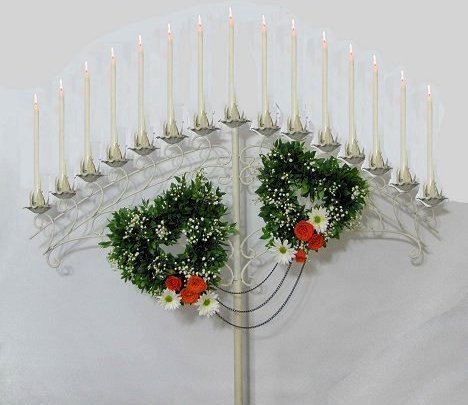 These hearts come in packs of two, which is perfect for use on a single wedding candelabra.  Don't worry if the foam gets a little dented or gouged by your delivery man - it's still usable and doesn't affect the design in any way.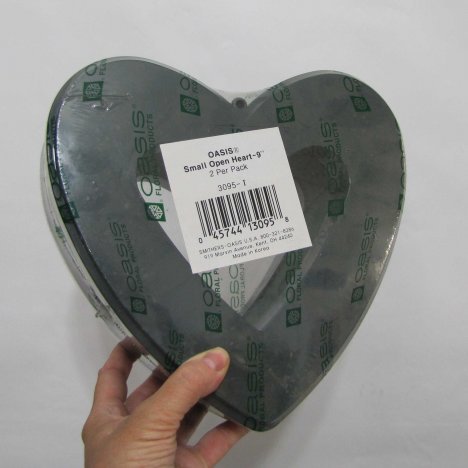 For designs that are totally flowers, I generally recommend soaking in water that has been treated with fresh flower food.  But this design is primarily greenery, so just soak it in plain water and we'll later seal the finished project with a plant polish.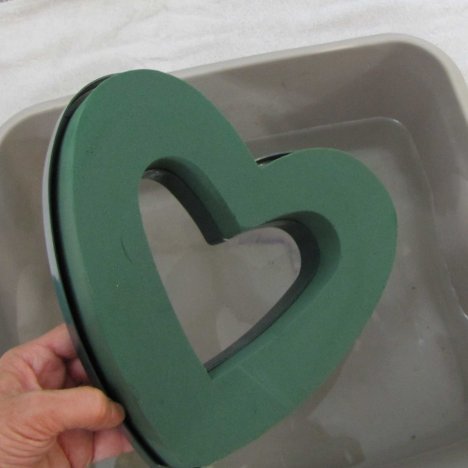 Lay the foam side down in your container of water.  Do not push under the surface.  Instead, allow the foam to draw up water while floating. 
This assures that there will not be any dry pockets of foam in the design, which could lead to flowers or greenery wilting quickly.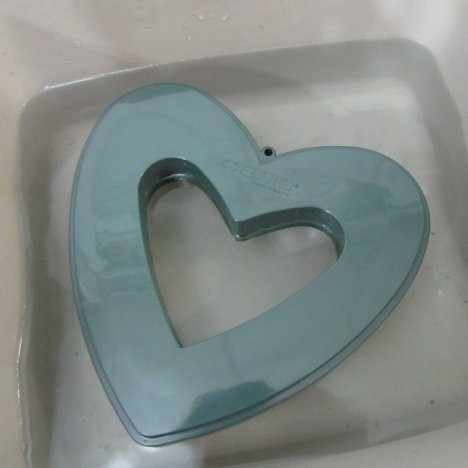 It only takes a couple of minutes for the foam to become completely saturated.  Usually you'll know when a brick sinks to the bottom. 
However, this heart has a plastic back, it may continue to float.  Simply wait for the bubbles to stop popping to the surface.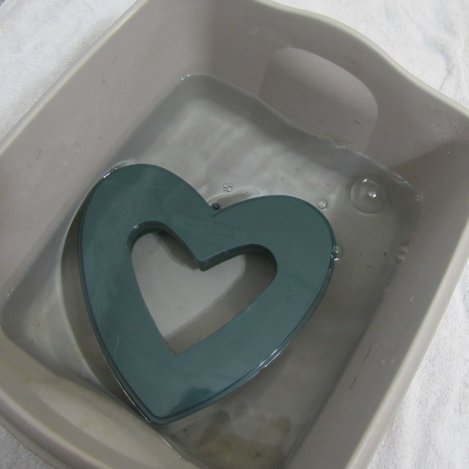 When attaching the church wedding flowers to the candelabra, keep two things in mind.  Don't damage the metal and use wire in a way that you can quickly snip and dismantle after ceremony is over.
I sometimes use electrical cord ties.  These can be found in any hardware store (and in many discount stores like Wal-Mart).  They are very strong and hold considerable weight. 
Best of all - they go on quickly and come off with a snip of a wire cutter.  However, if you have difficulty finding long enough ones, you can use enameled florist wire.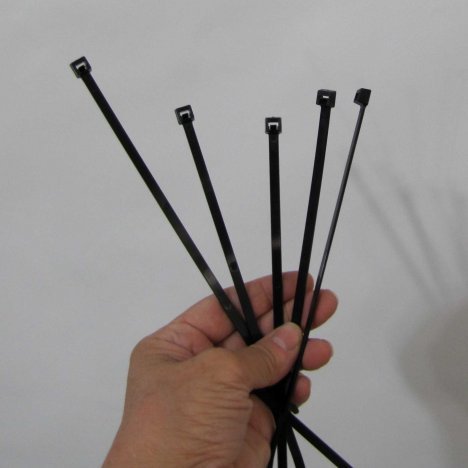 Many of the florist shaped foams come with handy tabs pre-drilled with holes.  These are created so florists can easily attach their designs to easels and candelabras.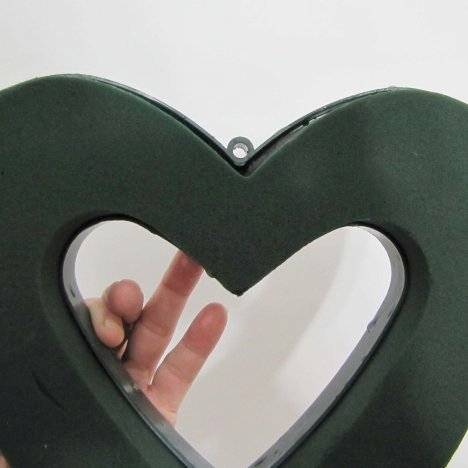 Wire or the zip tie fits down perfectly into these tabs.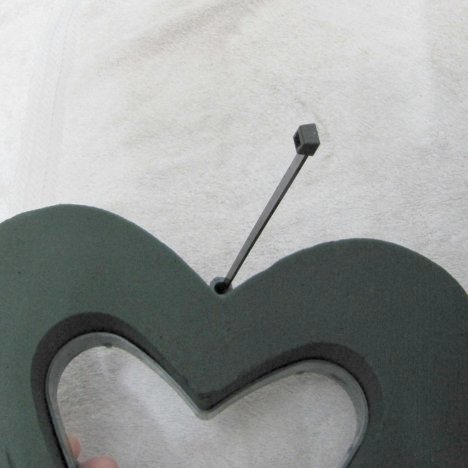 Be sure you have plenty of length in order to place your flowers exactly where you want to attach them.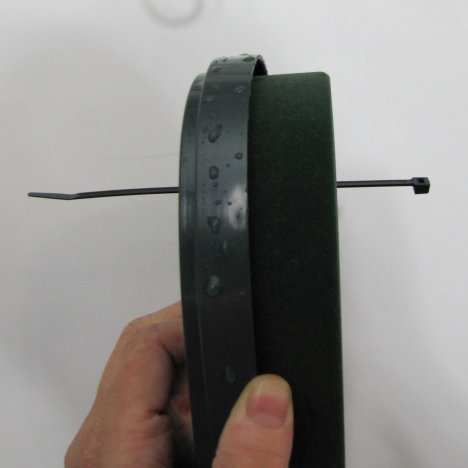 At this point, I'm slipping the tie over the bottom rung of a metal candelabra.  I want these designs to be securely placed.  You do not want the flowers shifting or swinging if the candelabras are moved.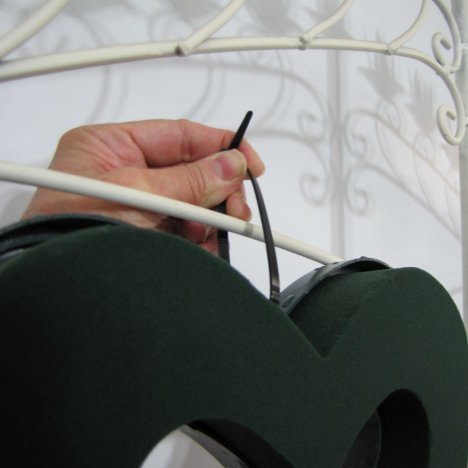 This Oasis heart is made with SuperMax foam, perfect for any fresh flower design.  This foam has proven to keep flowers fresh longer than plain water!
Note the generous depth of the foam, allowing you to insert flowers from the sides so that no mechanics (the plastic tray) will be seen after the design is finished.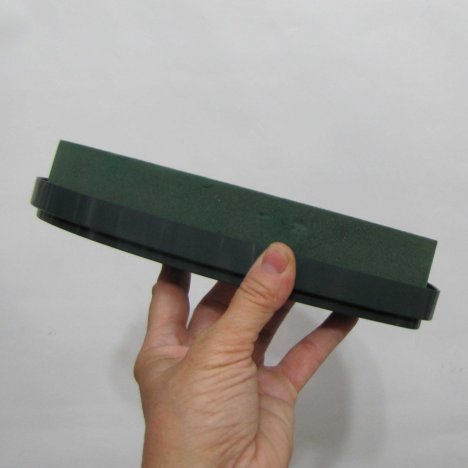 Soaked foam is actually quite heavy because of the absorbed water.  If you wanted to use this for a flower girl to carry, I would suggest you use the smallest mini heart that measures 5" across rather than the larger heart like this 9 inch one.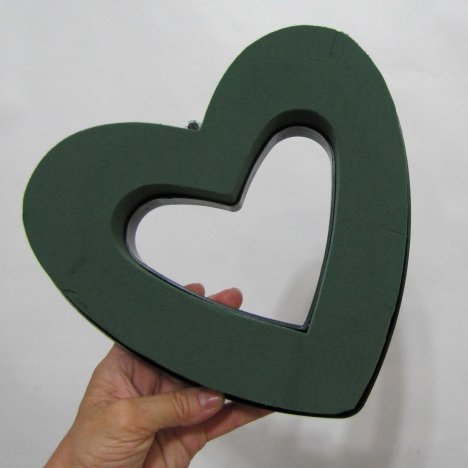 Because of the weight (especially once fresh flowers are added), make sure that the heart is securely fastened in place.  Definitely use wire or zip ties - do not use lightweight ribbon.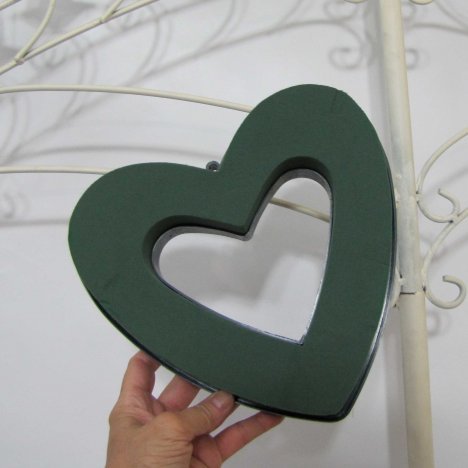 Placement is really up to you.  It doesn't have to be perfectly centered or identical mirror images.  I'm going to stagger the look, placing one heart up a little higher than the second heart.