wedding wreath
Following links on this website and making a purchase could result in a commission to the owner of the website
The wedding wreath is now ready to be flowered in!  You can use flowers that match your own color palette and varieties that you want.  I usually recommend that you go with inexpensive flowers, as it is the color that makes more impact that an expensive flower choice.  These church decorations are seen by guests seated ten or more feet away - so keep your flower budget down by using carnations, daisies, gladiolus, alstroemeria and other affordable flowers.
Remember dimension, so lengthen the stems of your flowers and allow them to stand out away from the wreath.  You get more depth to your look and your wreath will seem larger.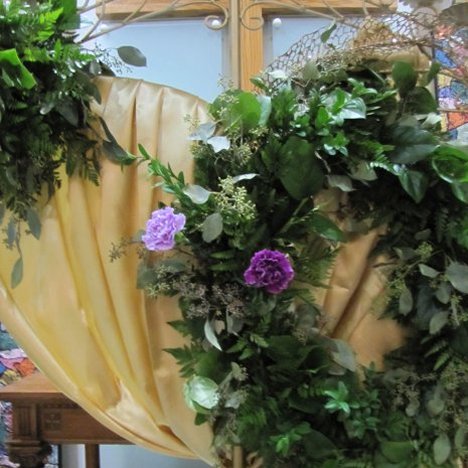 Add in contrasting colors that blend well with the flower designs you carry.  The drapery can be the match to your attendants dresses or a nod to gold or silver accents.
Wreaths and cages fill in very quickly.  The hard work of setting up the candelabra and the draping is now done - have fun with the flower design!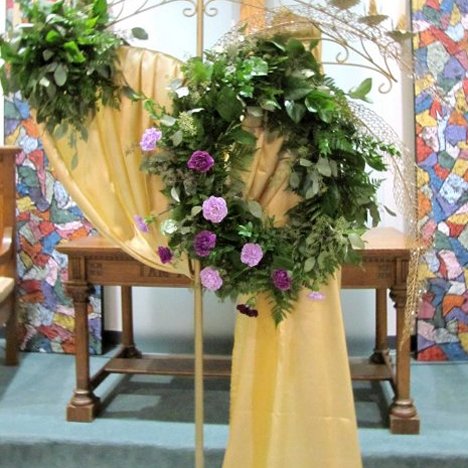 I space out my flowers quickly, but don't be afraid to go in later and add in shorter stemmed flowers or cluster some colors together for more impact.
Step away from your design occasionally, viewing your wreath from the back of the church to see where you need more balance.  Even tho this design isn't a "perfect symmetric" balance, the smaller cage in the upper left carries the eye down to the larger oval wreath.  It's a lovely addition to your church decorations.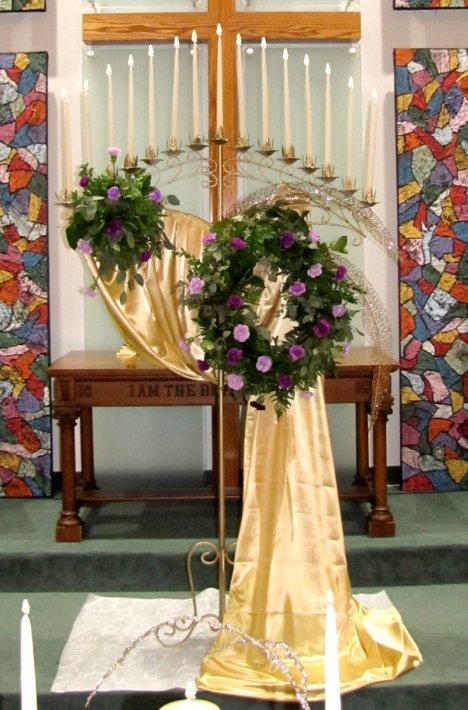 The upper cage can even have some longer stemmed flowers if you want to emphasize a sweep up or down.  Play around and see what you like!
My last step will be to spread out the drape on the bottom near the floor, folding the white protective paper in closer and concealing it with the puddle on gold cloth on the floor.  I do have recipes for other designs for a wedding wreath . . . it's the same basic instructions, but different flower choices.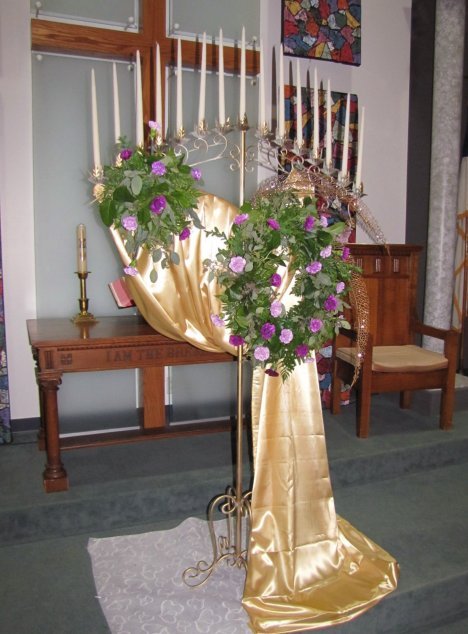 These flower stands are a little more challenge, but you can see how smaller flower designs can be used to create a stunning backdrop for your nuptials.  Be sure to place the candelabra where it can be used to advantage as a backdrop for closeup wedding portraits.  Use your hard work to the best advantage!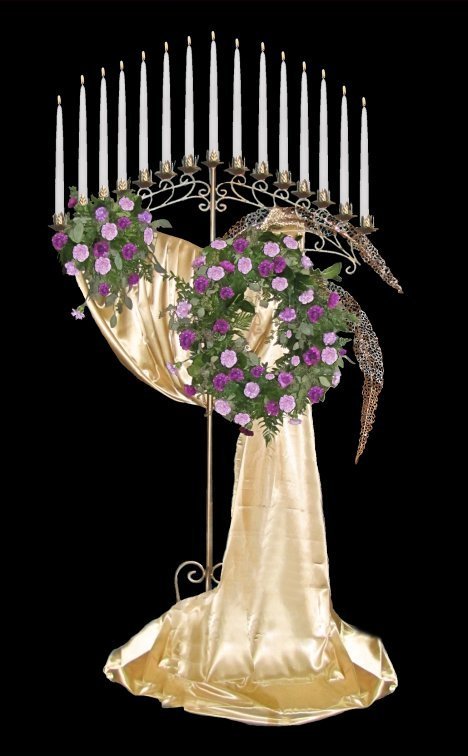 Be sure to check out all my tutorials for decorating the church, outside venues, wedding tables as well as bridal and attendant bouquets, groom boutonnieres and corsages for mothers and other honored guests.  I have links to all the floral supply products  (including the fresh flowers and greenery)
quick links for candelabras