silk church candelabra
Following links on this website and making a purchase could result in a commission to the owner of the website
This silk church candelabra uses bigger flowers to it's advantage.  Smaller arrangements can use tiny filler flowers, but you need larger headed flowers or more heavy masses of small flowers on church arrangements to be viewed from guests seated ten feet or more away.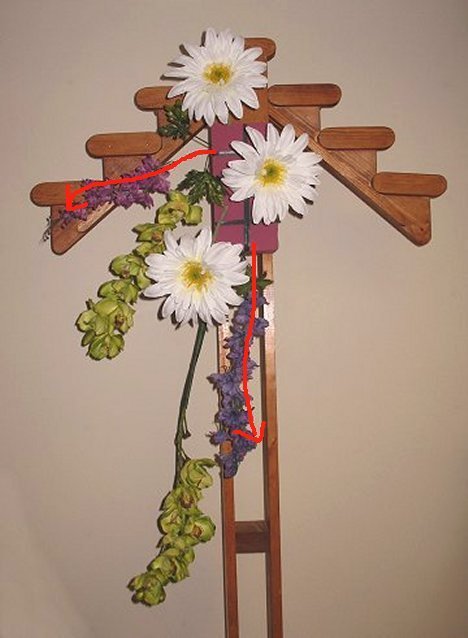 As you place flowers on the high side of the candelabra, be careful they don't interfere with any lit candles.  You don't want to hide the beauty of the flames nor get any flowers too hot!  If you are only using the stand (not intending on using candles) move the foam cage up higher and use longer lengths of flowers to conceal the candle cups.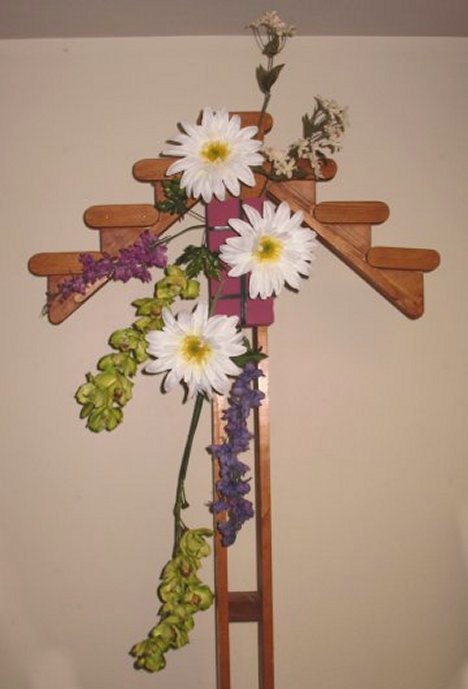 I've added alstroemeria on the lower right, near the middle.  Note how the flower heads point out towards the side.  Your arrangements must be three dimensional, so they look good from all sides as well as the front.

A dark carnation in the low right is cut short, keeping it closer to the middle.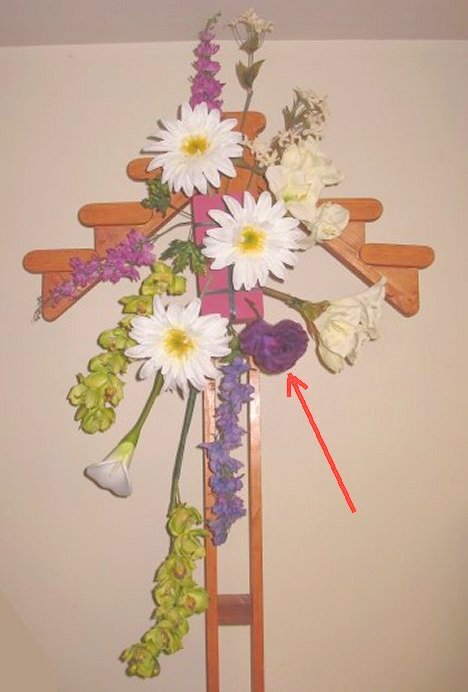 Church wedding decorations that do not include greenery can use mass flowers to help cover the mechanics (like the cage and foam). 
I added a miniature calla down on the lower left.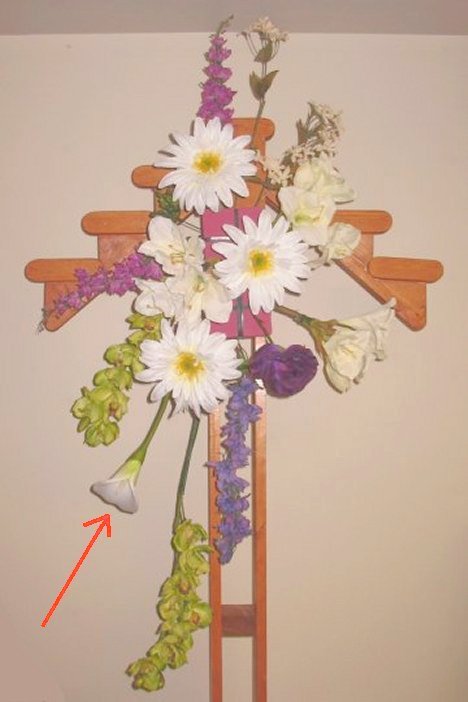 I added another, coming out of the high center left.  I begin to fill in the center with a mass flower - here is where I suggest you use hydranges or viburnum.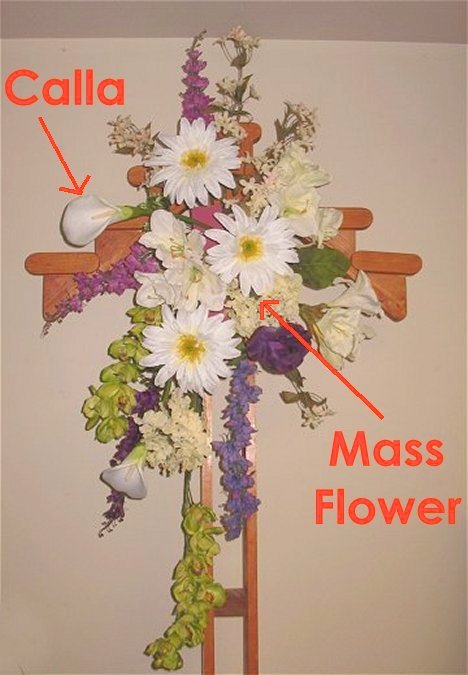 I continue to fill in with another calla between the first two on the left.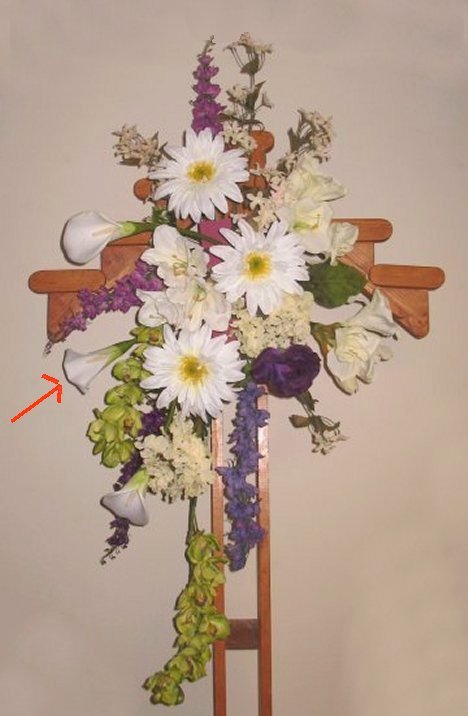 Finish using both filler and mass flowers to cover up any remaining places that mechanics can be seen.
The results is a lovely, well balance design where the larger flower heads can retain their beauty - even at a distance!
Keep in mind that flowers are easier to transport OFF the candelabra - and reattached once you reach the church.  Trying to transport the candelabras with the flowers on them is hard because you need so much room in your vehicle.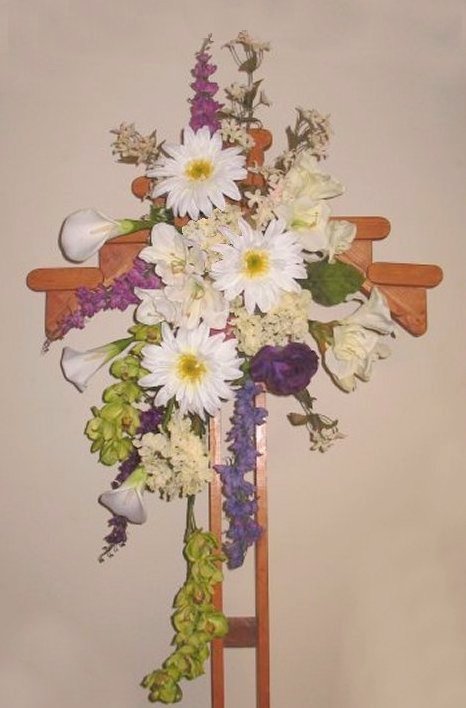 I generally use a couple of professional floral products once I am finished with my design.  If my flowers are silk, I simply dip the wire end of the silk flower into white craft glue before inserting into the foam.
If I am creating a fresh flower design, I use Floralock to secure the stems firmly into the foam cage once finished.  Flowers have to be transported, carried into the church and the candelabra set up.  Floralock will secure the flowers into the foam so they don't slide out.
Shake the can thoroughly and use the red nozzle stem to insert deep into the flowers.  Squirt short bursts of adhesive next to where the flowers are inserted into the wet foam.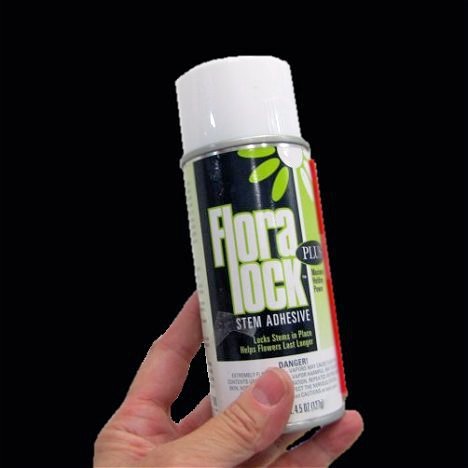 quick links for candelabras