lavender candelabra flowers
Following links on this website and making a purchase could result in a commission to the owner of the website
These delicate candelabra flowers feature sweetly scented lavender roses.  You can recreate it in different colors if your wedding palette is different.  You will need the following flowers and hard goods:
Always start by processing your wholesale flowers correctly.  You don't have the advantage of a huge walk in cooler to store your flowers in ahead of time.  Don't worry, flowers fresh from the farm can last up to 5 - 7 days.  It does help a lot, however, if you treat your flowers just as a professional florist treats their flowers!
Do not add flower food to the greenery water.  Instead, soak the ivy in a tepid bath of clear water upon arrival.  Cut apart and add a wooden pick to the cut ends of the ivy.  Attach these later at the church.
Float the Oasis foam in water treated with Crystal Clear Flower Food, allowing to absorb the water completely before designing.  Don't force the foam under the water, as this can cause dry pockets in the foam that can be deadly to a flower stem.
Tape several wires with green stem wrap.  Use these (or chenille stems) to attach the cages to the candelabra at the church.  The handy holes and tabs on the cage make them super easy to attach.
For extra strength, wrap the cage with extra waterproof tape.  After the flowers are inserted, use Floralock to secure the stems in.  Use short bursts, as you don't want the glue dripping down out of the arrangement.
After arrangement is done, mist well with Finishing Touch or Crowning Glory.  Store in cool, air conditioned room away from light.  Add water if needed - don't let the Oasis foam go dry.  It will surprise you how much water flowers drink everyday!
Once you've wired the cage to the candelabra, attach the hanging ivy by inserting the wood picks into the foam and then spreading out the ivy tendrils to curl among the arms of the candelabra.
If you need more design help, be sure to check out the step by step tutorials for tips on flower insertions and greening techniques.  This design is very similar to a teardrop wedding bouquet, if you want to pick up some design tips there.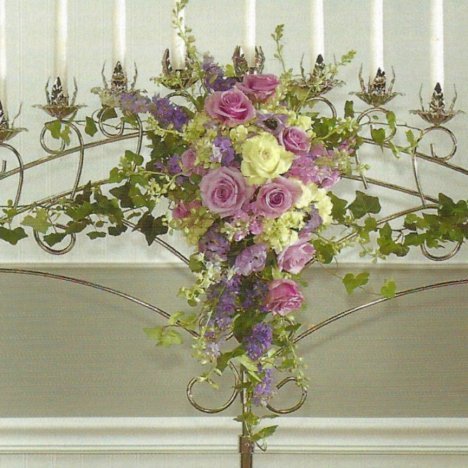 Don't miss the part about calculating your wedding flowers.  This is a must before you order any online wedding flowers!
candelabra design tips