flower corsage
Following links on this website and making a purchase could result in a commission to the owner of the website
A flower corsage should always compliment the wearer. There are a variety of ways to design corsages, using either the wire and tape method or the newer, glue method.  I don't recommend hot glue, as it can damage fresh flowers.  Oasis floral adhesive is gentle and bonds tight even when stored in the refrigerator.  Hot glue can become brittle when placed in the refrigerator.
For this design, you'll need the following fresh flowers and florist supplies:

I prefer to wire all my flowers ahead of time, inserting the stems into a stiff brick of styrofoam to hold the flower upright until assembling the corsage.  Mist well with a flower sealant.  If you are doing a large number of corsages, you may wish to wire the most delicate flowers first and store in the fridge while waiting for assembly.
Different design tips are found at the bottom of this page, taking you directly to pages discussing wiring types of flowers and leaves, plus showing where to find assorted florist supplies such as flower jewels to enhance your corsage and add a bit of sparkle.
If you need more help, be sure to check out the beginning Galleries for the step by step flower tutorials for both corsages and boutonnieres, as well as bouquets, centerpieces and church decorations.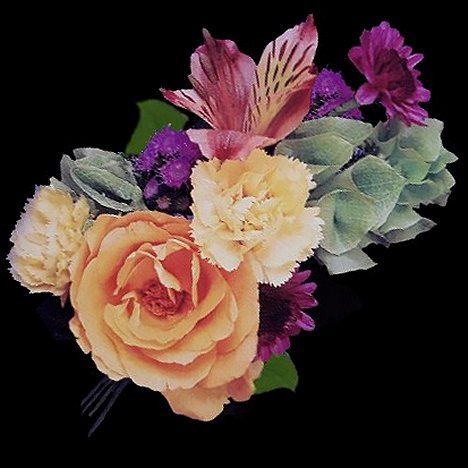 It is advisable to read through the pages on processing your wholesale flowers.  If you treat your flowers immediately upon arrival, your precious wedding flowers will stay fresh up to and including your wedding day.
Corsage and Boutonniere design tips