Red Rose Wedding Bouquet
Following links on this website and making a purchase could result in a commission to the owner of the website
Red rose wedding bouquets can be designed in many different ways.  Bouquet holders seemed to go out of style as more bridal shows and magazines began to feature hand clutch or tied bouquets in the mid-1990's.  Unfortunately - hand ties from the 1950's to the 1970's usually meant the bouquet was handed off to the bride right before she made her trip down the aisle and then was laid aside after a few pictures in the church.
Today's brides opt for outdoor weddings or at least outdoor photo shoots.  Instead of a few candid shots, today's photograph takes hundreds of shots with brides jumping, leaning against trees and more.  Those bouquets encounter stress in those warmer temperatures and the bouquet can begin to wilt even before the bride makes her entrance and march down that aisle.
If your bride is dying to have a hand tied - but wants to use water loving flowers such as hydrangeas, garden roses, calla lilies, peonies, freesia or stephanotis, you as her designer must try to fit all her desires while providing a bouquet that can stand up to lots of stress.  I advise that you think about a "mock hand tied" bouquet - one that has a concealed bouquet holder whose handle is concealed in real flower stems.  This fits the look - yet gives those thirsty flowers the power to last through a long and hot wedding day!
All this beautiful hand tied bouquets have one secret . . . they were all made on a bouquet holder.  So these flowers that that vital water supply - yet with the beautiful look of flower stems as a handle.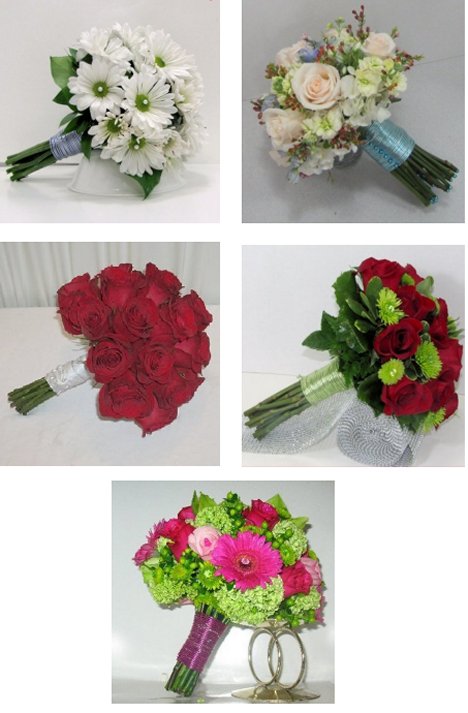 I have many tutorials with step by step photos showing how to do this.  So if you want a "true hand tied" - I have tutorials for that as well.  A cascade, however, is usually made on a slanted bouquet holder so the bride can hold her bouquet comfortably and naturally while the flowers spill forward in a natural and outward cascade.

The Belle bouquet holders that you can use for your red rose wedding bouquets are filled with MaxLife foam - which has been proven to give flowers a longer life that when they are in a vase of plain water!  Chose the size you need - but for bridal bouquets with a lot of thirsty flower stems - I usually recommend you go with the largest head of foam you can get  (in this case, the Grande).  Trust me - that little bit of foam has to supply a large number of flowers.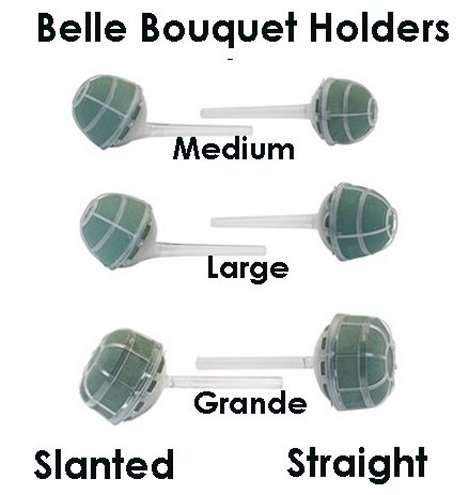 There are a few essential flower products that every quality flower shop uses every day.  The first products are used in processing your dry pack flowers correctly.  Please take the time to read that page.  It is essential for the life of your precious flowers that they be unpacked and treated properly and cut UNDER WATER for that first gulp after traveling the long way to your house.  I highly recommend a quick re-hydrator (Quick Dip) that is essential to drawing water quickly up the stem and nourishing those flower heads.
The next step is to soak all your Oasis foam products in water that has been treated with a quality flower food.  Please don't look up the "home remedies' found on countless pages online.  Yes . . . florists did use sugary sodas in the "olden days" - but it was plain guesswork.  These professional products have been tested and re-tested for years to give the best possible long life to your flowers. If you want your red rose wedding bouquets to last as long as possible . . . go the sure route.
Follow the mixing directions carefully.  Too much won't hurt your flowers - but it's a waste of product and money.  Not using enough is may not really help the flowers.  For the cheap cost of these products - they are well worth considering if you are spending hundreds of dollars on DIY flowers.
Allow your Oasis foam products to "float soak".  That means they sink down naturally in the water, absorbing as much as the foam can hold.  Forcing it under the water level could create dry pockets inside the foam head that can be death to a flower stem.
Be mindful that a cascade of red rose wedding flowers can be heavy and can topple forward without warning.  Be sure to anchor your bouquet holder firmly in a narrow neck vase or other support weighted down with marbles, rock or whatever you choose.  
You want both hands free to cut the flowers and greenery and not to design in one hand and try to cut flowers with the other hand.  Laying the holder down on the table can cause bruising to the petals that are not noticeable as you design, but may be VERY noticeable by the wedding day.
Another note is to wash your hands - if possible mist lightly with Finishing Touch before handling the flowers.  Oils from your fingers can bruise or discolor delicate petals, so take care in handling them.
Ok . . . it's time to get to designing your own red rose wedding bouquets!