Red Rose Wedding Bouquet
Adding Italian Ruscus
Since I've covered basic cascades before, I wanted to be a little more detailed about the creative use of mixed greenery with this design.  Large cascading bouquets brimming with lush greenery has become very hot in the new bridal market and I couldn't be more delighted.
Beautiful greenery can add as much to a lovely design as the most exotic of flowers.  Checking out the bulk greenery section of my store shows you exciting choices that you don't have to buy in huge quantities.  I allow my customers to usually purchase (unless it's a very exclusive flower) in single grower's bunches.
I've become annoyed with many online flower farms that insist they are selling wholesale (they're not) and then demand that the bride buy in quantities of at least 10 bunches for a common variety of greens.  That is a HUGE amount of greens!  No bride could afford to buy 10 bunches of leather leaf fern, 10 bunches of ruscus, ten bunches of pittosporum . . .oh well - you get my drift!  By the time she gets done - she's surrounded with huge buckets of greenery and hasn't begun to select her flowers yet!  What it really boils down to is that flower farms don't grow greenery - so they make incredible demands and price their greens far above the average bridal budget and the brides end up choosing a "pre-mixed" box of greens that they have put together or just given up on greens at all.
I'm disgusted that they insist a small cheap greenery (like galax leaves) sells "retail" for $350 for 100 stems.  ARE YOU FREAKING KIDDING ME???   They are selling it "wholesale" for $169.00 for 100 stems.  Uh . . . really.  I'm selling them RETAIL (yes . . . I'm making money on them) for 5 bunches for under $20.  It's these wild claims that drives me nuts.  It works this way.  I'm selling for profit.  I couldn't stay in business if I didn't.  But I'm not going to try and convince you that I'm throwing in free shipping (don't worry - they've worked that into the price) and other nonsense.  
If you want only 5 bunches of galax (that I make less than $7 on) - you will pay a minimum shipping charge.  Fedex doesn't ship for free and it is pricey even if you have a tiny little box.  I cannot make $7 and then pay $16 to have it shipped to you.  The price of shipping (like taxes) is one of those things that the consumer has to pay for.  That's the cost of having it delivered from our warehouse to your front door.  But that's true of everything you buy from milk to clothing.  
In the end, I want my brides to actually save on their flowers if they go to the trouble of providing the labor themselves.  Most florists order in single grower's bunches - and I try to allow my brides the freedom of the same choice.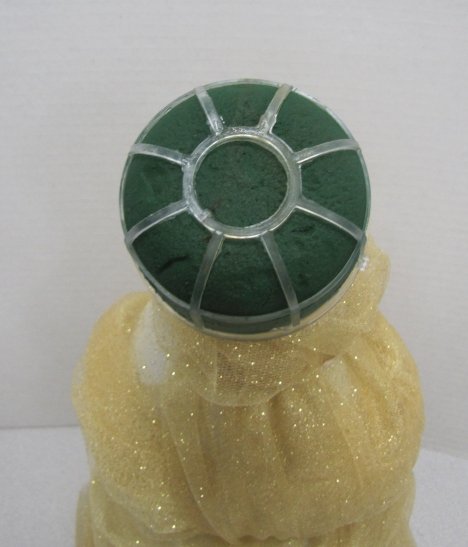 I'm using a variety of different greens in this bouquet to try and give you a feel of how you can use a nice combination to both stretch your flower budget and add creative design to your bouquets.  I like to show a real photo of what to expect in a "grower's bunch"   Most greens are bundled by weight - not a specific number of stems.  (It's hard to count stems branching off in all directions).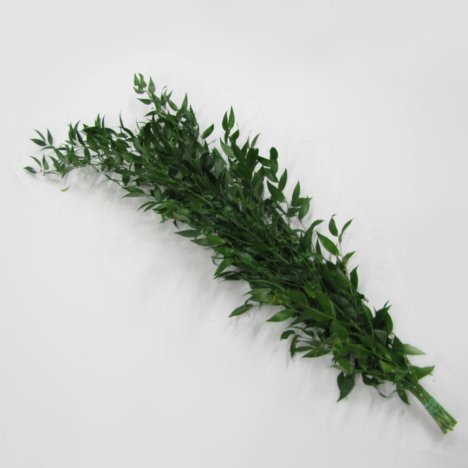 Here is one stem from the bunch above.  One bunch will do several bouquets and leave enough over for a number of corsages and boutonnieres.  Unless you are creating a huge number of centerpieces, I can't imagine why the average bride would need to order 10 bunches.  It's more likely you'll only need a couple of bunches at most - especially if you are using more than one kind of greens.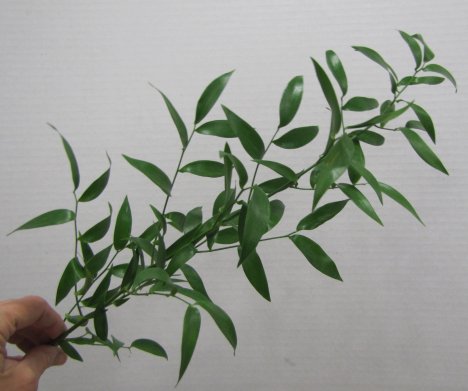 Cut off the laterals with a sharp utility or floral knife.  Please don't use scissors.  Some greens are tough to cut and you can be straining so hard to cut that you can lop off a finger.  (I'm not exaggerating - florists I know have learned this the hard way).  Scissors can also crush delicate flower stems - making them unable to take up water.  Use a sharp knife and take care to cut your stems safely and properly.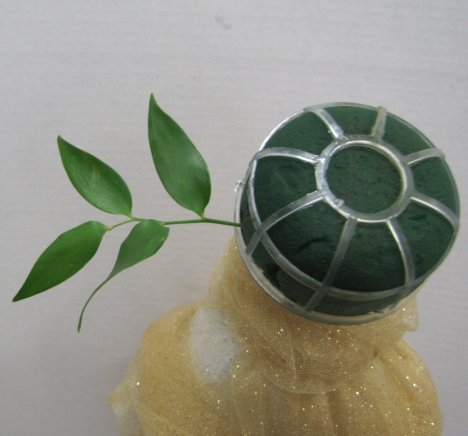 Ruscus can quickly fill out the outer perimeter of the bouquet, framing in the final size of the design.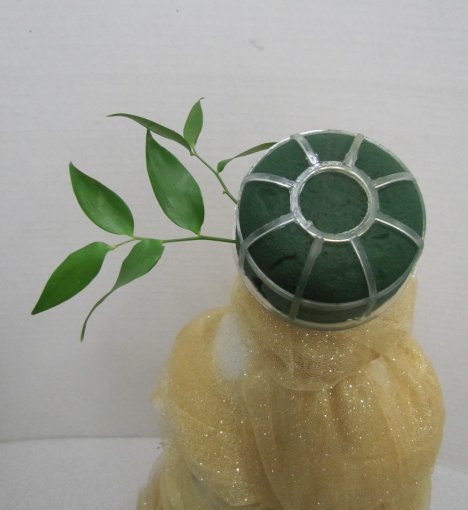 Continue to cut short laterals and move around the head of the bouquet holder.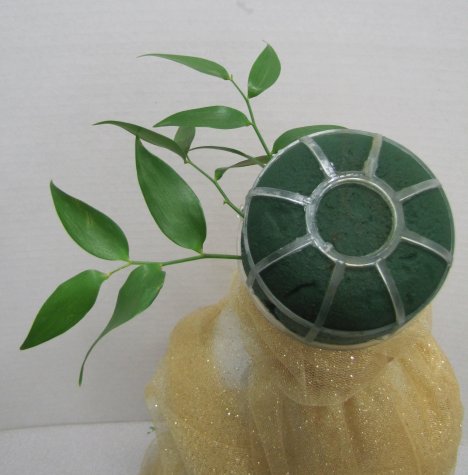 This doesn't have to be perfect - this design is going to be open and casual.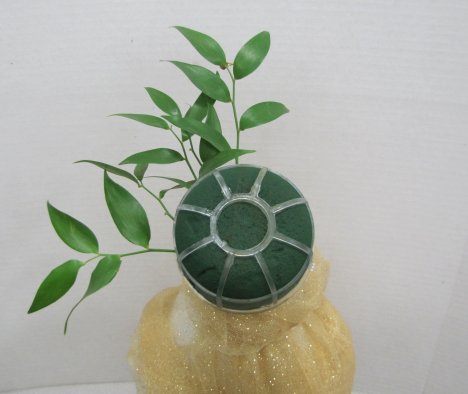 As you can see, one stem has more than enough laterals to create the framework for this bouquet.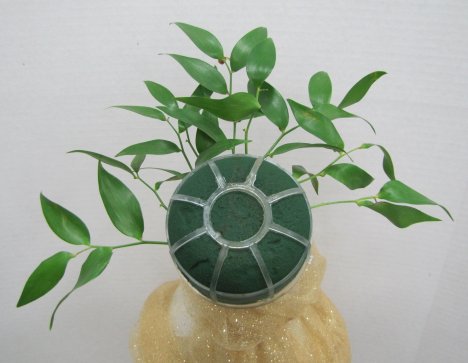 Since this is going to be a long cascade, the bottom pieces of greenery is going to be much longer than the side pieces.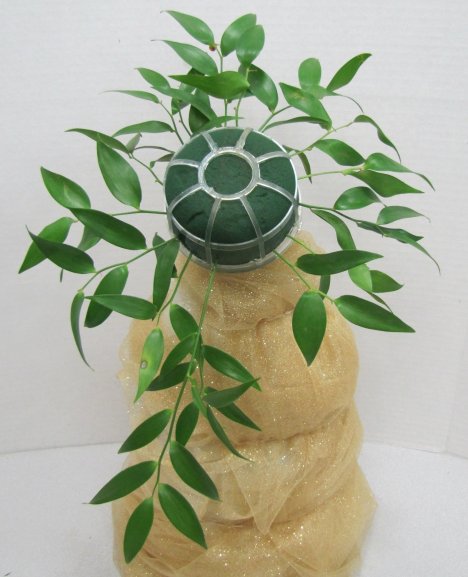 Once I get my basic stems, I go back and overlap some of the first stems with a another layer of greens, filling in until I have a light, lacy framework of ruscus leaves.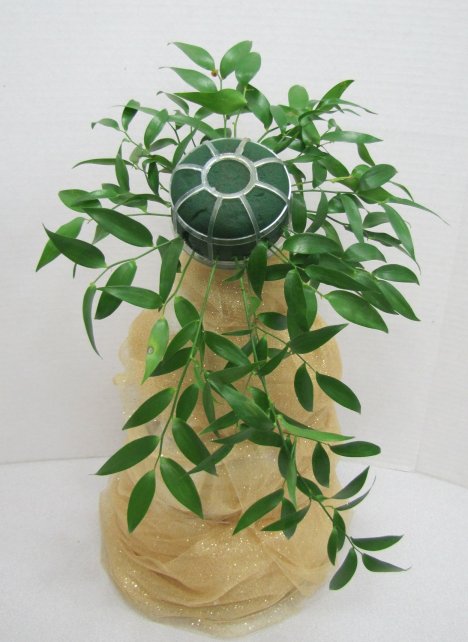 Free Flower Tutorials