wedding cake table decoration
Following links on this website and making a purchase could result in a commission to the owner of the website
A wedding cake table decoration can be one of the focal points at your reception hall.  You need to pull together all the different elements, such as table top decor, candle accents, cake flowers and flower swags.  Check out other ideas for wedding backdrops.
Garlands are fairly simply to create, but is a little time consuming.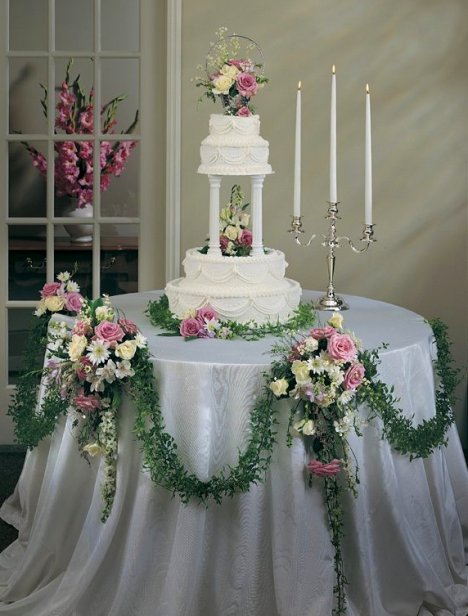 Order some different variety of greens to make a more interesting garland.  Great varieties include seeded eucalyptus, salal leaf tips, leatherleaf fern, boxwood or smilex.  
Cut apart your greens into about 6" or 7" lengths.  Tape several together at the bottom.  Create several of these taped bunches.  I like using Oasis BindIt wire.  It comes in both green and brown, blending in nicely with the greens.  Cut and lay out a long length (which I like to double).  Then, using florist wire lay the taped bunch down on top of the BindIt wire, and wind paddle wire around it, lay down another cluster of taped greens, again fasten to the Bindit wire with paddle wire.  
Work your way down the entire length to make a garland.  The BindIt wire bends and twists and and works well in kee the shape of the garland.
Seeded eucalyptus and magnolia greens make up this simple garland.
If you want a flowered garland, check out my tutorials for different ways to design them.
You can  use Uglu Strips on the table top to attach the garland to the tabletop if it is lightweight.  If you want flower cascades as shown, design it on a slanted Belle Bouquet Holder as you would a cascading bouquet and attach to the table edge with a screw table clamp.  A similar garland to the one shown below can be made with either boxwood or smilax.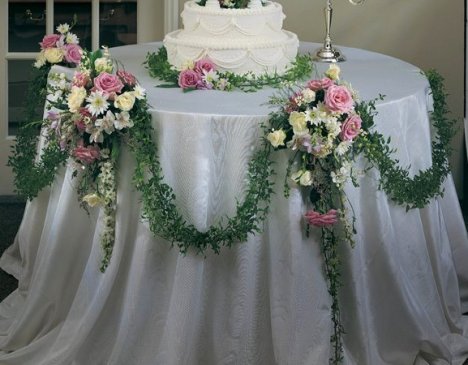 Find small C-Clamps at any hardware store (this was listed on the Wal-Mart site).  You can attach a slanted Belle Holder right to the left side with BindIt tape.  You can wire to the same clamps.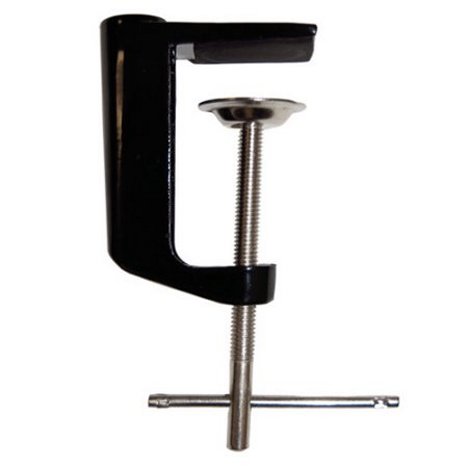 You can make your cake topper and center sprays on a small or large Oasis Iglu.  Again, put a circle of parchment paper or wax paper on top of the cake.  If your topper is heavy, be sure to tell your wedding cake decorator that you need either a plate or dowel rods for extra support.
Lay a ring of boxwood around the entire cake with a few roses and filler flowers tucked into the greenery.  You can easily adapt this wedding cake table decoration to include your own flower varieties or colors.