Making round bouquets
Following links on this website and making a purchase could result in a commission to the owner of the website
Making round bouquets on the European bouquet holder is easy, just follow the natural shape!  To achieve a more dimensional look, be sure to lengthen the stems in the center, and shorten and turn the face of the flowers outward as you move to the outer perimeter.
Now I'm placing the first rose facing upward in the center of the bouquet.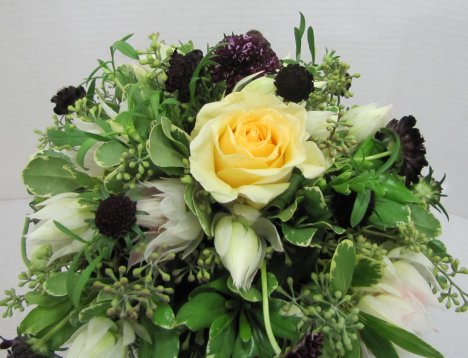 As you add additional roses, be conscious of the direction that the face of the rose (the top) is facing.  You want your bouquet to look good from all angles.  You do not want a flat look, with all the roses stuck straight upward.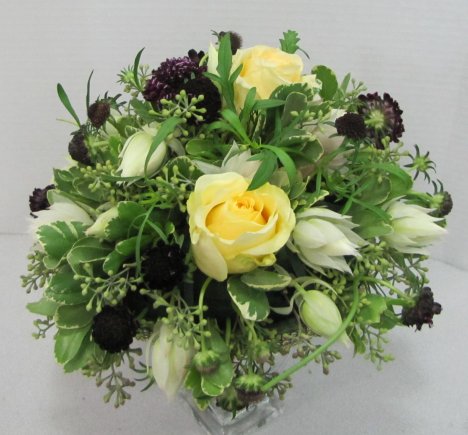 A side view shows you what I mean.  Notice that making round bouquets also means a natural domed shaped.  Not all bouquet are domed, however, as the Pave style is a rather flat look, with all the flowers the same height on a square European holder.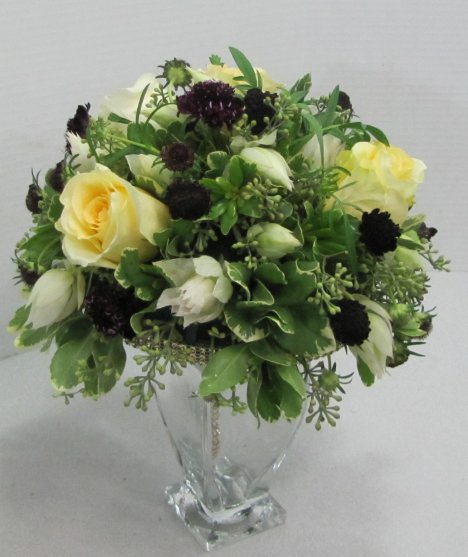 I'm introducing trachelium, which comes both in white and a purple color.  An extreme closeup shows dozens of tiny round buds, which open into a perfect little star flower.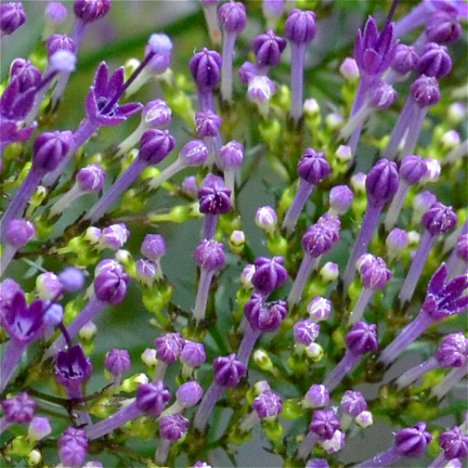 Straight from the cooler keeps the buds closed.  What look you get is determined by how long you leave it out in a warm room.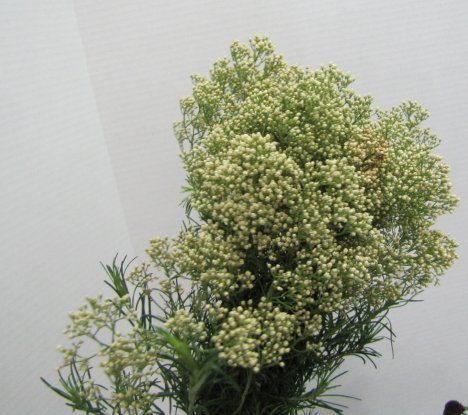 Using it in tight, unopened stage is rather reminiscent of rice flower - expect it smells better!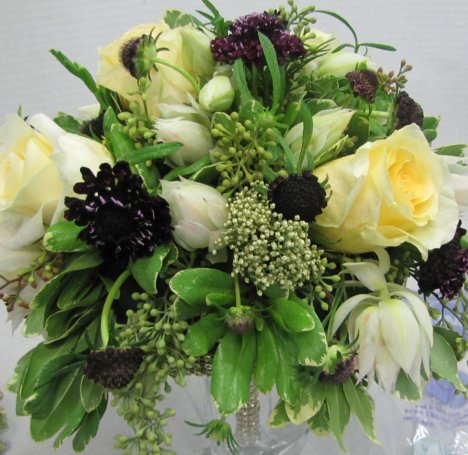 It does introduce a lovely and different texture to the overall composition of this bouquet.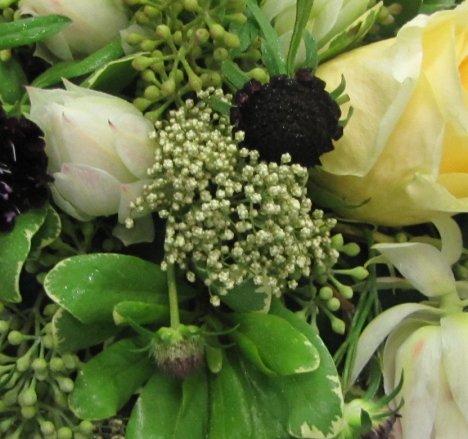 Notice that I mass it in clusters for a bigger effect, as this tiny accent would get lost in small parts.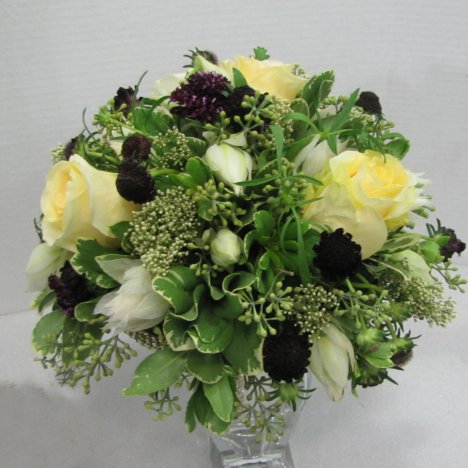 This old fashioned bouquet is definitely taking a Victorian feel, with an old fashioned look.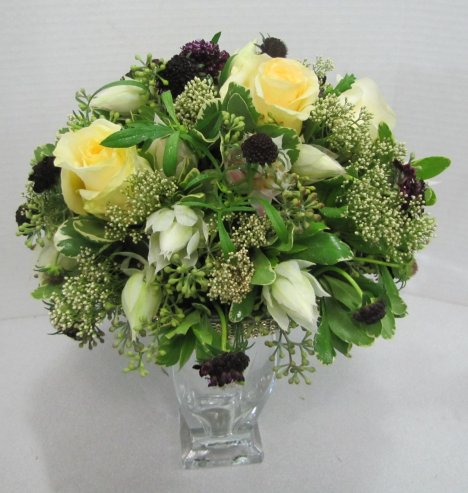 The bride wanted the dark scabiosa to bring in the dark colors worn by her attendant, but wisely choose to add creamy yellows and ivories to balance the deep burgundy that could easily overwhelm the entire bouquet if overdone.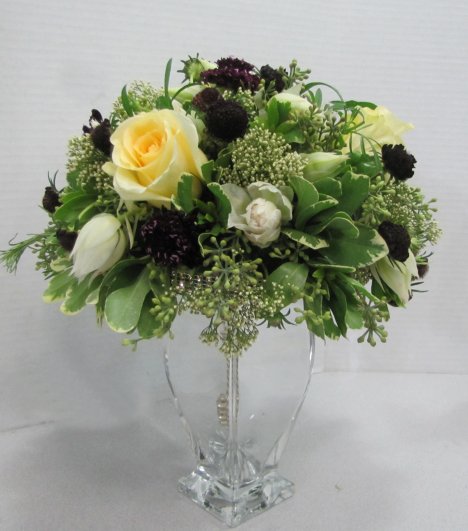 Adding in hypericum berries in a creamy ivory, almost a pale shade of yellow will help with this effect.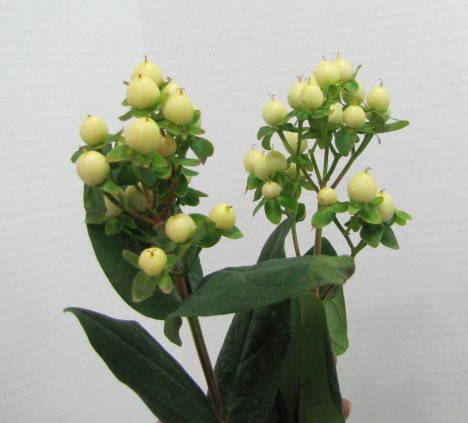 Clusters of this delightful varieties help bring out the gold shades.  These berries come also in bright green, red, burgundy, and whites.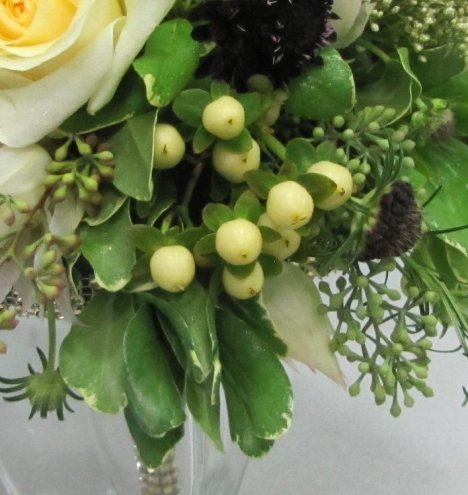 Immediately the bouquet is jazzed up with another such a great addition of texture.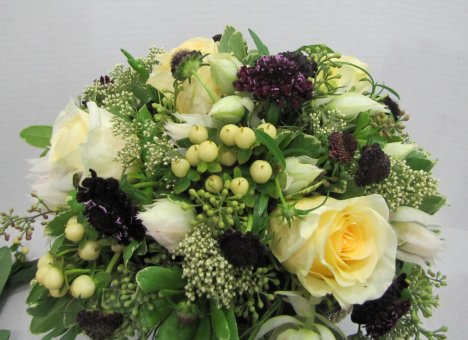 Be sure to rotate your bouquet in order to add your flowers evenly around the bouquet.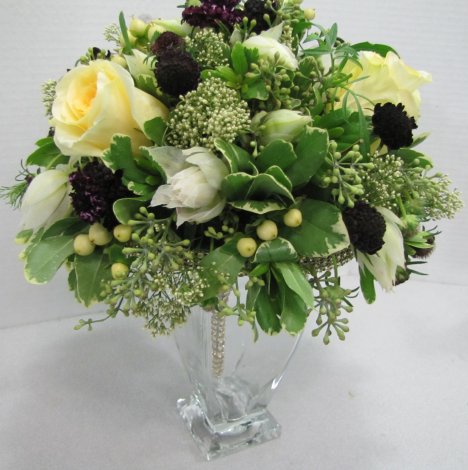 As they warm, the tight buds of the burgundy scabiosa will gradually open to their full splendor.