wedding bouquets for brides
Following links on this website and making a purchase could result in a commission to the owner of the website
Wedding bouquets for brides (in my opinion) are always improved with stock flower.  I love the puffy blooms that come in lavender, pinks, soft yellows and shades of white.  It has a delicious scent that is noticed right when you walk into the room.
The single stalk can be cut down into various lengths for use in bouquet work.  Cut the hollow stalk on a slant with a sharp knife.  Never use scissors, as they can crush delicate flower cells that makes it so the flowers can't carry water up to the bloom head.
The soft lavender hues also work well in other color combinations.  In this design, lavender is definitely a Victorian color.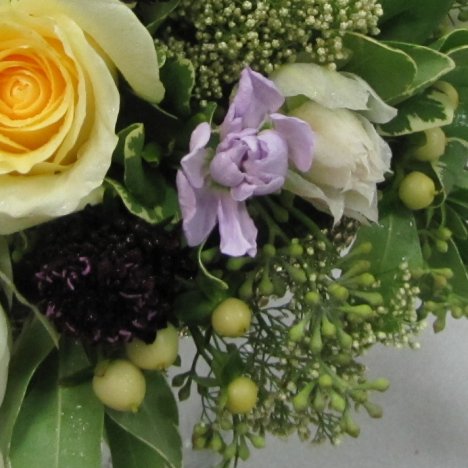 Be sure to rotate your bouquet, so you can distribute the color evenly and can be seen from all sides of the bouquet.
I tucked a larger cluster in the center, just a little deeper insertion than the rose, to give more depth perception.  Not all flower heads have to be level.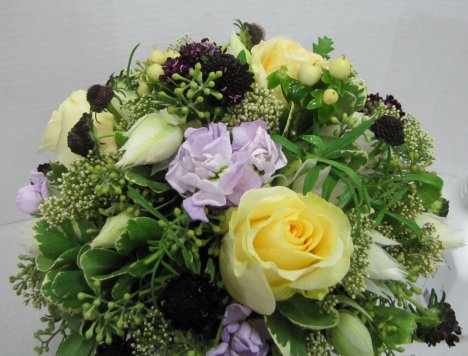 I'm also adding in some lavender pomps, a chrysanthemum variety that comes with several flower heads on one stem.  Disbud chrysanthemums have larger, single heads, as the additional buds are removed to grow the one flower bloom larger.  That's what is meant by a "disbud".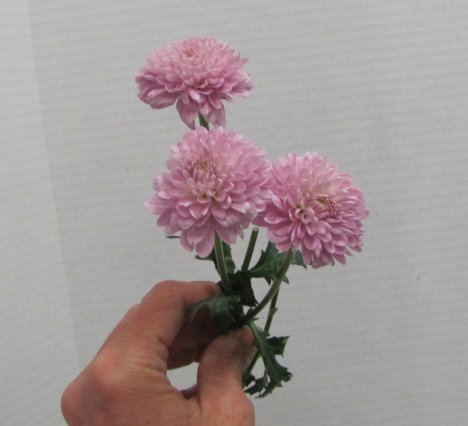 The smaller heads greatly resemble the larger dahlia, with numerous dainty leaves curling down into the center of the flower.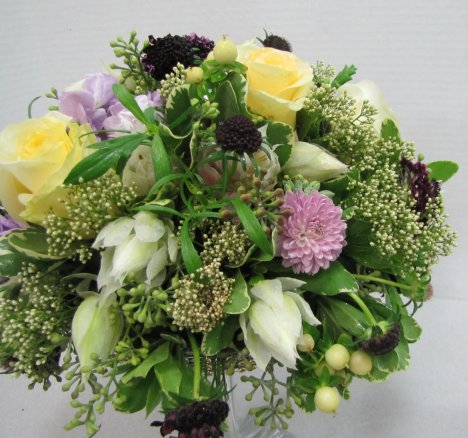 Don't be afraid to bury some of you flowers deeper into the design.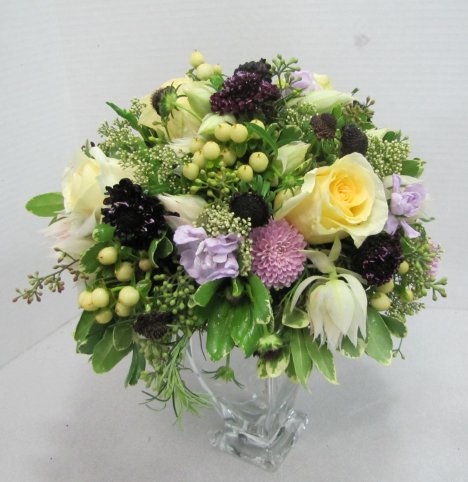 I'm not going to overwhelm the bouquet with this color by adding too many of these flowers, as it is just an accent color, not the primary color in the wedding palette.
Rotate your bouquet, checking to be sure all the mechanics are concealed and the bouquet is finished to your liking.
It is wise to use Floralock Flower Adhesive to ensure that all flowers stay put in this bouquet holder.  Don't do this until completely done, as the adhesive can make it hard to insert more flowers.  Shake the can thoroughly BEFORE inserting the red straw into the nozzle.  Spray in short bursts at the point where the stems are inserted into the foam.  Don't overdo, because you don't want to make the glue run down and be sticky.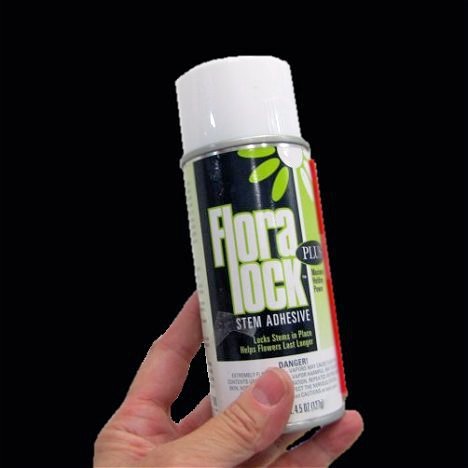 I finish all my wedding bouquets for brides by misting well with Finishing Touch.  It is a flower sealant that helps lock moisture into the flower petals so they last longer.  This is important for DIY flowers, as you do not usually have the availability of a flower cooler.  Professional coolers add moisture into the air, whereas home air conditioning and refrigerators are designed to REMOVE moisture from the air.  This helps counter that effect.