floral centerpieces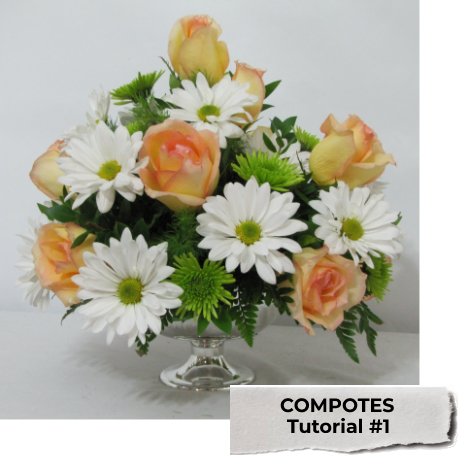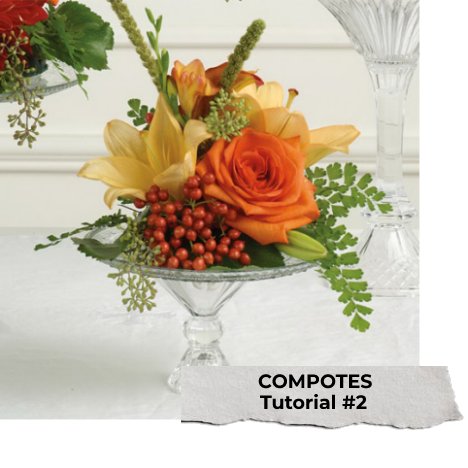 Floral centerpieces that are designed on a footed container are referred to as compotes by professional florists.  These designs can be on a flat top (similar to a cake stand) or with a bowl of various depths on a stand.
These centerpieces can be really inexpensive if you spend some time at thrift and discount stores searching for these containers.  Don't get sucked into the idea that every single centerpiece on every reception table has to be identical.  Creating different looks on each table gives an air of delightful uniqueness.  Thus mixing different styles of compotes while using similar flower colors makes each table special.  Another great thought is to put a number at each place setting and, when the time comes for toasts to be made, you could inform your guests that each centerpiece has a number under it and is a gift for the lucky person sitting in that seat at that table.
I actually did this at my own wedding and it was the hit of the evening.  Buying your mix and match containers at places like Goodwill and Salvation Army makes the glassware a steal . . . and can turn into a wonderful surprise at a very low cost for you.  If you have your own cleanup crew, it's an added bonus of not having to figure how to transport all those centerpieces out of the reception hall!
The extra advantage of compote floral centerpieces is that when they are elevated, allowing you to cluster votive candles under to add sparkle and candlelight if your compotes have a cut glass design.
The key to fast designing is to have all your supplies ready to go as soon as your flowers arrive.  That means you can plan ahead and have all your glassware washed, sticky labels removed and ready to add the florist foam.  Have a table or two set up (hopefully close to a water source) with trash cans and water buckets close at hand.  Spread a tarp under your workspace, because flower designing can get rather messy.
Line up friends and family to help.  Trying to do this all by yourself can get a little overwhelming.  Read through as many tutorials on my site as you can, because you'll pick up tips on designing and get a real feel for how the final centerpieces should look.  
Good mechanics is important.  This is how the designer constructs the different pieces of the design, including blocking in the foam and taping into place.  Once you are finished, the flowers and greenery should conceal all signs of your mechanics.  All my tutorials will show you how to do this so your finished piece will wow your guests and save you money.