peony centerpiece
Following links on this website and making a purchase could result in a commission to the owner of the website
This peony centerpiece is a lovely abstract piece, with an open garden look.  Don't feel hindered by the colors or flower varieties, because you can keep in mind that those both can be changed into different flowers or colors.
To create a similar look, you'll need the following florist supplies, products, greens and fresh flowers:
Start by gathering all your needed products, greenery and flowers.  Set up a workspace close to a water source and room enough to work.  Be sure to read through the steps of processing your wholesale flowers upon arrival.  This is important.  
Don't skip the suggested floral products.  Florists use these every day to extend the life of their flowers, even though most have large floral coolers to store all the arrangements in.  Flowers are bred to last a long time, but they are a live product.  They need nourishment and fresh water to keep them fresh up and through your wedding day.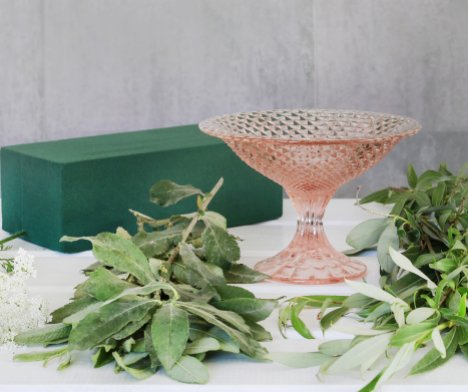 Florist foam is easily molded and can be fitted down into the compote dish.  You can trim with a knife, but it doesn't really have to be perfect.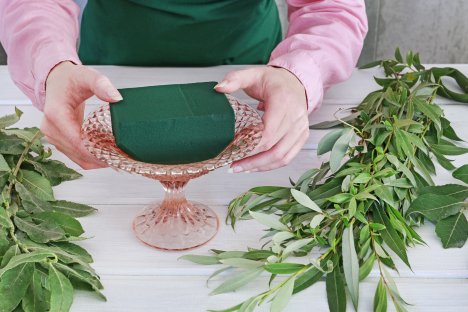 You should float soak your florist foam in water treated with a professional flower food.  Your wedding flowers is not the time to start searching out alternative products such as sugar soda.  The small amount you'll save may not work as well.
Waterproof tape is recommended to keep the florist foam in the glass compote dish.
The glass needs to be clean and dry for the waterproof tape to stay attached to the vase.
Lay out your greens and flowers within easy reach, with a large wastebasket.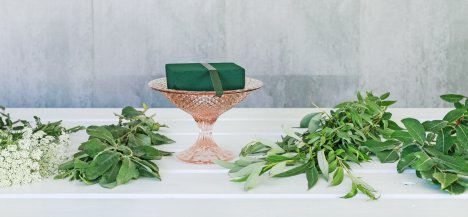 Fresh branches look wonderful in these type of arrangements.  It is rather asymmetrical with a rather unstructured look.  Some branches are seasonal, so it's important you check out what greens are available and whether they are in season during your wedding month. 
Start by framing out your design.  This design is intended as an altar decoration, so it's fine to be large and spread out.  If you are considering this as a table centerpiece for reception tables, be sure to keep the dimensions manageable so they don't intrude on the guests eating area.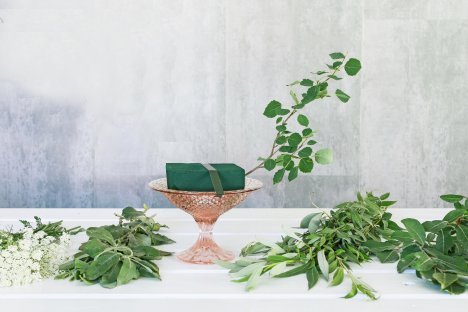 Far reaching branches look amazing in these types of designs.  If you plan on using branches from your yard, test ahead of time and be sure they hold up.  It's always wise to temper any fresh cut branches in a cool water bath for 20 minutes or so before using.
Let's add some eucalyptus into the mix.  There are a lot of different varieties that hold up very well in this type of arrangement.