wedding centerpiece vases
Following links on this website and making a purchase could result in a commission to the owner of the website
Wedding centerpiece vases are cheaper when purchased in sets intended for weddings.   The advantage later is that you can sell them after the event is over and recoup some of your wedding expenses.  To create this look, you'll need the following:
Take note that the vase link takes you to a 20" tall vase.  If these are going into the center of wedding tables, you need it to be high enough that people can see each other's faces as they eat.  If you want the shorter vase as shown, you can buy these instead of the ones listed above.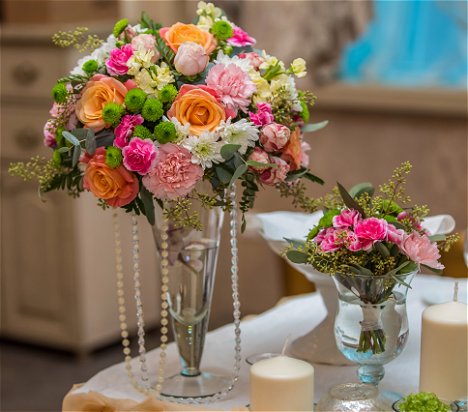 Before starting, browsing through the steps of processing fresh wholesale flowers.  Please don't skip the recommended products.  These flowers are going to arrive dry and thirsty.  Professional florists use these in shops to re-hydrate quickly and to have a longer life.  Your flowers are living product and need nutrients and products to give your flowers the longest life possible if you want them to last through your wedding day.
Let's start with the basic mechanics of assembling the components of this vase design.  You must keep delivery in mind.  Completely assembled arrangements that are tall are hard to deliver.  It is easier if you design the flowers on a separate plate that has the foam secured to it with waterproof or clear florist tape.  The white clay is used on the rim of the vase once it has been delivered to the venue.  You then lift the finished design and place it on top of the vase.  Push down firmly and the stainless plate will adhere tightly to the top of the vase.  If you wish to fill the inside of the vase with a flower, water beads, marbles or table scatter, you need to do this before placing the arrangement on the vase.  Clay holds tightly, even if splashed with water.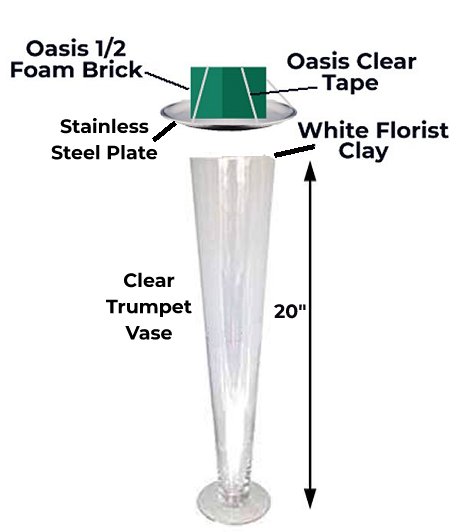 After the flowers are designed, mist well with Finishing Touch.  Allow to dry if you are refrigerating.  If not, turn the air conditioning down low, run a cool mist humidifier and your flowers will be fine.  Check the foam every day to see if the foam needs more water.  Do NOT allow the foam to go dry.  Those flowers are living products and you'll be surprised how much water they can drink each day.
If you need a detailed tutorial on greening and flowering your centerpiece, be sure to check out the tutorials at the beginning of the Gallery for Tall Vase Arrangements.  You'll find step by step photos walking you through the entire process.