unity candles for weddings
Following links on this website and making a purchase could result in a commission to the owner of the website
Unity candles for weddings can be a simple pillar candle, while the wreath itself makes it a gorgeous focal point during the lighting of the candle.  Continue filling in the design with the  leather leaf fern.   The individual laterals on every stem can easily be cut off the main branch and into smaller laterals as shown.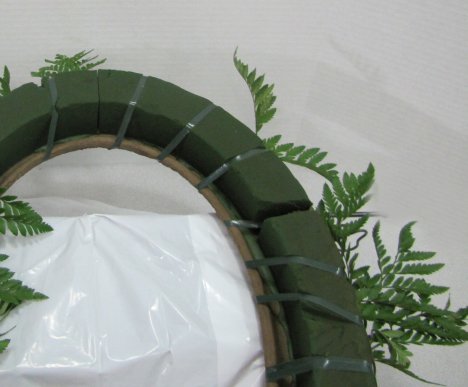 Don't forget to insert greenery in the inner parimeter of your wreath.  Any surface that has open green foam should be filled in with greenery.  Covering the foam, mache and tape is referred to as "covering the mechanics" of a floral design.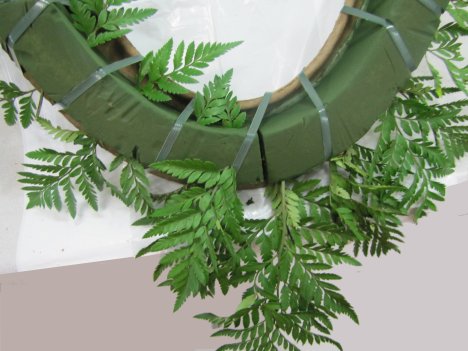 Pay attention to the angle of insertion into the foam.  You'll have more depth and interest if the greenery stems are pointed straight out on the outer perimeters and then tilting the stems outward towards you in the center of the foam.  The inner perimeter should be pointed down and towards the center of the inside portion of the wreath.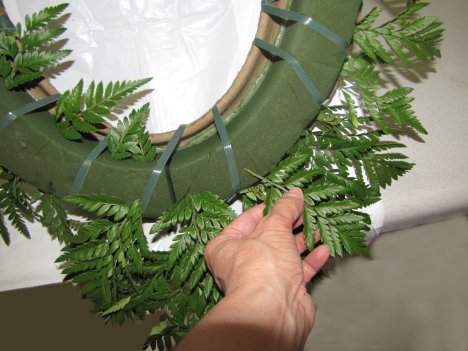 You can see how the angles of the greens quickly begin to mask the foam.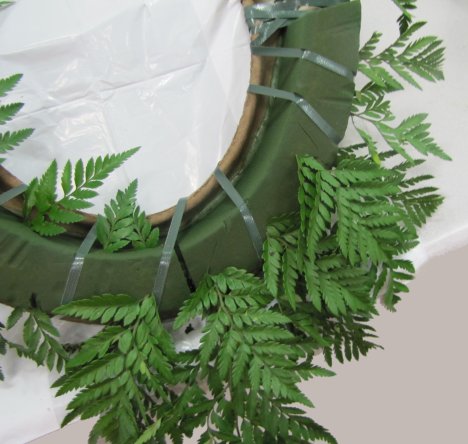 If you want a larger wreath, simply lengthen the stems of the leather leaf to be longer cuts.  The bigger you want your wreath to be, the more leather leaf fern you'll need.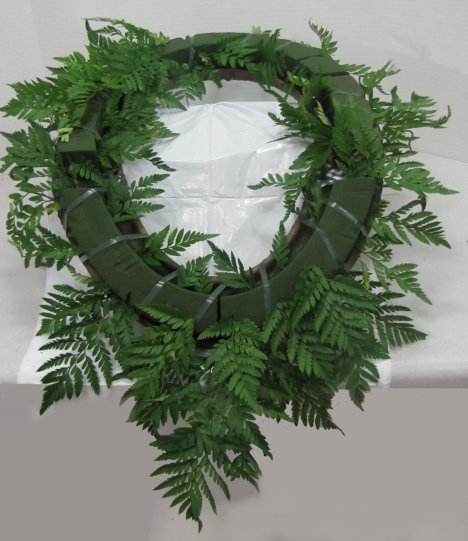 Be sure to take care to cover the cut portion of the wreath where you have several wraps of the waterproof tape.  You want to be sure thatl this portion is well concealed so the tape doesn't show.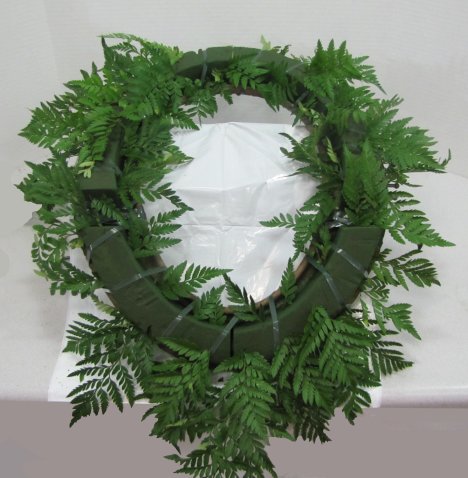 I continue to extend the leather leaf at the bottom portion of the wreath with longer stems so I have emphasized a  cascade flowing out of the bottom of the wreath and going down towards the floor. 
The fun part of designing flowers is that you are in control and turning the final look into what YOU envision.  Don't be afraid to experiment.
However, you do want to create a flower recipe for each design you plan on making before you order your flowers.  You then stick to that recipe.  Why?  Because you don't want to get so carried away with adding more and more flowers that you run short before getting to your last design.
Florists generally allow for a few extra flowers in their order.  I also always include a couple extra bunches of greens with each order.  The extras come in handy for covering the backs of designs and filling out the look.  Greens are cheap and you won't regret getting a few more.