tower centerpiece
Following links on this website and making a purchase could result in a commission to the owner of the website
This tower centerpiece is going to have a mix of different greenery.  This adds interest to your design and makes it more original.  Don't be forced into buying more than you need.  Some site require you buy 5 or more "bunches" . . . and some aren't even giving you full grower bunches!  You will be surprise how much mileage you can get out of single grower bunches of mixed greenery.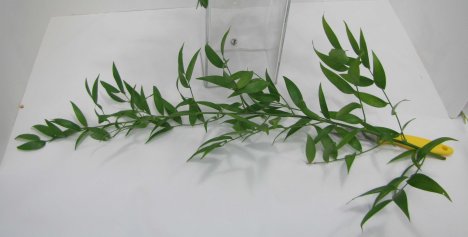 Italian Ruscus is a lovely dark green color and has a lot of laterals on a single stem.  Cut them off cleanly with a knife so you have a clean insertion in the florist foam.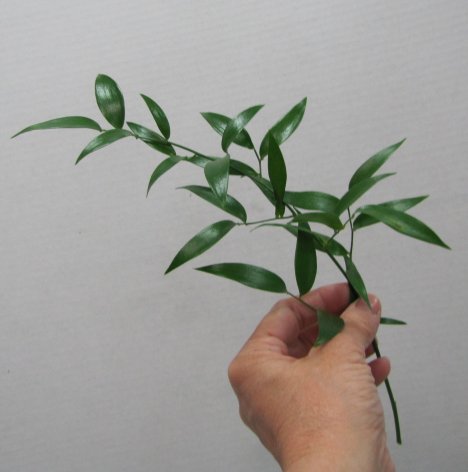 Notice how the stems of greens mimic the look of a hanging fern.  Stagger some pieces a little longer, and others a little deeper.  This adds depth perception to your flower arrangement.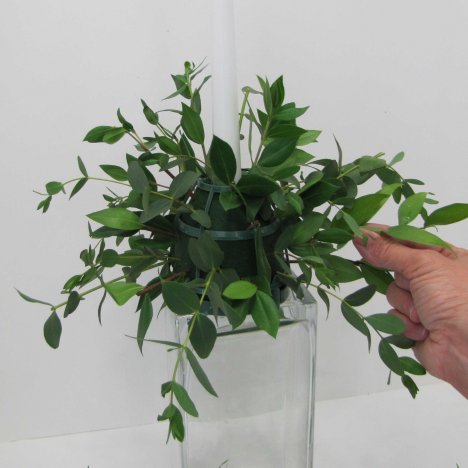 Now that your size is framed out, I'm going to use one more green.
Leather leaf fern is a standard in every flower shop.  It (should be) economical to use.  Always calculate how much you're paying per stem.  It's easier to tell if you are getting a bargain or not.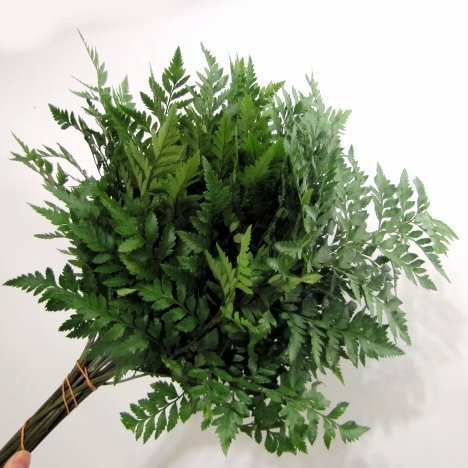 The separate laterals are easily to cut.  Strip off the bottom leaf or two for a clean insertion into the Iglu.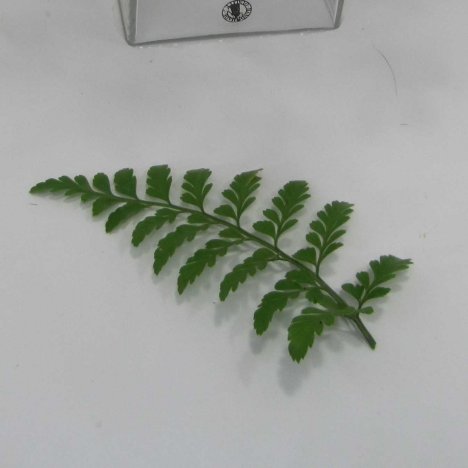 Insert your leather leaf in between your myrtle and Italian ruscus.
Always take advantage of the natural curve of your greenery in your design.
You can now see why I wanted my Oasis Iglu elevated while designing.  The greens will flow down the long sides of the elevated tower centerpiece.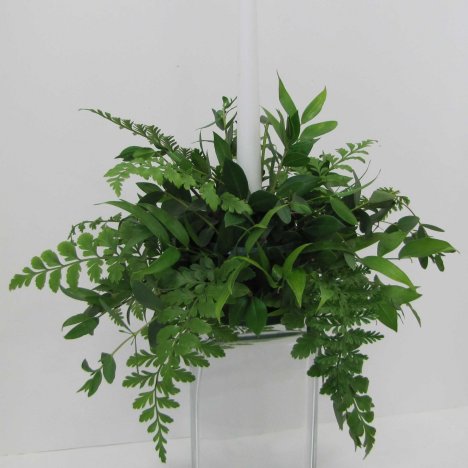 The greens now nicely conceal the mechanics of your design piece . . . in this case, the Oasis Iglu cage and foam.  You can still see a small portion of the florist foam, but the cushion mums and matsumoto asters will conceal the rest.
Keep in mind that the greens dictate the overall size of the centerpiece.  If you want a large centerpiece, increase the amount of stems you order and keep the stems longer.  The same goes for the flowers.  
You also have complete control over the look of the piece with the colors and flowers you choose.  Don't choose your centerpiece by the color . . . choose by the style.  You can always mimic the same look, but substitute other flower choices in both variety and color.