eiffel tower centerpiece
Following links on this website and making a purchase could result in a commission to the owner of the website
An eiffel tower centerpiece is a favorite of many brides and can be designed in so many different ways.  Keep in mind that these type of centerpieces must be kept in balance, so I'll show you florist secrets not only in designing, but considerations on how to transport and set up this lovely florals.
For this tutorial, you'll need the following products:

How many flowers you use in your tower centerpieces will determine what size of foam you need.  If you plan to use flowers with very large stems (such as sunflowers or hydrangeas), you will want a large enough container and foam to supply the water needs.
A deep lomey dish can rest up on the top and support 1/2 brick of florist foam.  Be sure the sides of the foam rise a couple of inches above the rim of the dish so you can insert stems from the sides.
If you use the silver finished dish, your guests won't be able to see the green foam as they can through the clear lomey dishes.  I generally attach a stabilizing rod to the bottom of the container that can drop down into the Eiffel tower vase.  This helps stabilize the larger centerpieces and you can't even tell when it's in the vase.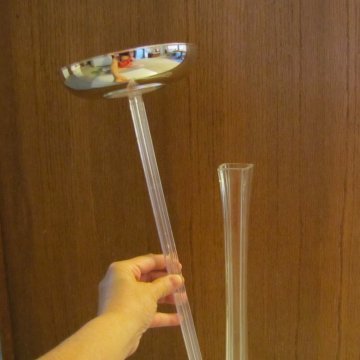 For more compact or lightweight centerpieces, an Oasis Grande Iglu works great.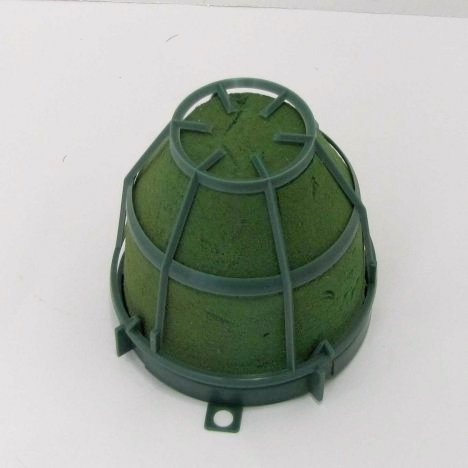 Float soak all florist foam in water that has been treated with Crystal Clear Flower Food.  Remember that flowers are living organisms and need both water and nutrients to survive as long as possible.  Always replenish your foam with water if needed before delivery to the venue.
Since I need this piece to be elevated while I design on a short vase, I'm going to place a small piece of floral clay to the top of the design vase so the Iglu won't topple over, yet can be removed so the final Iglu can be packed for transportation.  I will be transporting the vases and centerpiece separate, because tall vases can fall over easily in your van.  
There are side tabs for use if the Iglus are attached to candelabras, pews, etc.  You can snip them off easily with wire cutters.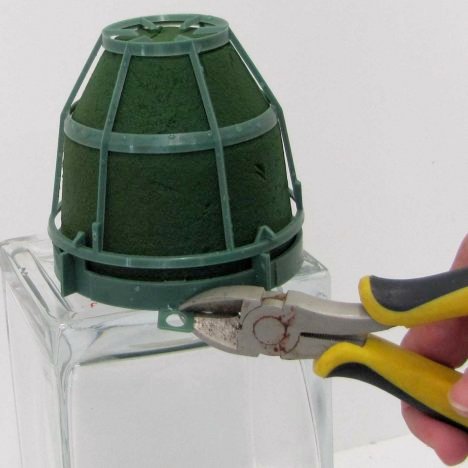 These centerpieces are going to have a single taper candle in the middle.  The Iglu is designed with an open center at the top for this very purpose and can support most taper candles.
Push down firmly from the top with the end of the candle.
Myrtle is a light green color with long stems and shorter laterals.  It is available all year round.  Be sure to cost compare all your greens.  Some websites are splitting grower's bunches and you are not receiving as many stems as florists get when they order in greenery.  Our store always ships you full grower's bunches (both in fresh flowers and greenery) and allows you to buy in single bunches.  We do not have large minimum orders.  You can mix and match, giving you more control over your flower budget.  Be cautious about "free shipping", because I guarantee you that NOTHING is free on the internet.  The cost is figured in somewhere.  I list my shipping separate, and work hard to keep it as close to actual costs as possible.  This way you know exactly how much you are paying per stem on every flower you order.
Cut shorter laterals off the main branch.  Once the candle is in place, you can begin inserting those myrtle laterals in the Oasis Iglu.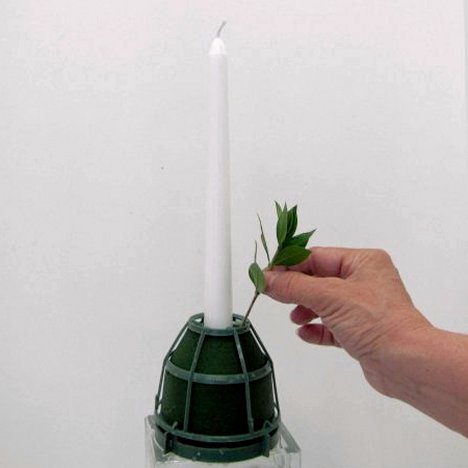 Your greens should be inserted as shown below.  There will be a lot of flower stems in the foam eventually, so push in deep enough (about an inch) to secure the stem, but not so deep that the stems begin to clash with each other.
Notice that top insertions point upward, moving outward and then down as you rotate your iglu to create all side even.  This is important, as your Eiffel Tower centerpiece is meant to be seen from all sides.
Mimic the red lines with insertions of the small stems of myrtle.  Be sure to strip off the leave on the bottom so there is a clean stem to insert.  This helps keep the foam from degrading.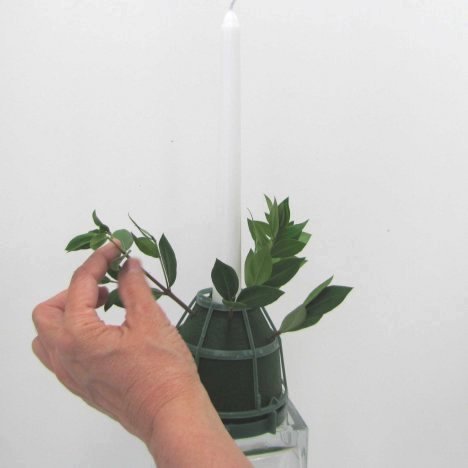 Notice the bottom stems are longer, so they will trail off the top portion of the Eiffel Tower centerpiece.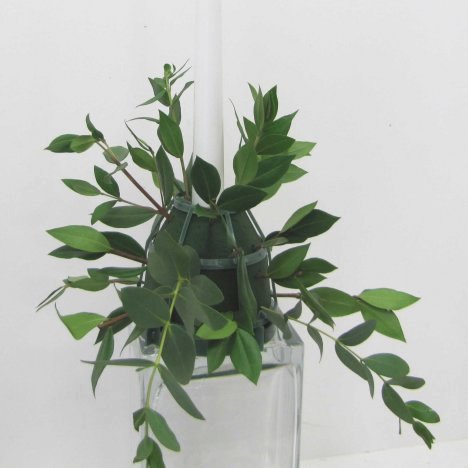 Turn your centerpiece and continue until lightly greened.