tall wedding centerpieces
Following links on this website and making a purchase could result in a commission to the owner of the website
Tall wedding centerpieces take preparation and planning.  DIY youtube tutorials sometime forget an important detail . . . how to transport tall centerpieces.  Elevated centerpieces must be done separately in components and delivered in pieces, then assembled at the venue.  If you don't, you are going to have tall martini glasses tipping over, spilling water and broken or bruised flower stems.
This tutorial deals primarily with the mechanics.  You may wish to browse another step by step guide for greening and flowering a Martini Vase tutorial.
The one error that the designer of this wedding centerpiece made is the glass filler.  A common mistake is to buy food coloring from the supermarket and put in a few drops of red (thinking, of course, that you'll get a pale pink.  However, this type of food coloring actually give you an orange tint rather than a pink tint.  If you want to use food coloring, buy the Wilton Pink, which actually gives you a true pink when diluted with water.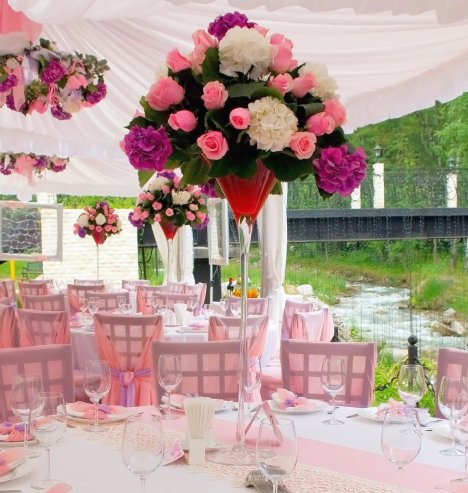 I prefer, however, to use water beads.  If the vase should accidentally be tipped over during assembly (hopefully not), the beads simply scatter.  They can be picked up and put back in the vase.  Water, however, can ruin the tablecloth (especially water with a color tint).  That can become expensive problem.  
After the ceremony, be careful that the water beads are NOT put down any drain or sink, but be disposed of as garbage.  Even better, scatter among your house plants for a decorative, pretty way to keep your greens hydrated.
Let's break down the different components (besides the actual flowers).  Since you should not design directly in the martini vase (remember the delivery issues) you need a shallow dish or plate that rests on top of the vase rim.   This is what you will tape your soaked florist foam to and is what you will design your flowers on at home.
Saturate your water beads at home and transport in large water pitchers (hopefully with lids).  These take a while to fully hydrate, so do that a day or two in advance, following the directions that come with the product.
Allow your Oasis foam brick to float soak in water treated with Crystal Clear Flower Food.  Please don't skip the florist products.  Check out how to process your wholesale wedding flowers the moment they land on your doorstep.  This will assure that your flowers re-hydrate quickly and have the nutrients needed to open and bloom, and live longer than they would in just water.  These are living products and they need food just as much as you do to have a long and healthy life.
The table mirror is option.  However, when I design fresh flowers (which can be quite heavy between the wet foam and the flowers) I like to be assured that this arrangement doesn't become so top heavy that it tips over if a guest accidentally bumps against the table. 
I lay the mirror on the table and place small balls of white florist clay around the bottom of the martini vase.  I then press the vase down firmly on the center of the mirror.  You've now created a solid counter-balance to the arrangement high on the top.  It creates a much sturdier feel and makes me more confident that those flowers will not tip over!  You can use Uglu Strips instead of Florist Clay.  It is clear and easier to conceal.  I prefer Clay, however, because it's not really that noticeable and it holds even if splashed with water.  Uglu has to remain dry to assure a good grip.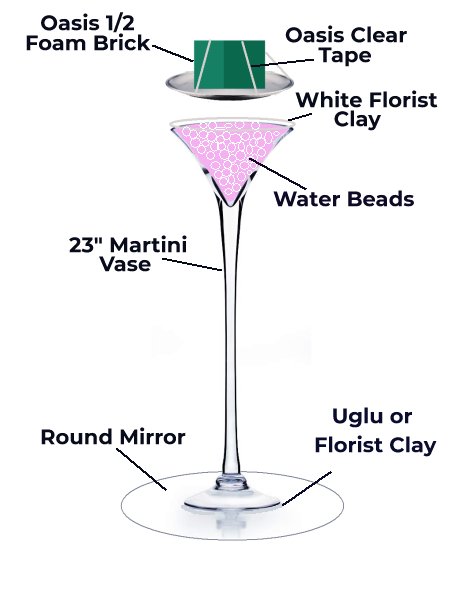 This arrangement doesn't have any greenery except the hydrangea's natural leaves and a few folded aspidistra leaves.
These have to be folded over and taped to a wooden pick with green stem wrap.  The wood pick is porous and will swell in the wet foam, making a more secure insertion.  Lay these leaves aside for inserting in between the flowers later.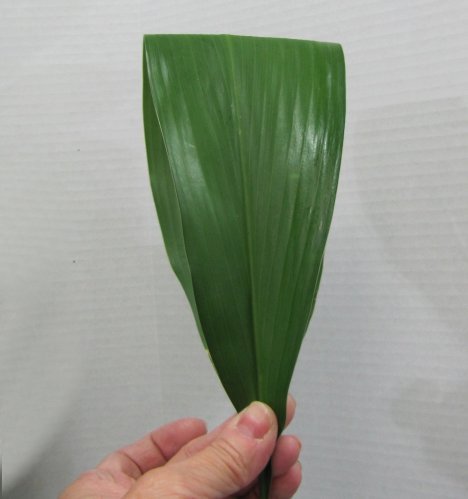 Hydrangeas are EXTREMELY water loving.  Years ago florists would dip the cut ends of hydrangeas into alum (found in the spice aisle in the grocery store) to assure a longer life.  Max-Life foam does support hydrangeas, but you must take care that the foam DOES NOT GO DRY.  Check it, as the flowers will drink up a good deal of the water each day.  Replenish the foam by dribbling water that has been treated with Crystal Clear Flower Food in the days prior to your wedding.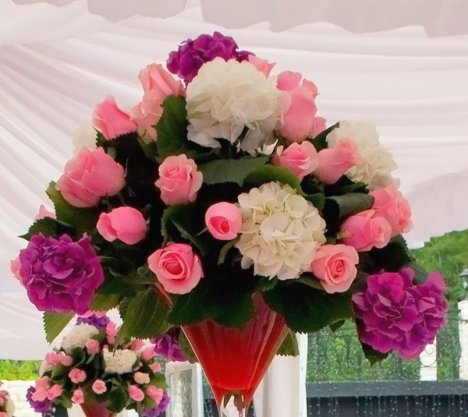 I like to use either shallow silver bowls or these flat stainless steel dishes (meant for camping).  They hold up forever and can be used again and again.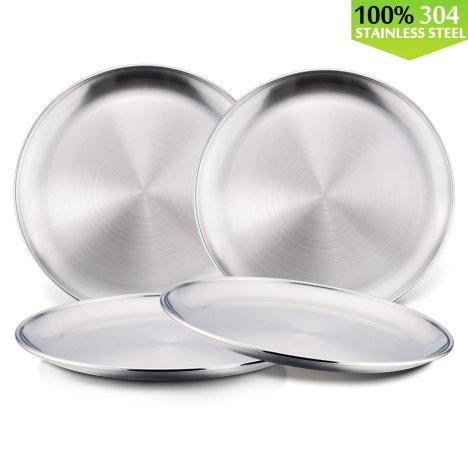 Begin by soaking allowing the foam to float soak to take up the water.  Don't force the brick under water, thinking to hurry the process.  This can cause dry pockets in the inside of the foam that will spell death for any flower stem in that unfortunately section.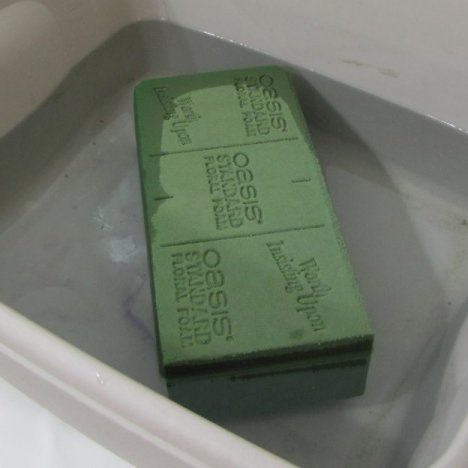 Using a large straight edge knife, cut the bricks in no less than 1/2 brick.  I like as much foam as will sit on the place, as that is the life of all those flowers.  Don't allow that foam to go dry EVER if you don't want drooping petals.
Tape the wet foam to the stainless plate with waterproof tape.