table skirting designs
Following links on this website and making a purchase could result in a commission to the owner of the website
After the table skirting designs have been broken down to the basics, let's take a look at the way these lovely swags look on a finished table.
Creams against white with just one long swag is simple - but pure elegance.  Take note that the table lighting is UNDER the skirting, rather than draped with the swag.  If you double curtain fairy lights, this gives a beautiful glow, yet the distracting wires and plugs are concealed.  Always use a low wattage that has the UL safety rating.  Attach with zip ties for easy removal later.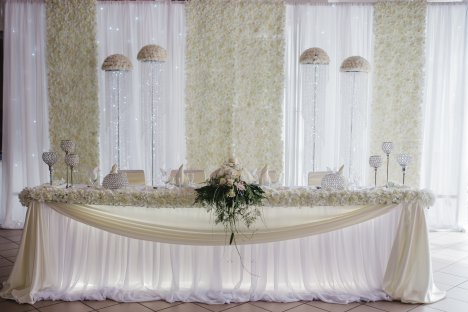 The simple one swag design can also call attention to the dimensional underskirt, as the ruffled rosette tablecloth gathers in soft folds down to the floor.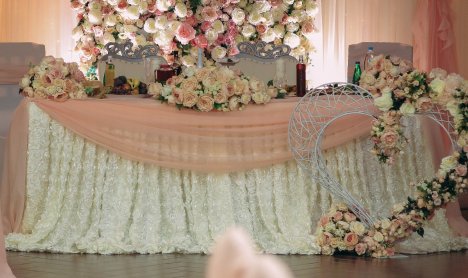 For a twist on the single swag, here is a table that two swags, in contrasting colors, are used on the front of the table.  The first on the table is straight across, while the green one is a solitary swag with the extra fabric hanging off the right end.  This showcases a wedding prop of a small tricycle nestled under the left corner of the bridal table.  It's fun to take traditional skirting designs and make them all your own by playing around with the fabrics.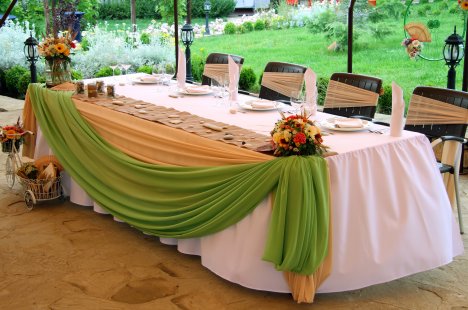 Here is a traditional look, pulling the single swag up into a clustered knot at the center of the table.  Although it looks as if green fabric is incorporated into the table skirting, this is actually a white satin skirting with green lighting under the table.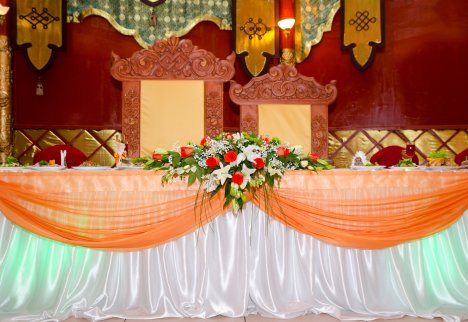 In this photo, a table runner of the same fabric, covers the top edge, concealing the pinning of the swags to the table.