table skirting designs
Following links on this website and making a purchase could result in a commission to the owner of the website
Table skirting designs add drama, color or elegance to bridal table.  Whether you use colored lights or contrasting linens, you must first take into consideration what type of tables you will be using and the overall length or width. 
Price carefully the difference between wedding rental agencies and buying your own.  Rentals are typically heavier fabrics, with a large choice of overlay treatments and colors. If the price is out of your reach, you may consider the cheaper option of purchasing your own and creating a similar look.
I cannot urge you enough.  READ THE DESCRIPTIONS and REVIEWS before purchasing!  If you want the heavy linens used by professional wedding rental companies, go to a company that specializes in professional event decorating.   If your budget is tight, you can create your own beautiful look with careful shopping.  Don't trust just the photos.  Measure your tables (including top widths and the distance to the floor, so you know exactly what you are getting.
Now for the different looks!
Table coverings and skirting styles
Skirting with box (also called accordion) pleating is one of the most basic looks.  The design is composed of two pieces.  Typically it has a table overlay (a cloth laid over the top, and then the skirting is fastened around the edge of the table with clips or velcro fasteners.    Be sure to measure the depth of you table to order the right size clips.  Box Pleat table skirts creates a clean, traditional look.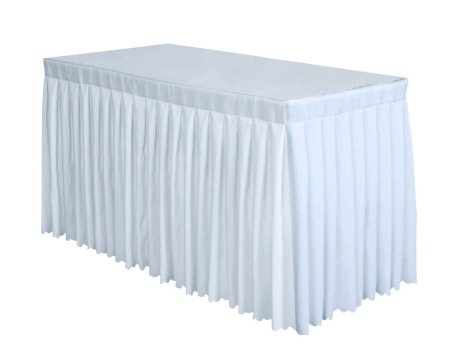 The shorter length table skirts can be used on round tables.  Remember to always measure the sizes of tables.  It is easy to mistakenly order a smaller size that will only give you a couple of inches of overfall off the top of the table.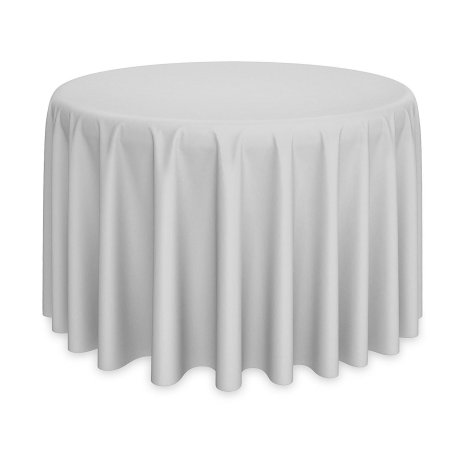 Another type of skirting is gathered folds, usually referred to as shirred pleating.  As box pleating has definite tucks to create evenly spaced folds at the table edge,  gathered table skirting falls into soft folds, draping nicely to the floor around the front and ends of the banquet table.  Again, this skirting is separate from the covering that is laid first over the top of the table.  Cheaper versions sometimes have a tacky strip that is pealed away, allowing the skirt to be stuck directly to the table edge.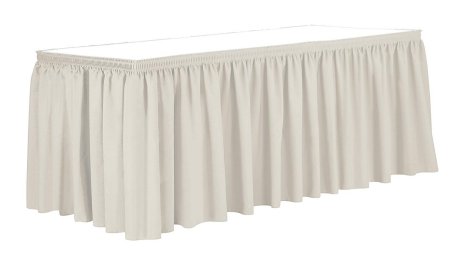 Shirred Table Skirts - Assorted Colors
The third style is a one piece table cloth.  The table top and skirting is all one piece.  The folds are minimal, draping gracefully over the table.   Again - read the description carefully to see if you are buying an all over covered table, where the length is the same all around the table, or a cloth that is short on the chair side only.   
It is wise to use some sort of adhesive (such as double sided Adhesive Gel Grip Tape or clear table clamps.  Measure the depth of the table top to be sure the clamps can fit on the edge.  I like the Gel tape, as it can be used in so many ways when decorating for weddings, and then peal off cleanly from most any surface without leaving any marks.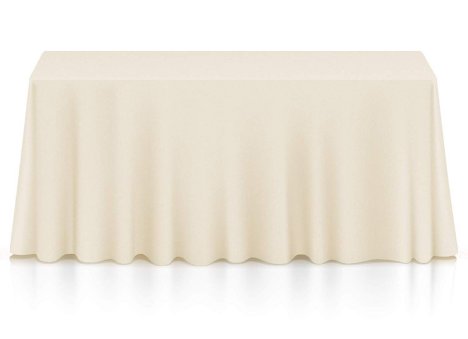 Waterfall skirting creates a romantic spill over the table's edge with a puddle of fabric on the flooring.  This lovely look has gained popularity over the last few years, with the sweeping folds nestled in graceful gathers on the floor.  Designers like to add more interest by adding in candles or design props (such as lanterns or vases of flowers) among the folds.  Just take great care not to use open flames, as some skirting materials can be extremely flammable.
The next style of table covering is the fitted spandex table covers.  They come in many color choices and stretch to fit over traditional banquet tables.  These are rather sheer, however, so you may not like using them unless you are using an overlay cloth..   If you have dark table tops, you can expect it to show through this sheer fabric.  Many cover the entire table on all sides, which makes it suitable for a gift, food or cake tables.  If you intend to use as a head table, be sure to have an open back.  This style of table skirting designs are commonly used for trade shows.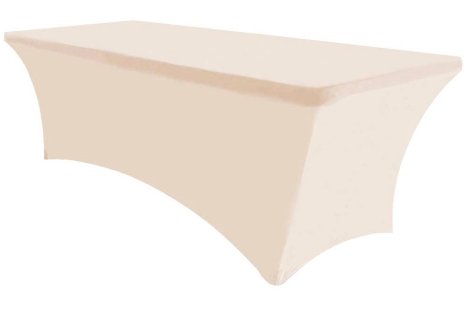 Spandex Fitted Table Cover with Open Back
The last style is asymmetrical.  This simply means that the fabric coverings don't necessarily have a pattern of draping that matches in shape, size or arranging style.  This has a casual, Bohemian type style, with the table coverings and creative draping fabrics fall in random patterns.  The Gel Tape or some sort of weights are a must, as it will help keep those carefully arranged folds in place.