satin pew bows
Following links on this website and making a purchase could result in a commission to the owner of the website
Satin pew bows can be very simple . . . but the cost increases as more greenery and flowers are added into the flower design.
You start with a basic satin pew bow, using very wide ribbon and creating a four loop bow with tails.  For the basic satin bow, you will need the following supplies:
Create a four loop bow and bind with a chenille stem.  Wind a chenille around the pew clip and use to attach bow.
For a little added elegance, add in plumosa fern and a draping of Smilax.  To the original pow supplies you need to add:
At this point, instead of creating a traditional bow, I would create four separate ribbon loops and ribbon tails, wire those loops and tails to a wooden pick and thus insert the picks into the florist foam of the Iglu. (This gives you more control over the ribbon loops and helps protect the loops from absorbing the water from the Iglu)
Tuck the plumosa (on wood picks) in between the ribbon loops.  Wire strands of the Smilax to the wood picks and insert on the lower right side.  Lock all stems in place with Floralock Stem Adhesive.  Be sure to shake the can thoroughly and then give very short bursts as to not drip glue down over the ribbon.
You can either wire the Iglu to the pew clip or tie ribbon tails to the tabs on both sides of the Iglu and tie to the chair or church pew.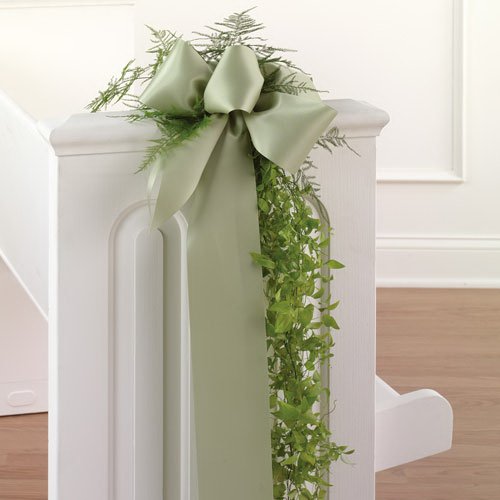 Now we're pumping up the look with the addition of of the following flowers:
Cut the stems of the button mums apart, wiring a wood pick to each button stem.  Insert the flowers into the Iglu florist foam as shown in the photo below.  Again, it's your choice of how to attach to pew.
Here is the final upgrade to the satin pew bow.  You'll need the following supplies for this lovely bow ensemble:
I think it would be interesting to start with plain bows at the back of the church and then adding the more elaborate flower designs for closer to the front of the church, perhaps on the pews designated for relatives or close friends.
If you need more help, be sure to browse through the flower tutorials, both for wedding floral centerpieces and for pew decorations.  These give you step by step photos on proper greening and flowering design techniques.