rose bouquet Polishing

Following links on this website and making a purchase could result in a commission to the owner of the website
Our rose bouquet is made special and unique simply by the variety of greens you incorporate into the design, before even adding the roses! 
Robellini fern can be used in so many different ways for wedding work.  It looks great in bouquets and large altar sprays.  It make a fantastic background for candelabra flowers.  You can loop the individual leaves and use in both corsage and boutonniere work.  Just looking at this fantastic green gives me all kinds of creative ideas!
The smaller fronds could have made a great frame for wedding bouquets instead of the leather leaf fern.

Florists tend to get creative with scissors at time, trimming greenery into the shape that they want.  Here I've rounded off the sharp points, wanting to keep the oval cascade shape that I started with.

I inserted the entire stem into the bottom right of the greened bouquet.  I'm not going to add one onto the left, leaving an asymmetrical look.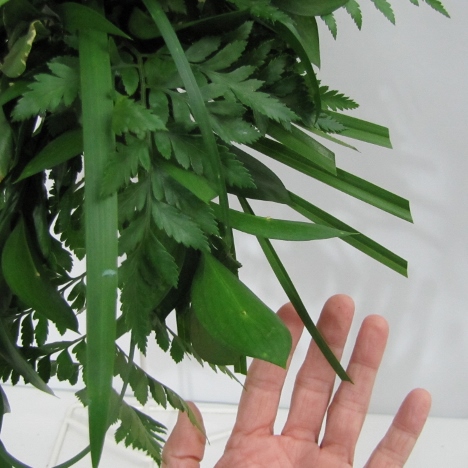 This way it tends to balance the longer ruscus stem coming down on the left side of the bouquet.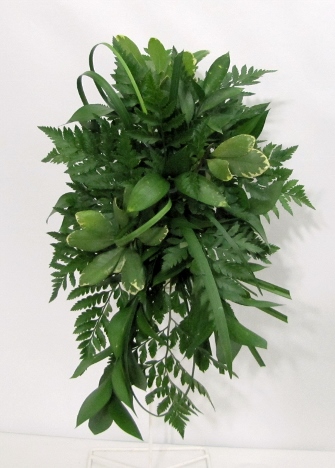 There are several professional floral products that wedding florists use regularly.  Leafshine is a greenery cleaner and sealant.  Normal greenery is usually rinsed at the farm, but can still arrive with dirty stems and calcium water spots.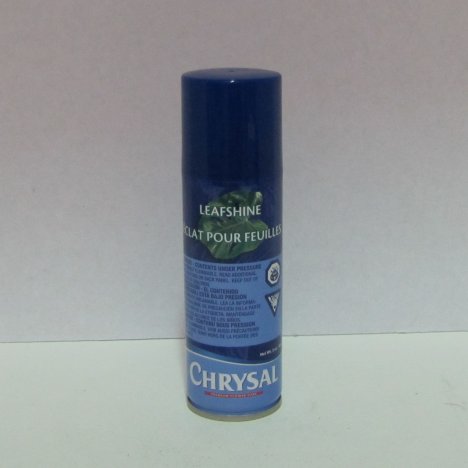 I wipe or rinse the stems off before using, but the green leaves can look a little dull after designing.  A quick spray before adding the roses makes your greenery look polished and clean.
Spray the greenery before adding the flowers and allow to dry before any refrigeration.  There is a separate sealant product for flowers called Finishing Touch, but I'll show that later in the tutorial.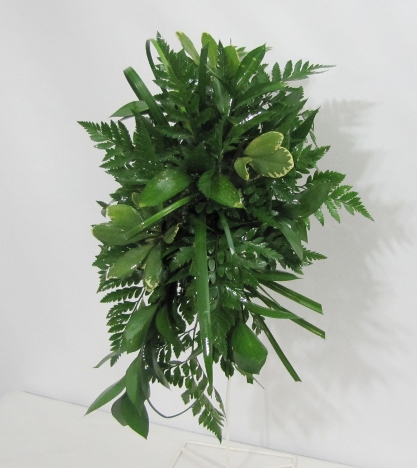 Roses are a popular choice for bridal bouquets.  Please note that varieties classified as "white" by growers may have a slight ivory tone.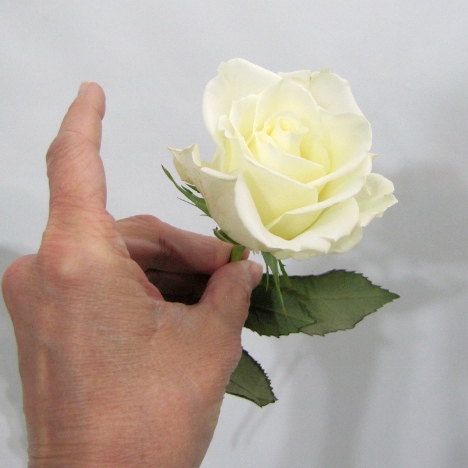 Thorns need to be removed from the rose stems before using.  They are dangerous for hand ties, injuring your hands or snagging clothing.  
Thorns also tend to tear up florist foam when inserting into bouquet holders.
There are many different styles available, but I like the acrylic one offered by Chrysal.  It fits comfortably in your hand and is gentler to the rose stems.  Simply wrap it around the flower stem and draw it quickly down the stem.  It will clean off thorns and leaves in one swipe.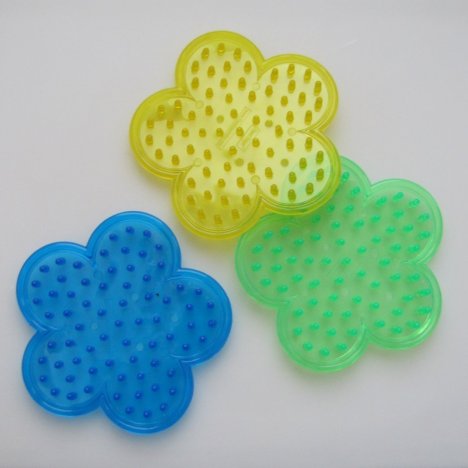 Roses are graded by growers according to length and head size.  It is fine to order short stemmed roses for use in bouquets, since you are going to cut down the stem length anyway.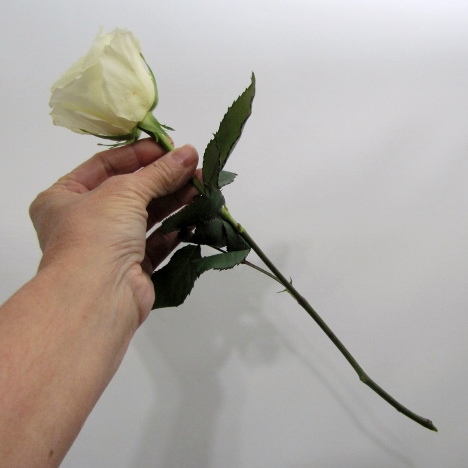 Fresh roses should have a firm feel to the bulb.  They are shipped in a dormant closed state, but generally open quickly when dipped in a flower rehydrator and placed in water.
Be sure to familiarize yourself with the correct way to condition your bulk wedding flowers. Using them straight out of the box is a sure way to have dead flowers on your wedding day.
Don't be alarmed if the outer petals have spots or browning or piercings.  These are guard petals left on when shipped to protect the inner rose.  Simply remove and discard them when you are ready to design.  Leave them on when resting in buckets to help prevent bruising.

Be sure your hands are clean and don't handle the petals any more than necessary.  I usually spray my fingers with Finishing Touch so that the oils from my hand don't transfer to the delicate rose petals.