peony centerpiece
Following links on this website and making a purchase could result in a commission to the owner of the website
I love a peony centerpiece because of these large, luscious blooms.  They are (like the Queen Anne) a very thirsty flower.  Be sure to check the Oasis foam and taking care that the brick of foam doesn't go dry.  Fresh flowers drink more than you realize.  You can replenish by dribbling more water into the center of the arrangement.
The first insertion is on the lower left of the design, facing forward and tilted slightly to your left.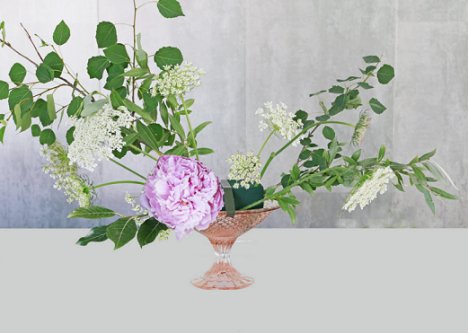 The second stem is kept rather short, placed in the center and facing straight up.
A smaller peony is a longer stem, parallel up to the branches on the left side of this peony centerpiece.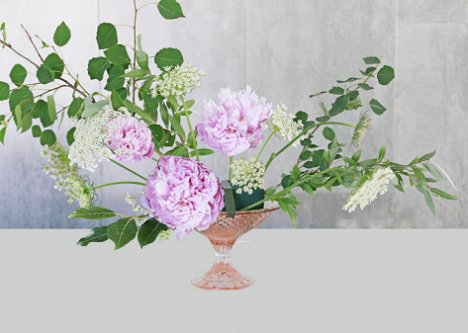 Deepen the color with these lovely "blue roses".  Although blue bring to mind a color like a crayon, most blue flowers have a lavender shade that deepens to fuschia more than a straight blue rose.  If you want that, check out the blue dyed roses.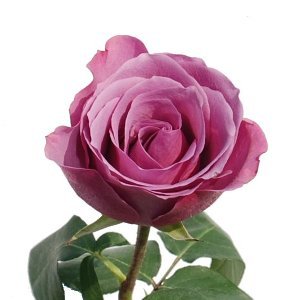 Keep in mind that the mechanics (the foam and tape) will need to be concealed by the flowers.  The first rose is inserted close to the rim of the compote, facing slightly to the right.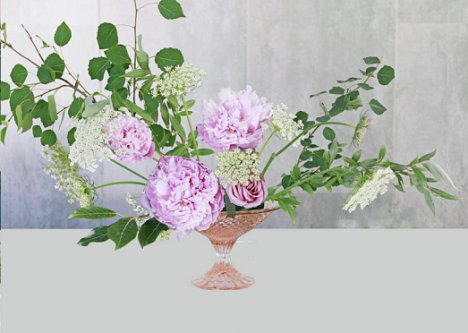 For this look, the flowers are creating a compact center, while the greens are the longer lines extended out.  Another rose in placed into the center, visible just above the first pink peony.