Making wedding bouquets
Following links on this website and making a purchase could result in a commission to the owner of the website
Making wedding bouquets original is following your own instincts.  Don't feel like you have to duplicate every single flower or greens in this bouquet.  Learn the STYLE - don't just imitate the look.  Make it original with your own colors and flower choices.
I adore seeded eucalyptus, which is available both with their natural, rounded leaves and also without (referred to as "naked eucalyptus").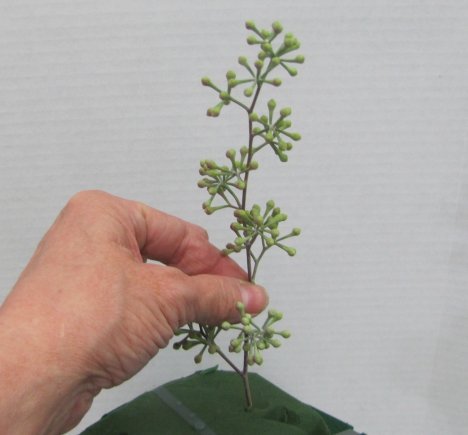 I start the greening process by placing the first stem in the center of the bouquet, standing straight up.  You'll notice in this photo I was experimenting with adding more foam, yet ended up finding that it made the bouquet too heavy.  Stick with the original if you're not sure, but don't be afraid to experiment.  That's what makes a designer grow.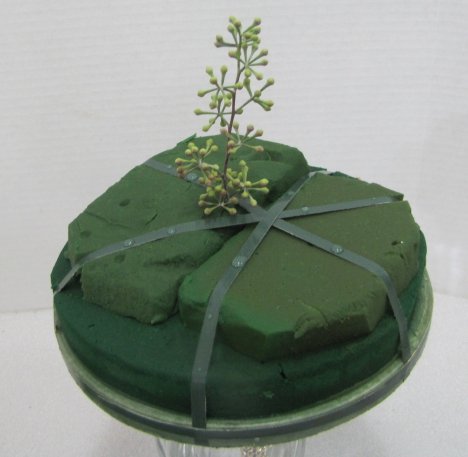 I love the unique look that the pale green seeds give when you're making wedding bouquets.  They are a wonderful contrast to the deep rich burgundy of the scabiosa and the golden yellow of the roses that are later added to this design.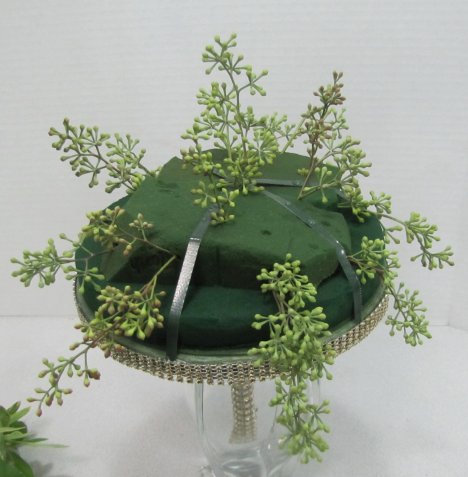 Variegated pittosporum is another unique green.  It's waxy rounded leaves adds a nice contrast to the other elements in this design.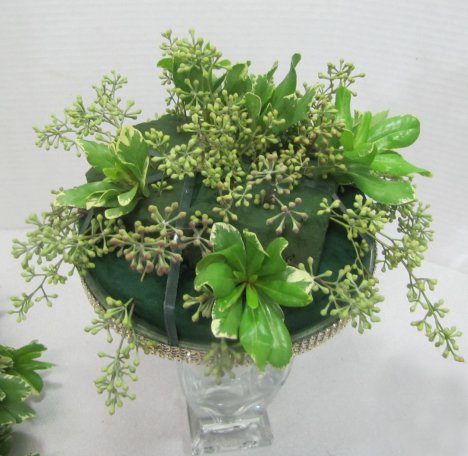 Don't feel like you have to fill in every single opening.  The flowers for this design are going to be close packed and will conceal the mechanics of this piece.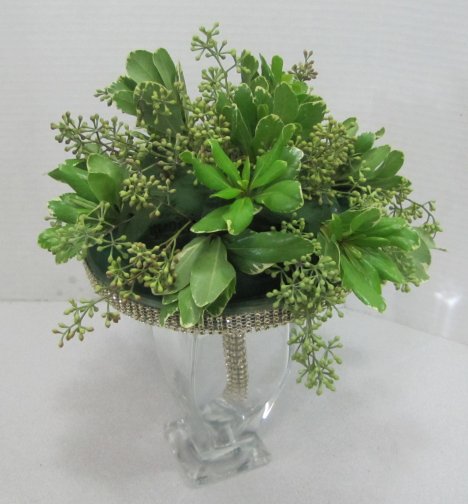 Here's the view from the top just before adding my first flower.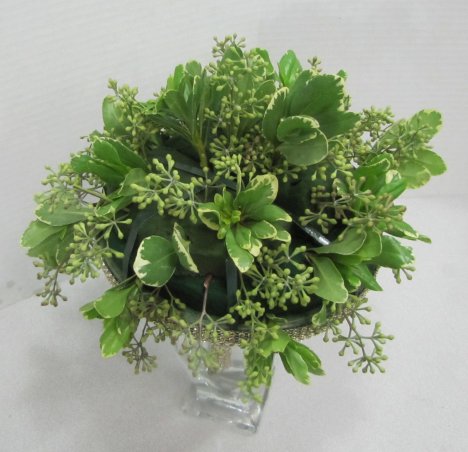 I fell in love with blushing bride protea from the first time I spotted it in my wholesaler's cooler.  This lovely tropical comes in a creamy white and a mauve variety streaked with lines of blush pink.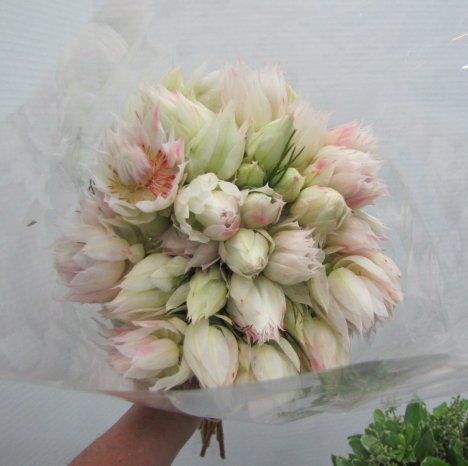 The stems of these lovely flowers have a natural curve, which you can use to advantage in this design.  They fall naturally, giving a natural look over the sides.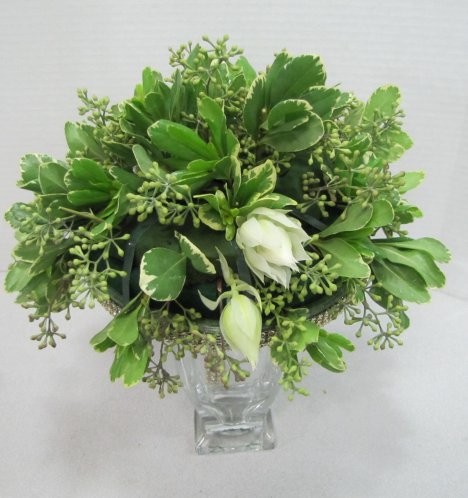 Don't feel like every flower has to be perfectly spaced apart.  Clustering bloom heads in some places give a more natural feel.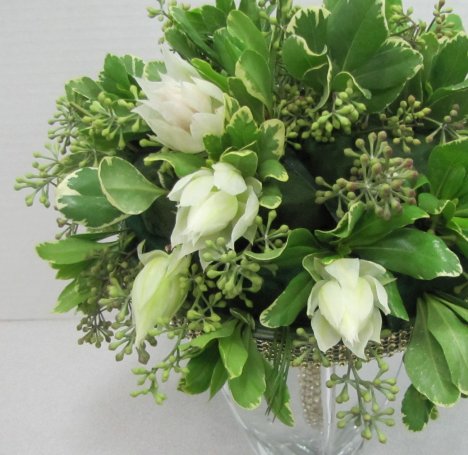 The bouquet is filling in nicely, with lots of texture - and there is only one flower added!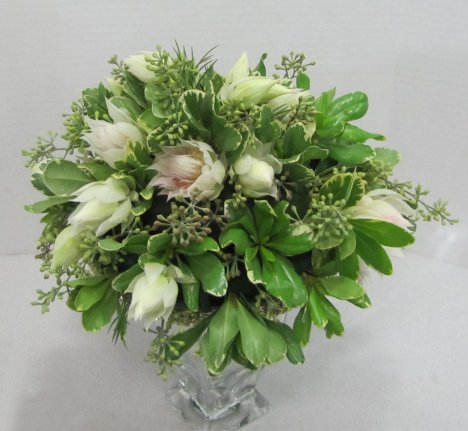 The bride fell in love with the very dark scabiosa, which was a deep plum color that matched the attendant's dress.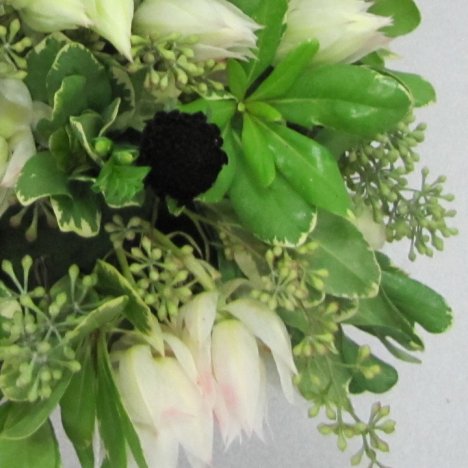 The blooms that were more open showed the purple hues of this delightful flower!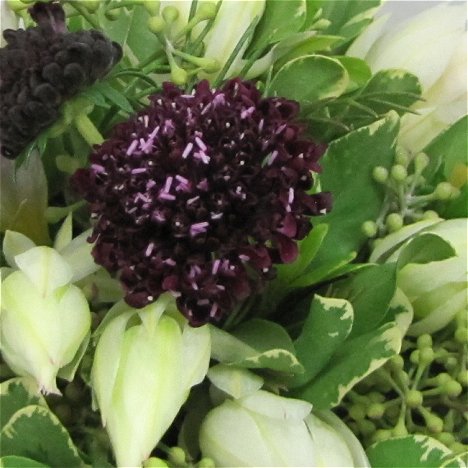 The lighter colors of the blushing bride protea gives a nice contrast to the darker blooms.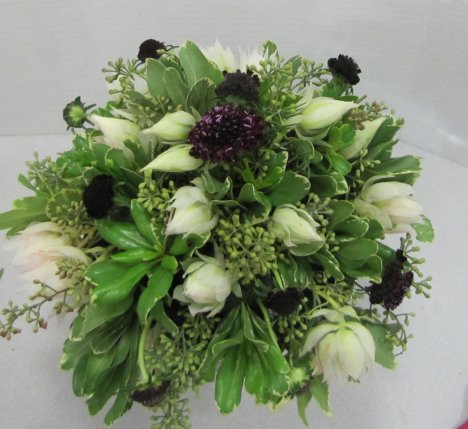 You can see that this European bouquet holder nicely balances the weight of the flowers and foam, while keeping you with a nicely rounded shape with very little effort.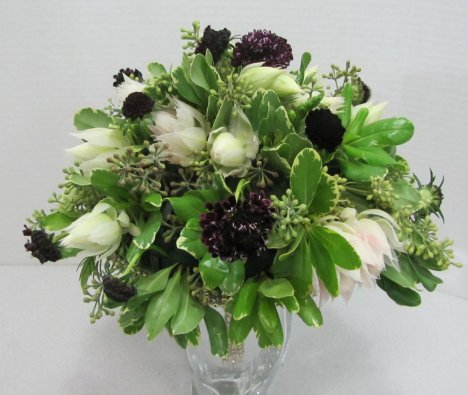 Now that I've placed these blooms, I'm ready to move on to the bright yellow of the roses.