How to Make Wedding Bouquets
Following links on this website and making a purchase could result in a commission to the owner of the website
Floral stem wrap comes in different colors.  These are available in my store in two pack packages.  My goal is always to conceal any mechanics I don't want to be seen.  Most of my brides now days love the natural "hand tied" look, so I strive to conceal the white plastic of the bouquet holder.
The floral tape stretches naturally and clings to itself, holding tight as you wind it around your bouquet handle.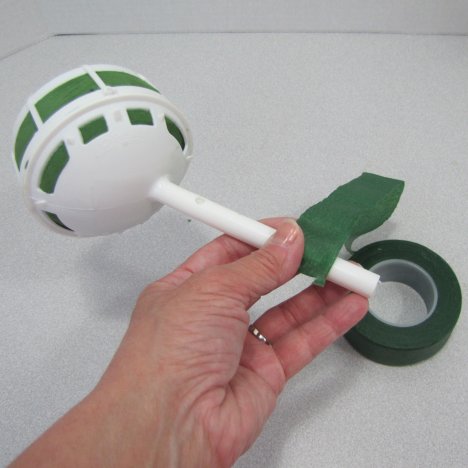 Starting at the top, wind the floral tape around the neck of the holder and pull it as you roll the tape down the bouquet handle.
It's important to have fresh tape.  Clearance stores (especially dollar stores) often have old tape.  Sometimes it's so dry it won't stick to itself and other times (as I found out the hard way!) can be a sticky mess that is a horror to work with!
I often see quality products sold on E-bay that are "past their prime".  One disappointed bride called me, frantic when she found her "bargain" bouquet holders had old foam that wasn't really soaking up the water as well as it should.  Sometimes a bargain ISN'T a bargain.  I don't advise taking chances with something as important as your wedding flowers.
I am going to ribbon wrap this handle - but I want to demonstrate different ways that you can conceal the handle and underside of the holder.  I am going to use lily grass to conceal the backside of the holder so I don't want any white showing through to spoil the effect.