filler flowers Bouquet
Following links on this website and making a purchase could result in a commission to the owner of the website
Adding filler flowers to this bridal bouquet will fill out the design, add more texture and contrast.
Hypericum berries (also known more commonly as St. John's wort) is one of my favorite fillers in flower design. It comes in green, red, and a varied bronze shade. I love it because it adds such interesting texture and lasts for a good 7 - 10 days.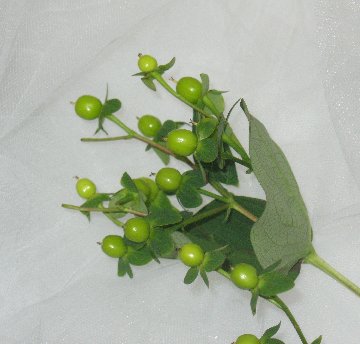 I generally separate the laterals and remove the leaves, unless I want them for added interest into the design. Although the stem is sturdy, I attach a Cowee pick to give it a little more strength and to know it will attach itself firmly into the Oasis, swelling a bit after the wood absorbs water.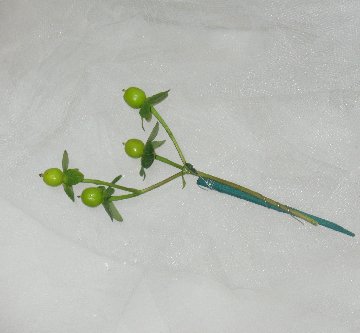 I fill in the hole right between the main focal flowers, which in this case are cymbidium orchids and large, open green roses.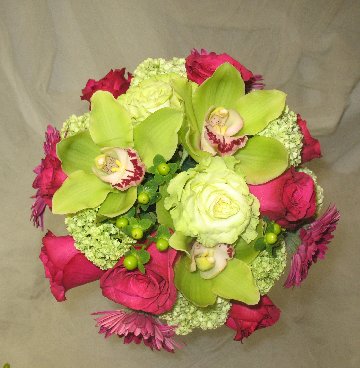 I continue to add more sprigs of hypericum here and there, in between the other flowers.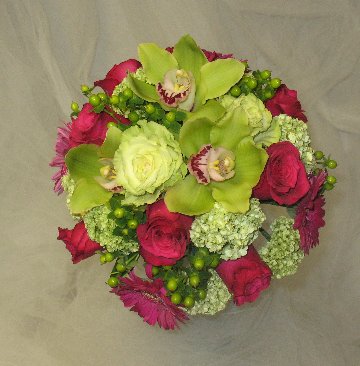 Don't forget to add it on the sides as well, creating a well-rounded design.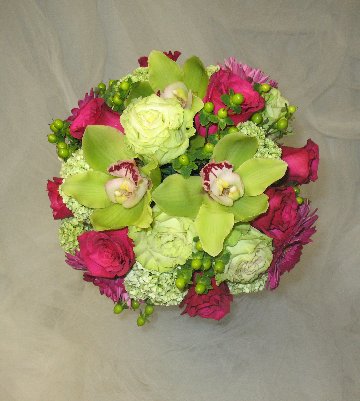 This side view shows that the bouquet has come together very nicely, with lots of visual interest from the different textures and shapes of both flowers and berries.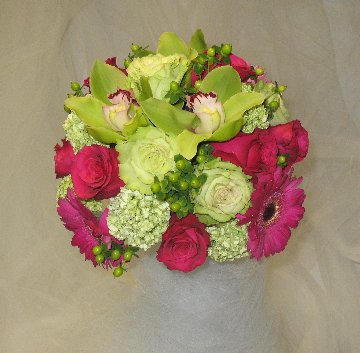 I'm going to add some light pink roses to this particular bridal bouquet design to give a little contrast and depth.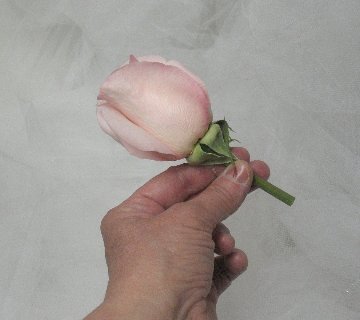 As you can see, I've chosen a pink that matches the throat the the green cymbidium orchids already used as the primary focal flowers of the design. Following nature can give you a lot of clues as to what shades and colors fit naturally together.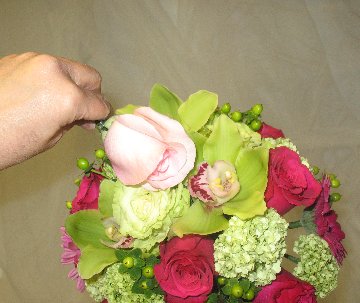 With at least a 3" cut stem, I want to insert the roses deep enough into the foam to allow them to draw water, but not so deep that it strikes the other stems of flowers already in the foam.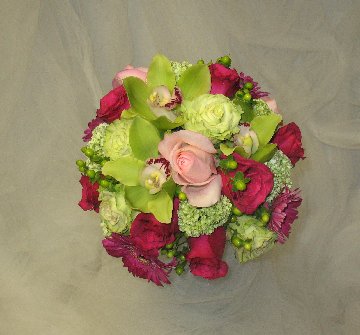 Don't forget to frequently check your design from the side, so the bouquet looks well rounded and that the flowers face outwards in all directions.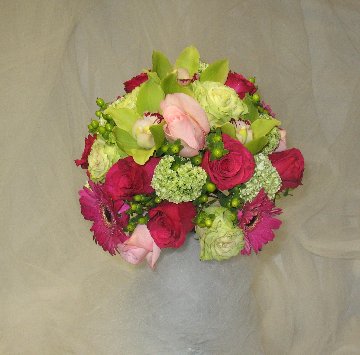 Once all the pink roses were placed where I wanted them, I added more hypericum berries  from the underside, lengthening their stems to be a little longer than the first ones placed in the design. See how you begin to work your way down from the center, rounding out the design while using the sections on the bouquet holder to separate out flowers?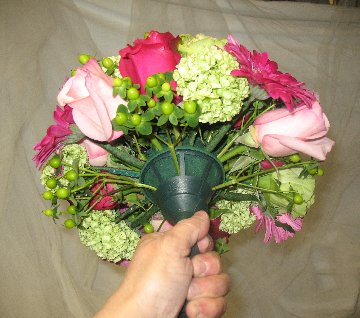 Button mums are a spray flower with several blooms on one stem and are a variety of Chrysanthemum (which is part of the Sunflower family).

I love using these tidy little compact flowers, which come in white, deep golden yellow, lavender and bright green.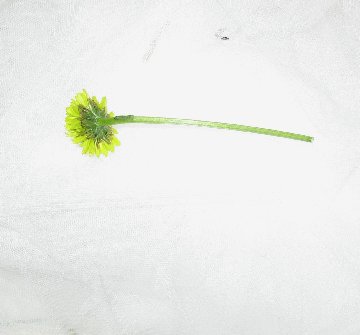 I've just tucked a few of these here and there, among the other flowers. You may have to lengthen the stems, as some of the laterals can sometimes be rather short and clumpy on these stems.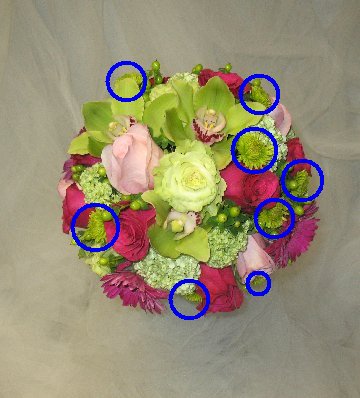 Although subtle, these dainty flowers make a beautiful finish to our final bridal bouquet design. See how beautifully everything has come together, including the cymbidium orchids, hot pink roses, green roses, light pink roses, pink Gerber daisies and green hypericum berries