daisy cascading bouquet
Following links on this website and making a purchase could result in a commission to the owner of the website
I LOVE mixing various greens in wedding bouquets.  This is especially true for the monochromatic bouquets (all one color).  The glossy mix of greenery gives a wonderful contrast to the white daisies.
 Italian Ruscus and Israeli Ruscus are two favorites of mine.  One single bunch is enough to accent three or four bouquets and leave enough over for corsage and boutonniere work.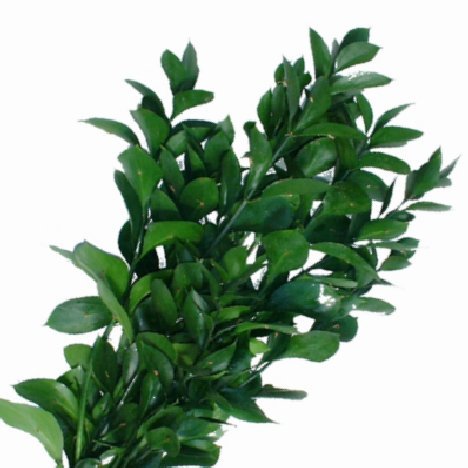 Israeli ruscus has a broader leaf that the Italian ruscus.  The leaves cup in slightly and have a wonderful oval shape.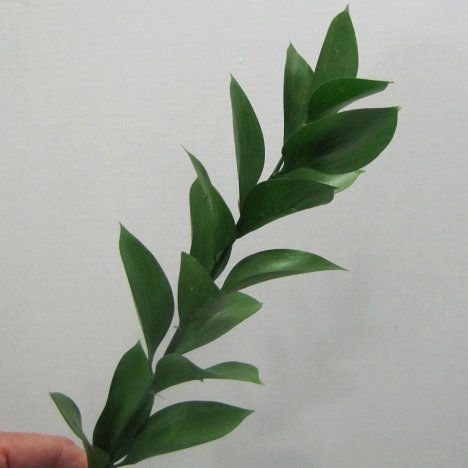 For cascade work, I generally strip off the bottom leaves to give me a stem to insert into the bouquet design.  Set these leaves aside in a plastic baggie and store in the fridge until you are ready to do your corsage and boutonnieres.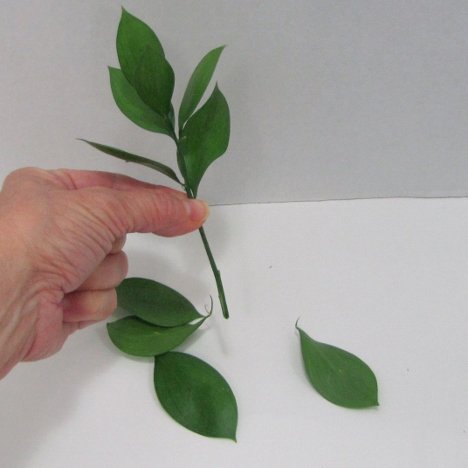 I begin by tucking a stem under the bottom, filling out the cascade.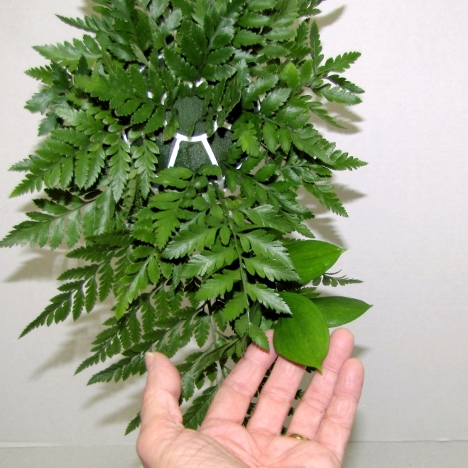 I insert another piece to the left side of the wedding bouquet.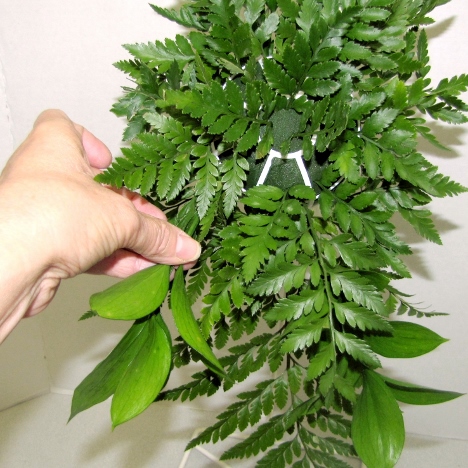 Then I began filling in around the outer rim of the cascading bouquet.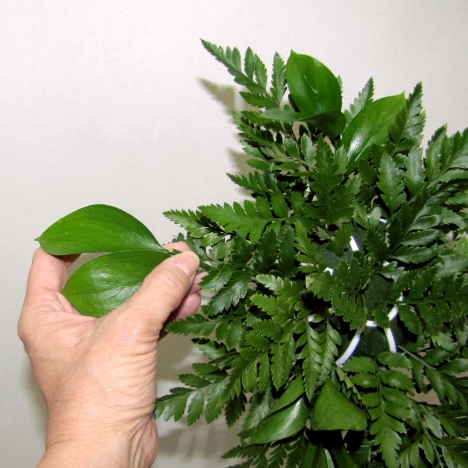 Like with the leather fern, I made the top stem a little longer to keep the oval shape of the bouquet.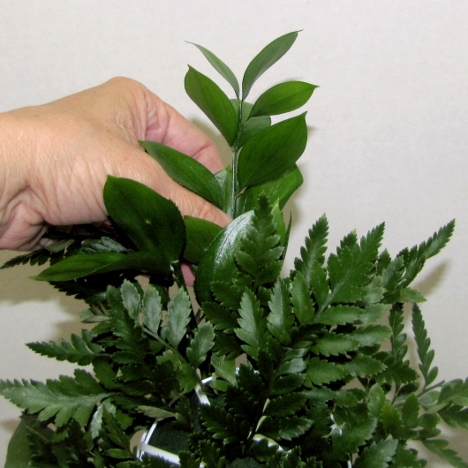 Salal leaves have a rounder shape and are usually a brighter green than the ruscus.  It gives a nice contrast to the other greens.  One full grower's bunch is enough to accent several bouquets, corsages and boutonniere.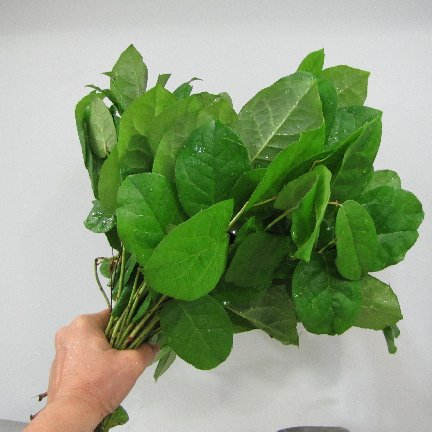 Called "salal tips" - the individual leaves rather spiral around a center stem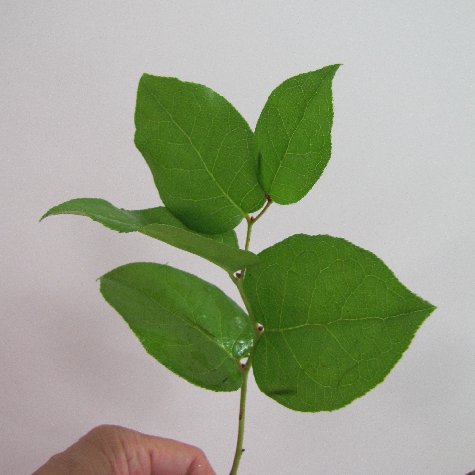 They are easy to cut into different sections while still leaving enough of a stem to insert into the wet florist foam.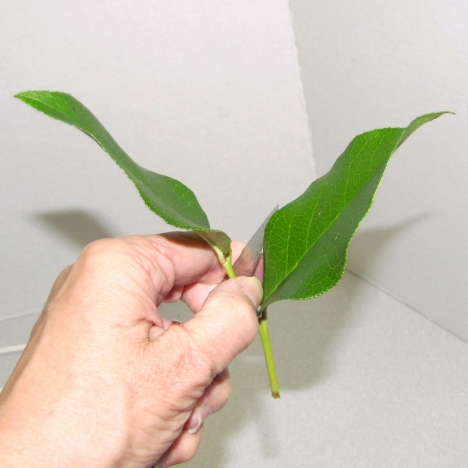 It doesn't take many leaves to have a decide effect on the look of this greened cascade.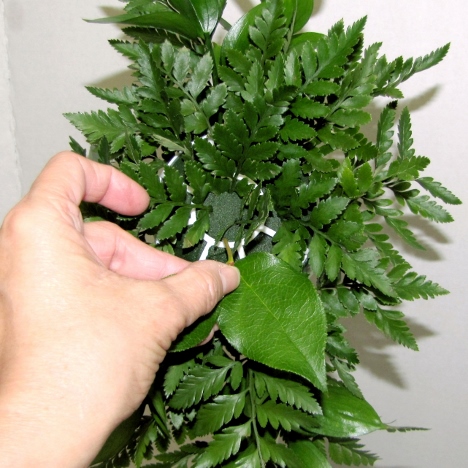 Scatter some salal all around the bouquet design,  Don't forget looking from the lateral (side) view frequently as you build your bouquet.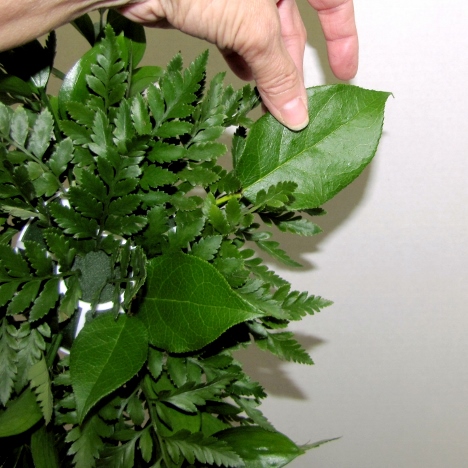 Another salal leaf at the top of the wedding holder adds to filling out the look.

I decided to insert a tri-leaf section of ruscus right in the direct center of the bouquet holder.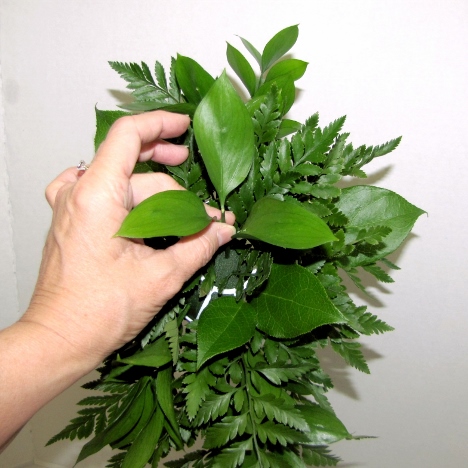 You can see how the different textures and subtle changes of color really adds character to the look of a greenery bouquet.
I strip off the bottom leaves from a salal stem (also commonly known as "Lemon Leaf) so I can have a longer stem.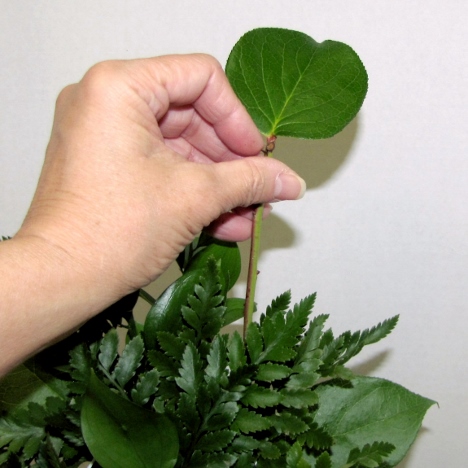 This helps when I want some length down the cascade section of the bouquet.

Another long piece to the lower right of the bouquet.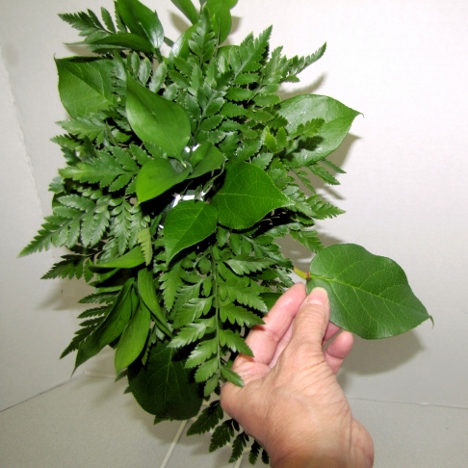 I saw a hole in the top where I tucked another tri sprig of ruscus.