daisy cascade bouquet
Following links on this website and making a purchase could result in a commission to the owner of the website
Your daisy cascade bouquet is greening in nicely. Always take a step back occassionaly, looking your design over and deciding where another green is needed.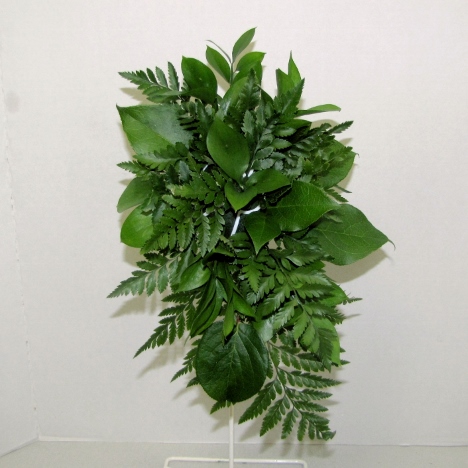 Although I want a balanced look, I don't necessarily have to be symmetrical (making it look like a mirror image on both sides).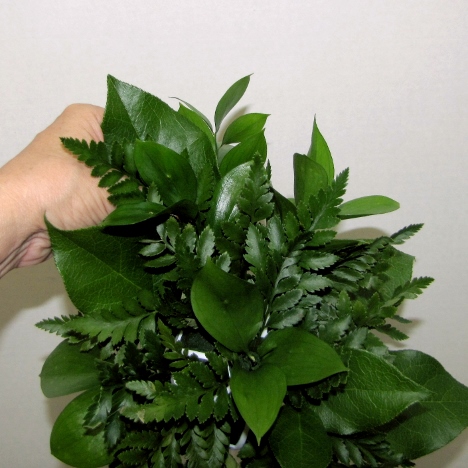 Keep checking the sides.  You want to cover up the mechanics (the foam and the white cage) without over stuffing the greens.

If you look on the back, you'll see open slots where you can insert more greens.  These are usually filled "good side out" - so that when you look under the bouquet you see the "good" face of the greens, making your bouquet beautiful from both back and front.

I'm finally satisfied with the overall look and have still left plenty of room for all the daisy stems I plan to insert.

If you wish, you can glue salal leaves to the underside of the bouquet holder, concealing the white bottom of the holder completely.  Another choice is to create a salal leaf collar and add stems so that it looks like a hand-tied bouquet.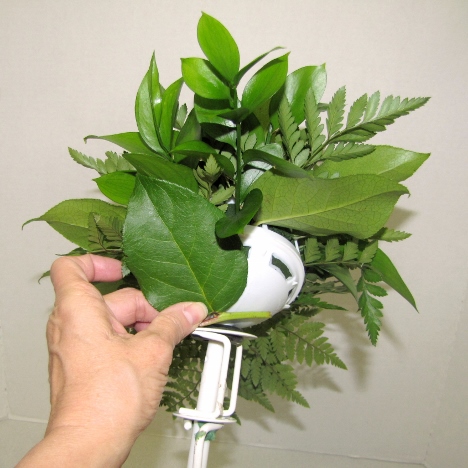 Leafshine is a polish created especial for fresh greenery.  Florist use it to clean up living potted plants and to seal cut leaves that go in flower designs.

Leaves sometimes arrive dirty, but water rinses often leave a dull sheen with a spotty white look caused by hard water.  Spraying with leafshine seals the leaf and gives it an attractive, glossy finish.

Spray before adding any fresh flowers and allow it to dry on the wedding greenery.  Leafshine is meant for greens only.  You'll use a flower sealant such as Finishing Touch to seal the fresh flowers after designing.

Dry pack flowers are still partially closed and are dormant.  They need to be processed correctly.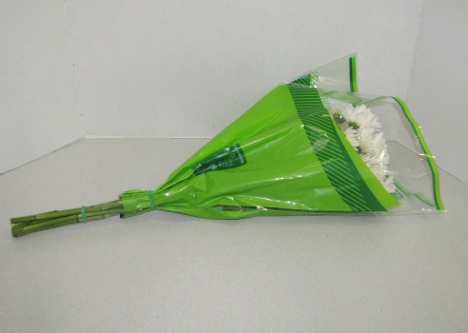 Chrysanthemums have a hard, slightly woody stalk.  Be careful when unpacking not to scar the stems if possible.  This would allow bacteria into the stem and decrease the life of the blooms.  Cut the rubber bands off, slit the plastic sleeve and gently untangle the flower heads apart.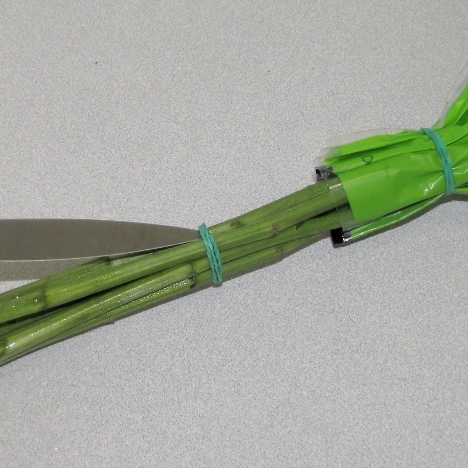 Grower's daisy bunches come 10 stems to a pack.
A single stem generally has approximately three flower heads and a bud or two.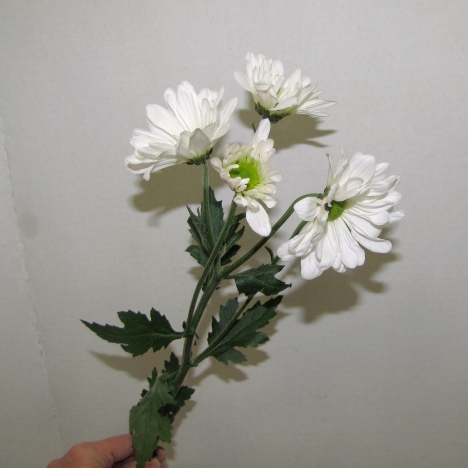 Expect and allow for some damaged flower heads.  We are dealing with a live product that is packed on a field site and travels a long distance to land on our doorstep.  Always treat your flowers gently when processing them, taking care not to bruise or damage petals.