yellow buttonhole
Following links on this website and making a purchase could result in a commission to the owner of the website
This yellow buttonhole boutonniere can have a different flower (such as a rose) used instead. 
After bending the cushion mum slightly forward, I place the first pittosporum leaf behind the head of the flower.  It would be raised slightly so it can frame the flower petals.

Tape into place and then add another leaf, taping in the same manner.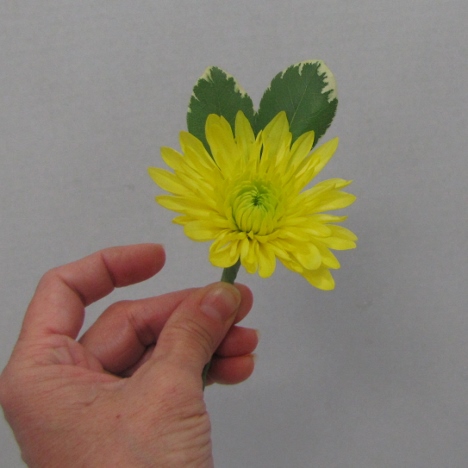 I now move down to the right side, placing the third leaf down and bent slightly outward.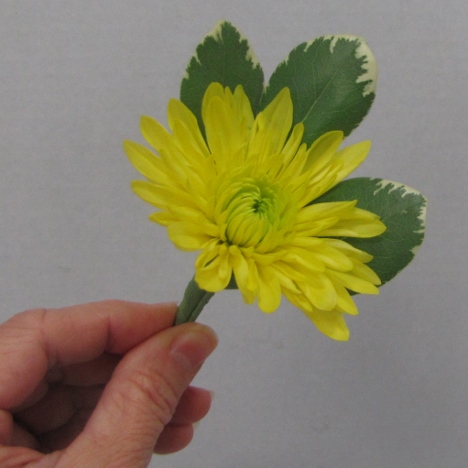 As you can see, wiring the individual leaf allows me to bend the leaf at a 90 degree angle and allow it to cup under the flower petals.
I'm going to add a different kind of leaf on the left side, using a salal leaf.  This adds a darker, glossy green and a different shape, giving more interest to the boutonniere design.
This comes a little later, after I add a few accent flowers on the left of the cushion mum.
I LOVE using snapdragons in corsage and boutonniere work!  They are available all year round and come in a variety of colors, including oranges, pinks, white, and yellow.
Many florets come on a single stem, so I reserve the tips of the flowers to wire and add more interest to the groom's boutonniere as well as mother and grandmother corsages.
I then wire the individual florets for use in all the boutonnieres and corsage work.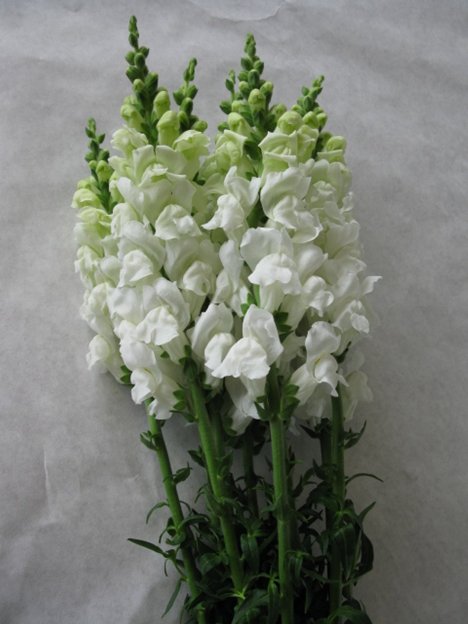 Florets are the individual flowers that open down the stem.  These are reminiscent of old fashioned sweet peas - but have a longer growing season and don't shatter as easily as sweet peas do.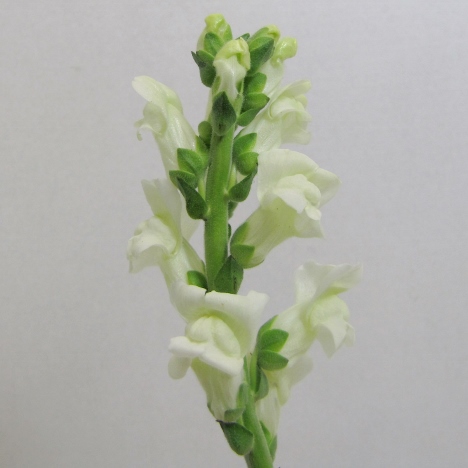 Pluck the individual florets off the stem, making sure that the green part of the flower comes off with it.  (You may want to spray your fingers with Finishing Touch so the oils on your hands don't brown any delicate flower petals).

Gently push a 26 gauge floral wire through the calyx of the flower head. 
I push a second stem through at a 90 degree angle to the first wired flower.

Gently wrap green floral tape around the bottom of the flower.  Then wrap again (more tightly) and wind down the stem.

You now have a wired snapdragon floret ready to add to your boutonniere design.
You can gently bend the snapdragon floret outward, taking care not to break the delicate petals of the flower head.