white teardrop pomander bouquet
Following links on this website and making a purchase could result in a commission to the owner of the website
An elongated (or "teardrop) pomander is simply a matter of making the stems gradually longer at the bottom of the netted sphere, rather than a perfect circle bouquet.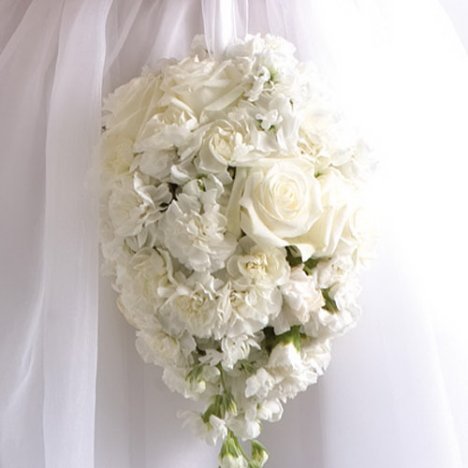 Float-soak the floral foam ball in floral-nutrient water.  Thread the ribbon through the top of the netted sphere and tie a knot.  Slide the ribbon around until the knot is the part that rests near the surface of the foam ball.
Insert your flowers around all sides of the sphere except at the bottom.  Once you begin flowering in the bottom, begin to extend the stems so they get longer and longer, creating the teardrop shape as shown in the photograph.
Shake the Floralock Stem Adhesive thoroughly, and insert the nozzle in between the flower heads.  Squirt in short bursts, allowing the glue to flow around the stems where they insert into the foam.  Don't go overboard, or the glue can drip down, showing on the flower heads.
Mist well with a flower sealant such as Finishing Touch or Crowning Glory.
If you are unsure on how to flower bridal bouquets, be sure to read through several of the bouquet tutorials before starting this design.