white bridal bouquet

Following links on this website and making a purchase could result in a commission to the owner of the website
This white bridal bouquet is arranged on a straight handled Grande Belle bouquet holder.  If  you need detailed help on the flowers, check out the Red Rose Wedding Bouquet tutorial.  Once the flowers are in place, lock the stems into place using the Floralock Stem Adhesive.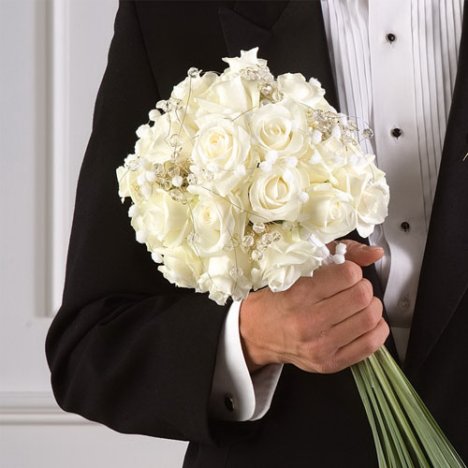 You must thoroughly shake the can before using in order to aerate the contents.  Squirt in short burst with the long red nozzle next to the insertion point of each stem into the foam.  Do not overdo, or you may have glue running down the handle.
Insert the Pearl pins at random around the roses.  Lightly wrap the clear garland over and around the designed bridal bouquet.
Put a rubber band on the neck of the bouquet holder.  Holding the mixed grasses in a bunch, slide the straight handle of the holder down into the center of the grasses.  Wrap a length of waxed string around the cut ends of the grasses near the base of the holder (right under the flowers).  Wrap tightly and tie off with square knots.
Cover the wax strings and cut end of grass with satin ribbon.  Wrap around tightly and tie with knot.  Creat a loopy bow if desired.   Mist bouquet with Finishing Touch and store in refrigerator when done.