wedding unity candles
Following links on this website and making a purchase could result in a commission to the owner of the website
Unique wedding unity candles can mix in a variety of different greenery for contrast and interest.  I love boxwood, which is available all year round in both solid green and a variegated variety.
Cut the individual laterals off the main stem and strip off the lower leaves to have a bare stem to insert into the Oasis Iglu holder.
This foam cage does not take long to green up.  You will be doing two taper candles, so you might want to create both of them side by side so that the size and look stays comparatively the same.
The stems on the top go straight upward and then gradually begin fanning out in all directions.  Space your boxwood apart, because we will be adding in several other types of greens to this design.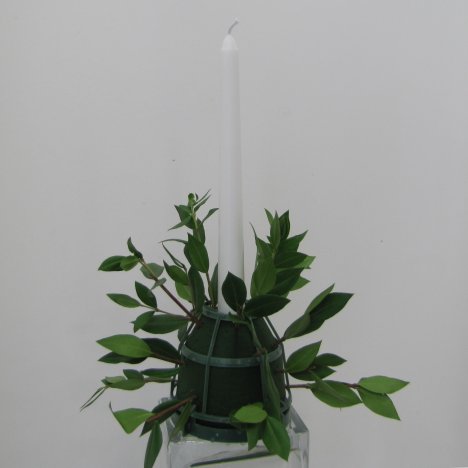 Next I'm going to use eucalyptus.  This has become a rather favorite with modern brides in today's loose bridal bouquet designs.  Take care as you cut it, because some fresh eucalyptus does have a rather strong oder and some people may have an allergic reaction to it.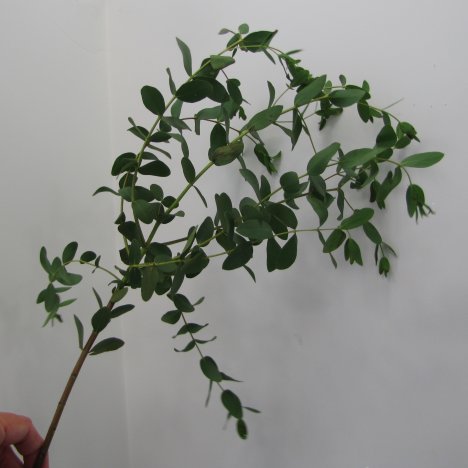 You can create longer laterals that sweep down on the tabletop for a more casual flair.
The final size of the design is determined by the length of the greens and flowers.  Since there are not going to be any flowers in this design, I plan to add in several different flower varieties to keep the design more interesting.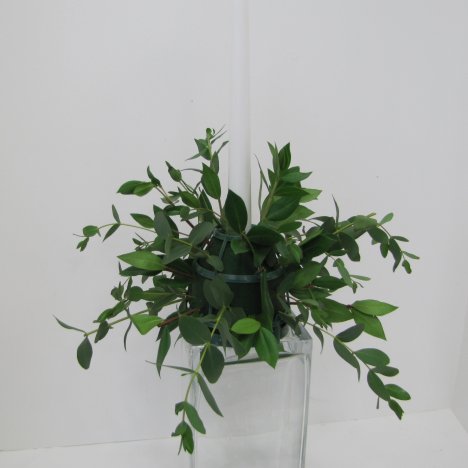 The next green is one of my favorites, Italian ruscus.  It has a long, rather willowy feel, with smaller laterals off the main stem.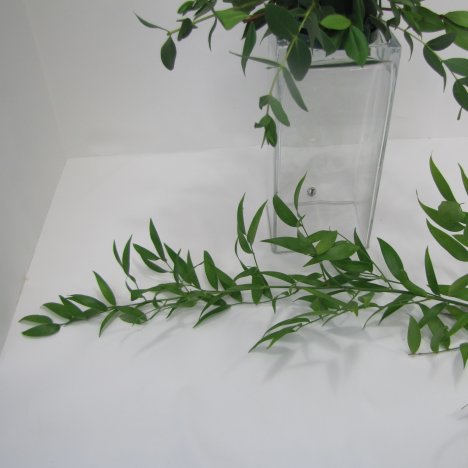 I continue adding in more greens all around the outside of the iglu.  Remember, it is the mark of a good designer if you cannot see the mechanics (the cage, the foam and tape) of the design after you are finished.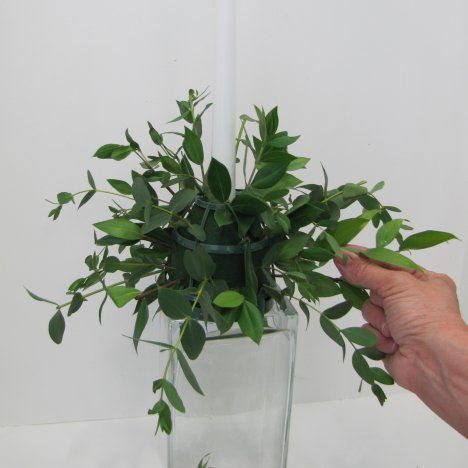 This is filling in rather nicely, with a nice natural "outdoor" look to the design.
If you wish, it's quite all right to add in focal flowers (just a cluster here or there) or even just filler flowers (such as baby's breath or wax flower" if you want more than just greens.
That's the wonderful part about flower design.  You can make more than just wedding unity candles - but tie in a theme throughout your bouquets, corsages, boutonnieres and centerpieces.  You have the ability to make them all uniquely YOURS depending on the colors you use and the flower varieties that are your favorite.
If you have your heart set on a specific flower, however, you should be sure to check before setting your wedding date, as some flowers have very short seasons.