wedding table candelabra
Following links on this website and making a purchase could result in a commission to the owner of the website
This wedding table candelabra is going to be shown using the bowl method.  You will still need a rim of floral clay to keep the bowl steady inside the candelabra.  Tape the foam to the container with green waterproof tape.
If you are planning on greening your designs, then do that now before adding the flowers.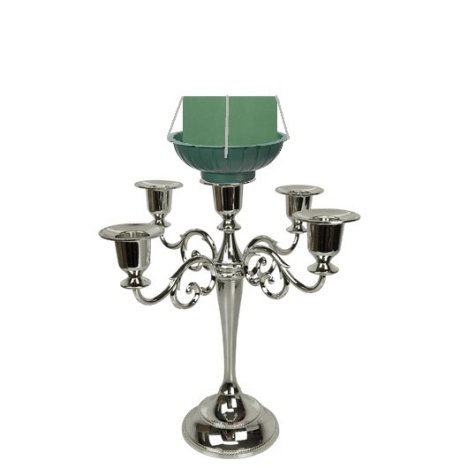 Start with your largest flowers, inserting them into the top.  Add all three artichokes and then add in your hydrangeas to cover the foam.
Begin with your secondary flowers, tilting them slightly outward.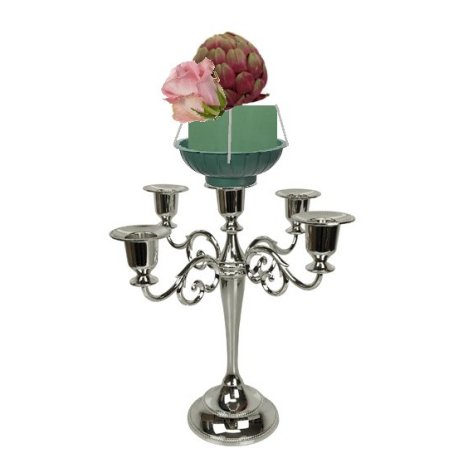 Candelabras typically have flowers spraying downwards, rather than upwards like an urn arrangement. If you are only using the candelabra as a flower stand, then you can design up and outwards like any other stand arrangement.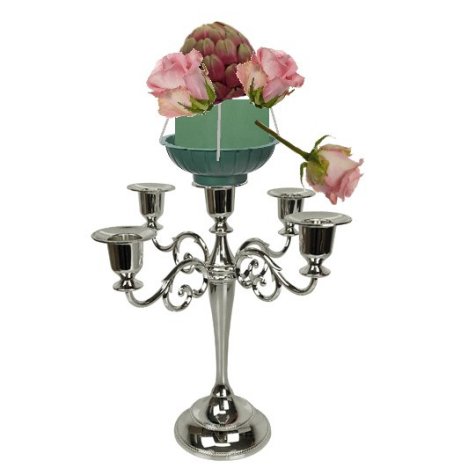 Turn your wedding table candelabra around, inserting larger stems at a downward angle.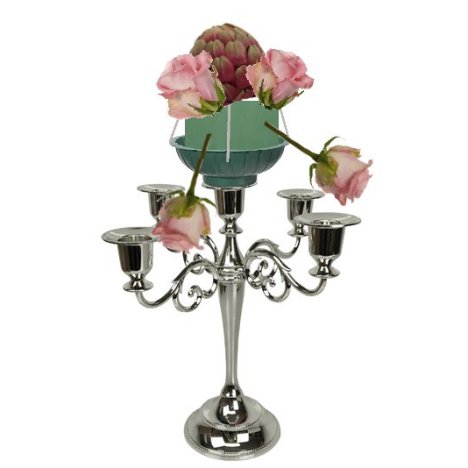 Candelabras are usually viewed from all sides, so you need to turn the arrangement and keep the insertions of the flowers balanced.
Insert your remaining roses around the design, keeping the heads of the flowers close to the top of the foam and below the top of the taper candles.
Now you can begin filling in with your purple cushion pomps, facing the flower heads outward and downward.
Turn the candelabra, placing more of the purple cushions until they are all in.  Keep a couple of longer stems held back for when you finishing the design as longer insertions.
Matsumoto Asters have a naturally bent neck (no....they are not wilted).  You may wire the flower stems if you don't like the look of the hanging flower head.  Continue placing your cushion mums, asters and filler flowers until the florist foam is completely concealed.  Good designing means making sure your mechanics (like the foam cage) is completely covered.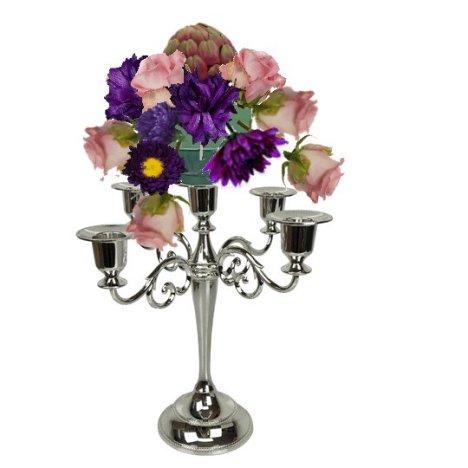 Add your longest line flowers (like the larkspur) after the arrangement arrives at the venue.  Putting these in at home and then delivery almost always results in broken stems.  Insert the ivy and larkspur into the bottom, angling upwards.  The ivy inserts easier if you use a wooden pick wrapped around the bottom.  Ivy stems are very soft and hard to insert.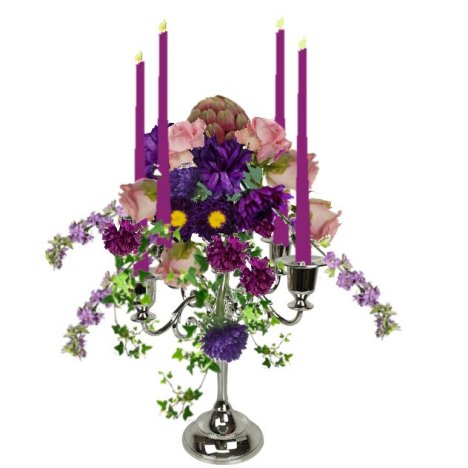 I use Floralock to make sure the hanging flowers stay put.  Shake is thoroughly and follow the directions on the can and don't overdo or you may have glue running down the sides of the candelabra.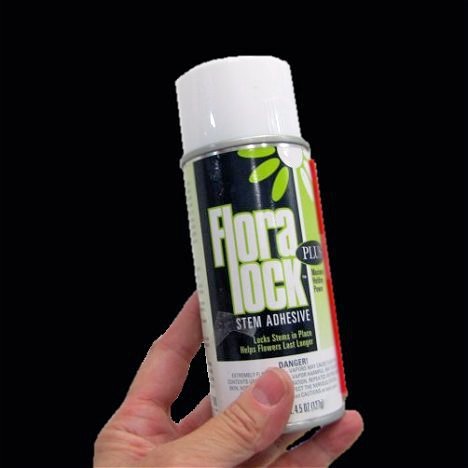 Be sure to mist all flower designs well with a flower sealant such as Finishing Touch or Crowning Glory.  This seals the flower petals and increases the life of the blooms.