wedding flower centerpieces
Following links on this website and making a purchase could result in a commission to the owner of the website
Wedding flower centerpieces range from tall and majestics to dreamy low table designs that glow with candles and other accents.  Designing these aren't as hard as you imagine.  Often overlooked details, however, are often mistakes made by designers working from their home.
You have to break down the mechanics, thinking ahead about the logistics of delivery and setup at the wedding venue.
Tall centerpieces are pictured by brides as the ultimate look . . . yet she CAN save money by making her own (or knowing a crafty friend that can do it for her).  Whether you design in fresh flowers or silk, you have to be organized at setting up your workspace and being prepared to design and deliver your flowers when needed.
To create this look, you'll need the following supplies and flowers.  Please don't feel limited to using the same colors or flower varieties.  You can substitute different colors, or flowers of the same head size, to make a look totally unique to your own colors and flower budget.
You can save more by buying in combo boxes (as in greenery) or in mixed flower combos (available in lots of different colors).  This way you can get the most bang for your flower dollars.
You'll need the following:
Don't kid yourself.  Tall centerpieces like these take a lot of work and set up time.  If you are a bride, I would urge you to just make one or two for the church altars or on the bridal table.  If you are a friend of the bride, then prepare your work tables and processing area ahead of time.  You CAN do flowers out of a home - I've done it many times.  But it takes a lot of teamwork to create both the wedding party flowers and ceremony decorations.
Don't overload yourself with so much that you get overwhelmed.
Tall centerpieces have to be assembled at the venue.  It's just impossible to get this type of height and deliver them safely to the reception hall.  Green in the arrangements ahead of time and flower just the day or two before the wedding.  Greenery is hardy and can be greened in several days in advance.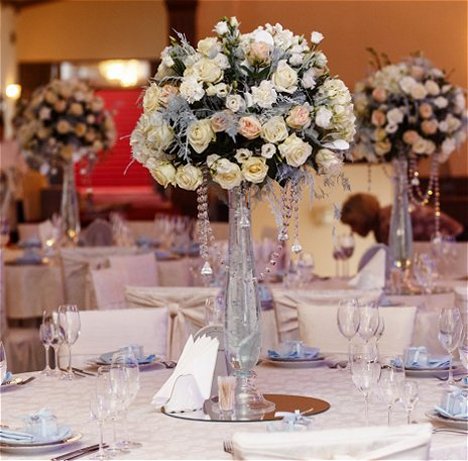 Wedding flower centerpieces like these are all about the components of the design and assembling them upon arrival.  The garlands are attached by wooden picks inserted deeply into the underside of the wet foam.  The wood will swell when wet and achieve a tight bond.
You have to take care that your arrangements are balanced.  Fresh flowers and wet foam are heavy.  I usually secure the base to a large table mirror with small, rolled pieces of white florist clay.  This gives the vase a sturdy base that doesn't topple over at the slightest bump of the table by a wedding guests.
It's best if the vases are either short enough or tall enough to allow your seated guests to view one another's faces during the dining hour.  This also gives them a clear, unobstructed view of the bridal table, which of course is always the aim of the seating arrangements.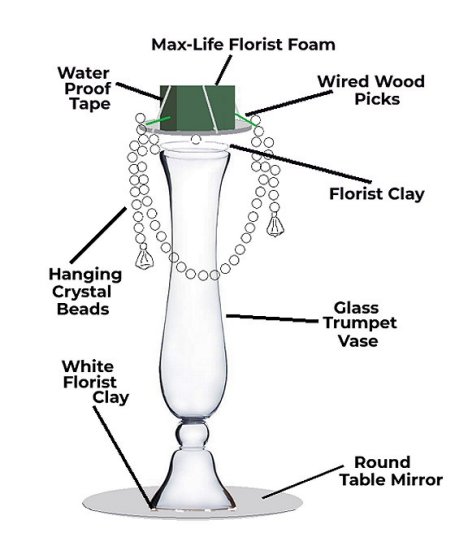 Be sure to read through the many tutorials I have for creating tall centerpieces.  How to green in and flower these types of arrangements are described in detail, with step by step photos.  I have numerous tutorials for every type of flower design, including bouquets, reception centerpieces, bridal tables and much more.  Browse through and learn how you can save considerable dollars on your wedding budget.
Please don't skimp on the products.  Fresh flowers are living organisms, just like we are.  They need nourishment and preventive care to keep them fresh and lovely for your wedding day.  Read through the process of cleaning and preparing your flowers from the moment they arrive on your doorstep.