Wedding Flower Centerpiece
Following links on this website and making a purchase could result in a commission to the owner of the website
I always use Oasis Max-Life floral foam. This florist foam is a little more dense that the standard Oasis foam and is suitable for most every variety of flower.  
It is scored with pre-marked cutting lines for easy measurement for standard floral containers.  Once laid in water to soak, it quickly absorbs maximum water and provides an excellent source for nourishing flowers.
Be sure not to push or hold the foam under the water line.  It should sink naturally, absorbing water by itself.  Forcing it to submerge can cause dry pockets that could cause a stem of flower to die.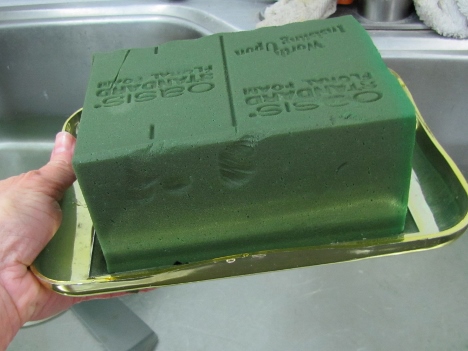 You need to be sure that the foam is held securely to the container.  Some containers have sharp prongs or spikes that grip the foam firmly when you press it down into the bottom of the container.
Smooth bottomed bowls will need the extra security of greening tape crossed across the top of the wet foam to secure it into place.
These glossy finished containers come in both gold and silver.  They work well as disposable containers that look expensive, but cost much less, and ship much cheaper than heavier metal containers.
You should be sure that a couple of inches shows above the lip of the container, so that lateral stems of greenery and flowers can be inserted from the sides.