wedding florals
Large wedding florals are easier than you think.  More detailed work like corsages and boutonnieres, which requires intricate wiring and taping, is harder than the flowers for your wedding church.
Although this design was done in silk, the techniques are basically the same for fresh flowers.  You'll need the following: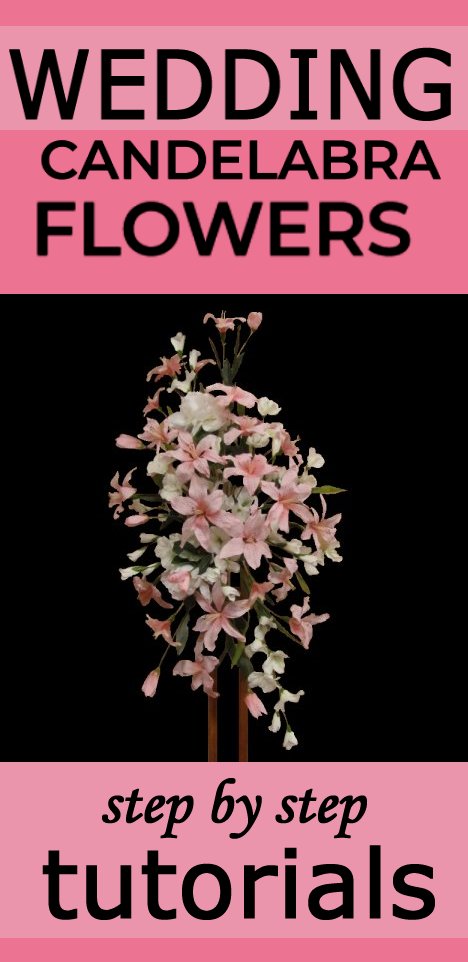 I used to create large silk florals and then used them as rentals for weddings.  This candelabra is one of those designs, but I wanted to take you through the process as if you are using fresh flowers.
First you must always take care to process your wholesale flowers immediately upon arrival.  You can purchase bulk flowers, greenery and all the basic products needed for DIY flower designs.
I get exasperated by popular "wholesale flower" sites who claim that they are providing you with free shipping and bargain prices.  My advice is that you shop carefully - and that includes reading all the fine print.  Most require you to buy five or more "bunches" - and then shortchange you on the amount of stems in those bunches!  What happens if you don't NEED five bunches for your wedding florals?
Grower's bunches is a term for the way flowers and greenery are custom packed at the farm.  This way professional florists know approximately how many flowers they are getting.  I'm not selling wholesale - but my retail prices often meet or beat these "wholesale" prices and I allow you to buy one FULL bunch at a time.  In this way, you have more control over your flower budget and have enough money left to buy the professional supplies you need to keep your flowers fresh and at their peak for your wedding day.
One of these sites sell leather leaf fern - with a minimum of 5 bunches for around $65.  That's about a $1 a stem.  Unfortunately - their bunches (if you read the fine print) only have about 10 - 15 stems.  Since true grower's bunches are 20 - 25 stems per bunch, you can see you're losing out on the deal
I sell the same product RETAIL for about 45 cents a stem and allow you to buy just one bunch.  I figure my shipping separately, so you know how much you are paying for your products and how much you are paying for your flowers and greenery.
Shop well and look past the hype!   OK - let's move on to the tutorial!