wedding canopy
Wedding canopy decorations and Chuppahs are designed much with the same technique as wedding arches.  You may want to browse each of those detailed tutorials to learn how to create your own flower swags and solid massed flowers across the top of the arch.  It's best to design them on smaller raquettes and floral cages, as it makes them much easier to transport and attach.
Click the photos below for a closer look at each design shown below.
Following links could result in a commission to the owner of the website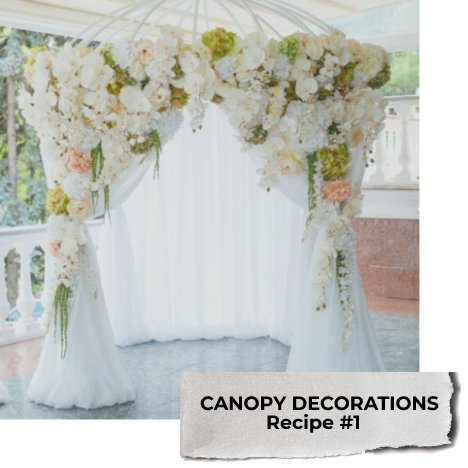 A wedding canopy can be closed on either the back or sides, while a Chuppah traditionally has all four sides open under a single top.  Regardless of the look you are choosing, the design style for flowers is designed the same way.  Solid cluster flowers, individual swags or flower accents (small clutches) are designed on the same florist foam products in the same manner.
Whether you rent a canopy (chuppah) frame or make your own from wood or PVC pipe, you must measure your overall design for the amount of fabric you will need.  There are many different styles for creating different fabric swags.  The one you choose will depend on the fabric or curtains you must purchase.  I really urge you to either shop a discount store for curtain panels (which are already hemmed and ready to use) with can then later be used in your new home or sell to another bride.
I love shopping for overlay drapes in 100% polyester or nylon, rather than the traditional tulle.  Tulle wrinkles and creases easily, whereas the other fabrics have a natural drape.  I shop the discount or clearance in fabric stores and have come up with some amazing bargains, sometimes buying an entire bolt for around $10.  Scour neighborhood thrift stores for lace or sheer panels, which can be purchased for a fraction of the new price.  The best part is that imperfections are rarely noticed once you flower swags and headers are in place.
High end wedding canopy or chuppah flowers and setup can easily run $2000 or higher, so this is a DIY project that, although a lot of work, can really save you money in the end.  Your own framework can be created with CVS piping (shop home construction stores) or rented from a local wedding supplier.
Choosing what flowers to use for your wedding decorations is important, as outdoor venues can be much warmer with lots of humidity.  Some hardy varieties of blooms hold up much better than others, depending on the time of year that your wedding will take place.
Always be sure to be ahead by processing your flowers correctly.  Using a few carefully chosen florist products can extend the life of all flowers, especially since most DIY brides don't have the advantage of a humidity controlled flower cooler.  Air conditioning and home refrigerators are designed to take humidity out of the air, while flower coolers add moisture to the air.  Flower sealants and nutrition products will help overcome this minor problem and make your fresh blooms last much longer.