Hydrangea Wedding Bouquet
Following links on this website and making a purchase could result in a commission to the owner of the website
This hydrangea wedding bouquet was created on a Super Wet bouquet holder.  Unfortunately, this holder has been discontinued by the manufacturer.  You can still duplicate the look on a Grande Belle holder.
Here is a view from underneath the growing handle of flower stems with the wicked bouquet holder in the center.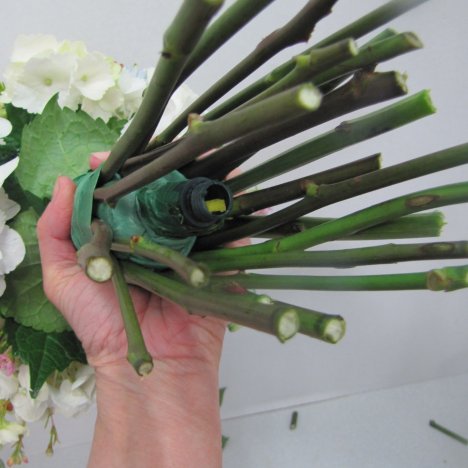 Using either wide florist tape or the new BindIt tape by Oasis, start at the very top of the neck of the bouquet, taking care to conceal the cut ends of the flower stems.
Pull the tape tightly around the bouquet, turning the flowers as you pull the tape around so it adheres to itself.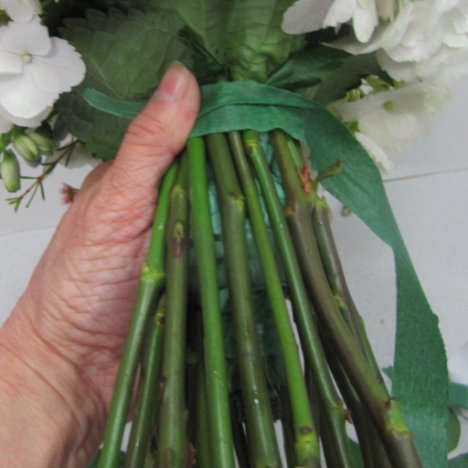 Gently squeeze at the top the the stems, allowing them to stick together tightly in the floral clay.  Wind the tape a little more loose as you move down the stems, taking care not to bind so tightly that you lose the "splayed out" effect.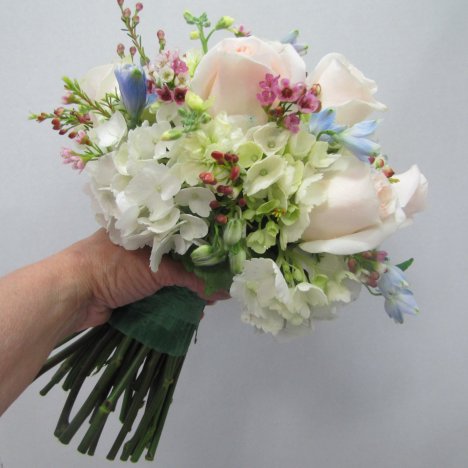 Once finished taping, the inner handle should be completely concealed and the stems look similar to this.
You can now use floral scissors to cut the bottom stems off evenly.  At this point you are not worried about crushing the cells in the flower stems, because the water is being drawn up thru the wicked handle rather than real flower stems.