rose groom boutonniere
Following links on this website and making a purchase could result in a commission to the owner of the website
Lily grass has long green blades, flexible enough for bending and looping, yet sturdy enough to hold up in designs.  Buying one or two bunches has a lot of design capability.

Although I like bear grass (thinner and shorter), lily grass is my favorite to work with in corsages, boutonnieres, centerpieces and bridal bouquets.

I looped a single stem around the back of the boutonniere, literally "framing" the flower head in a grass loop.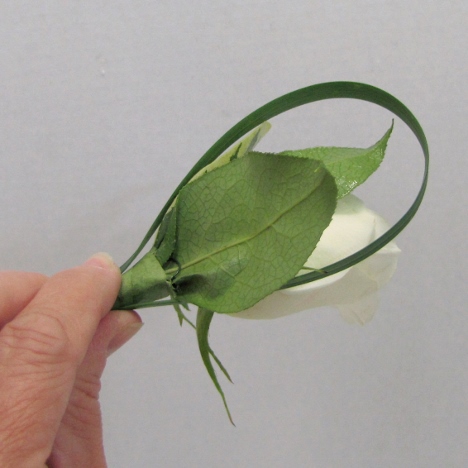 I then tape it into place with green florist tape.

I cut off the remainder of that grass stem at a sharp diagonal and then added it right in front of the pittosporum leaf.  (I don't like to waste ANYTHING!)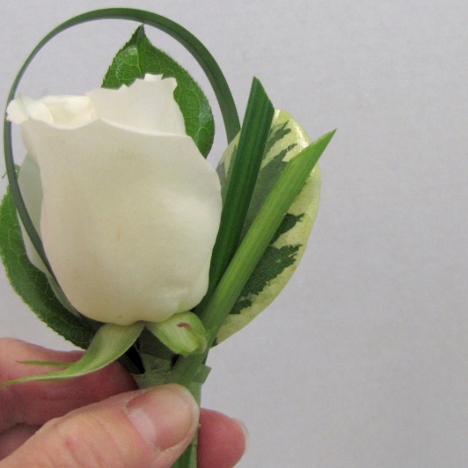 Add one or two of these short pieces, cutting the tops at sharp diagonal angles to add to the clean cut part of the boutonniere.  Cut off the excess, especially not allowing the discolored root to show in your flower design.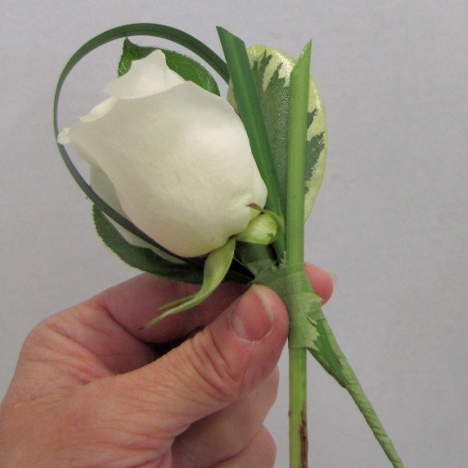 Many brides are scornful of the "common" carnation.  As a florist, I'm here to tell you some positive things about this delightful little flower.  
Both the miniature and standard carnations have long holding power, a sweet scent and come in a large number of colors (especially the new hybrid purples!)
They are an inexpensive flower and give you a lot of "bang for the buck".  I recommend using the standards in church florals, since they can give a lot of color impact from far away and are a great filler flower!
For this boutonniere, I'm selecting very tight buds showing just a crack of color.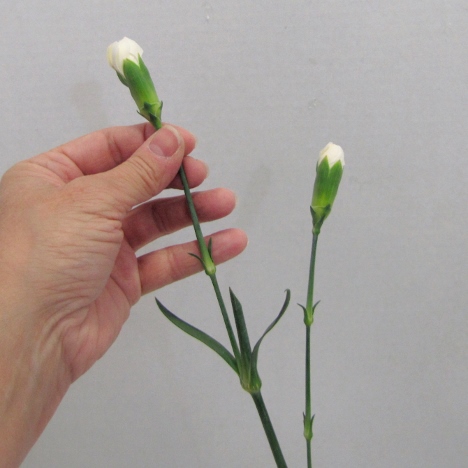 I wire the carnation by piercing it with a 26 gauge wire and folding down the wire parallel to the stem, then taping with green floral tape.

This wire stem gives you a great deal of flexibility in bending the head exactly the way you want in order to place it close to the rose head of the boutonniere.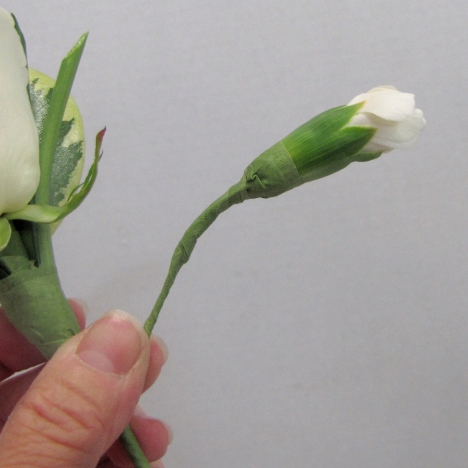 Tuck this carnation bud up tightly against the right front of the rose, in front of the pittosporum leaf.

This marvelous greenery is a favorite with florists because it has long stems with plenty of leaves.
I like using this to add height to church florals, length to sweeping candelabra sprays, backing cascading bridal bouquets and (of course!) using the individual leaves for corsage and boutonniere work.  It really is a delightful choice for wedding greenery!
The single leaves are a glossy green, narrower than lemon leaf.

Don't forget to seal the ruscus leaves with Leafshine like you did the other greenery.  Do several at the same time and allow to dry before designing with them.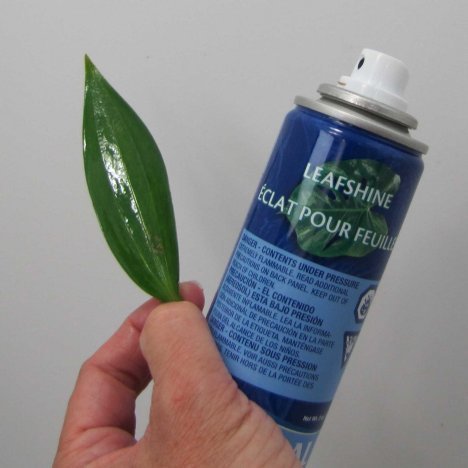 They are sturdy enough to be pierced and wired in the same manner as the other leaves in this boutonniere tutorial.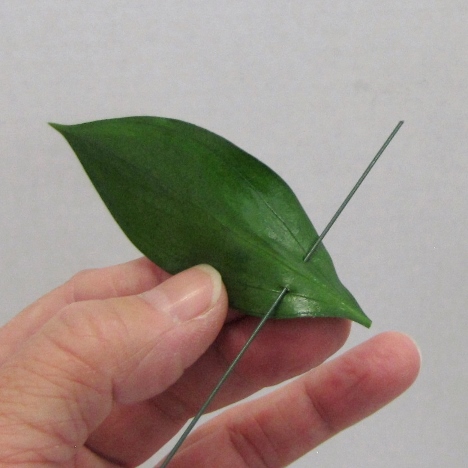 Tape the leaf and continue down the wire stem.

Bend the leaf outward and tuck into place under the miniature carnation on the right of the boutonniere.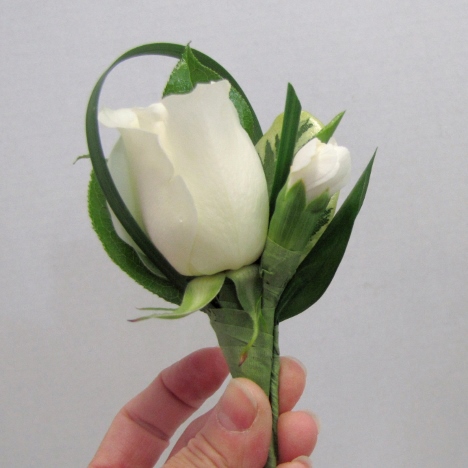 Tape into place securely with florist tape.