Rose bouquet with button mums
Following links on this website and making a purchase could result in a commission to the owner of the website
This rose bouquet is more interesting with the addition of creative greenery and a some accent flowers.  This is pittosporum and has rounded waxy leaves. 

Each stem actually separates off into different sections, making it easy to cut apart and use in bouquet work.

I cut the laterals off the main stem with a sharp diagonal cut.  That makes it harder to see the cut end when you insert it into the bouquet holder.

Clear off any extra leaves on the bottom so you can insert the stem cleanly into the foam.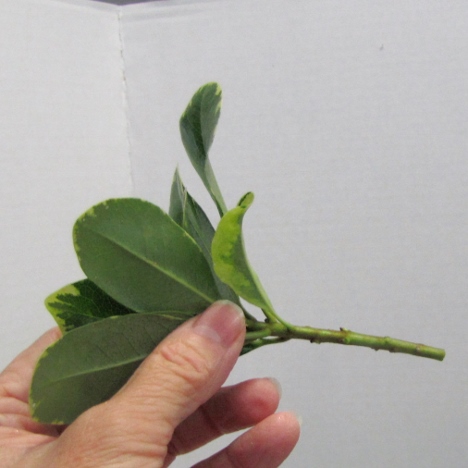 Now I tuck the separated pittosporum sections into the foam in between the roses.  The variegated leaves give a nice contrast and lends interest to the bouquet.

I continue cutting more pittosporum and inserting it into the bouquet.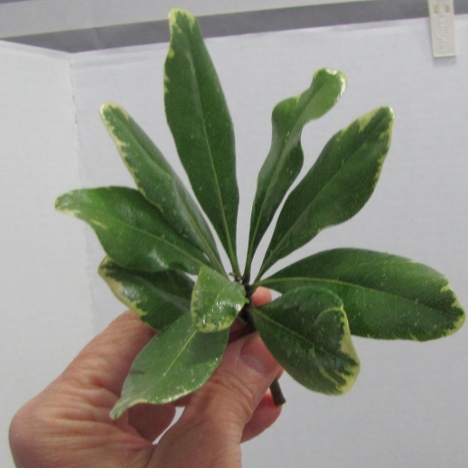 My goal is NOT to stuff as much greenery as I can into the bouquet, but to scatter the sections around until I have an even distribution of the pittosporum.

As you can see, the cut section off the main stem isn't really noticeable and the leaves fold up some as inserted, helping conceal the cut.

Tuck the pittosporum around the red roses, evenly filling out the bouquet with the nice contrasting leaves.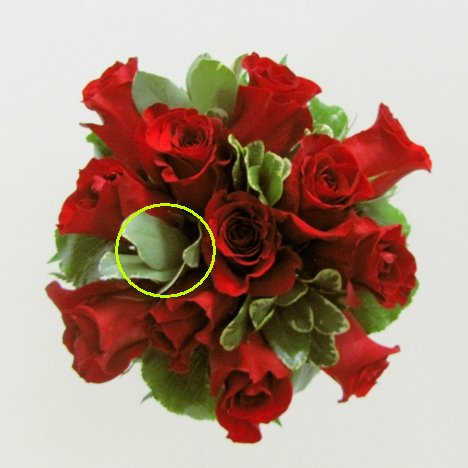 It's harder to see from the side, so I've circled where I've inserted cuts of the greens.

My darker galax leaves contrast nicely with the lighter green of the pittosporum.

I'm now please with the effect and can still see parts of my galax leaf collar from the sides.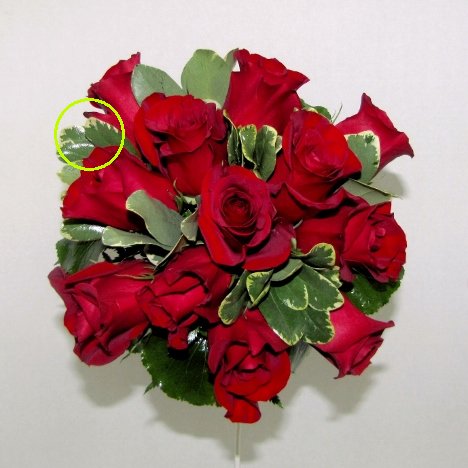 As you can see - this bouquet is beautiful right now in all it's simplicity!  You could create similar bouquets for your attendants and go on to adding more flowers for the bride only if you desired.
Green button mums are a marvelous flower.  These hardy gems are part of the chrysanthemum family and hold up extremely well in all designs, including matching corsage and boutonniere work.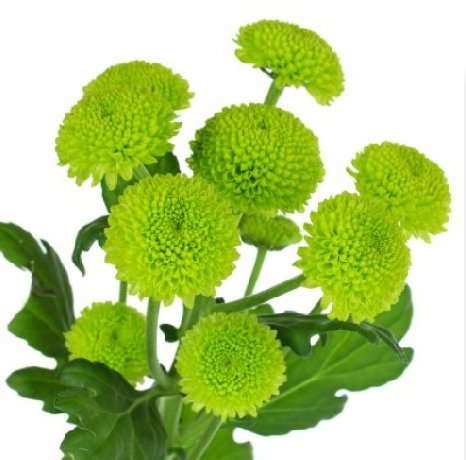 As you can see, a lot of flower heads come on a single stem, ranging anywhere from four to eight flower heads per stem.
I cut them apart so to insert them individually into the bouquet.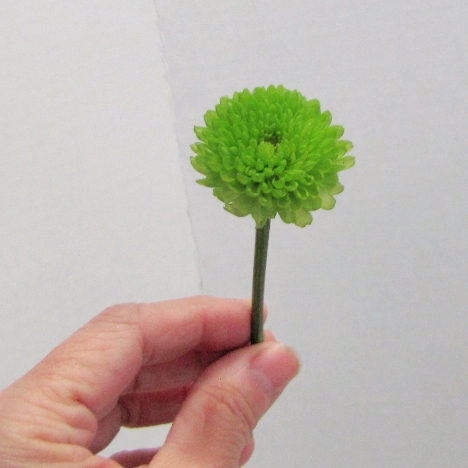 The eye popping lime green color really catches the eye against the deep red of the roses.  Consider wine and golden shades if you plan on a fall wedding.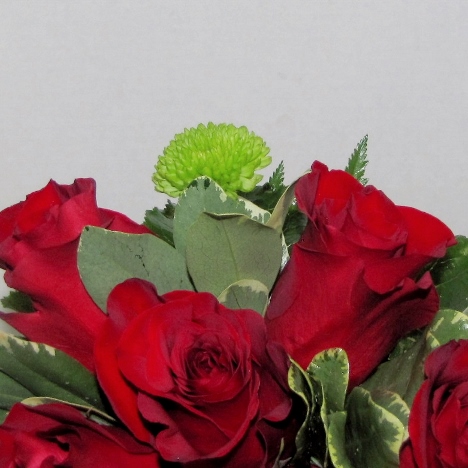 Don't be too perfect in your placement.  I like clustering a few of the heads here and there plus mixing smaller heads in clusters while larger heads are individuals.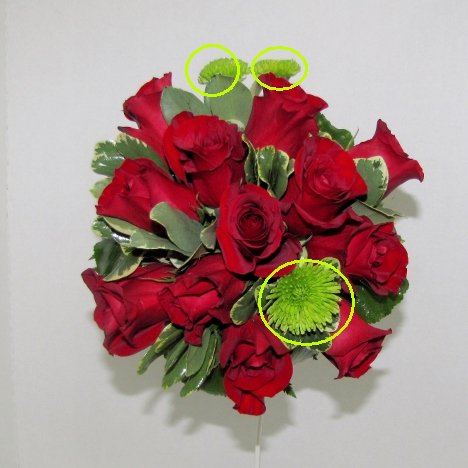 Don't forget to place the flower heads outward on the sides, facing away from the center.

Just the color combo alone is enough to make a really remarkable bouquet.