ranunculus wedding bouquet
Following links on this website and making a purchase could result in a commission to the owner of the website
This ranunculus wedding bouquet is not limited to the color shown, as ranunculus is not only white, but also available in various shades of pink, yellow, purple, lavender and purple. To create a similar bouquet, you'll need the following in flowers and products:

 If you are willing to do the work yourself, I will show you how to create professional looking bouquets, centerpieces, corsages, boutonnieres and other flower decorations for less.  

I do encourage you, however, to plan out your time, your working space, line up some helpers and choose what to do carefully.  Do not set yourself up to be overwhelmed by choosing too many designs UNLESS you have plenty of workers.  I usually encourage a Wednesday delivery for a Saturday wedding.  This gives you adequate time to receive and process your flowers and create your designs.  Be sure to check out how to process your flowers correctly upon arrival.
I started with an Elegant bouquet holder.  The metallic sheen mimics metal, but it is made of high impact plastic with either gold or silver finish.  It is impervious to water damage and will not rust.
A view from the cutout shows that the hollow handle houses a wicking material that allows you to unscrew the cap on the bottom.  Place the flowered holder into a vase and it will draw up water, keeping the foam head wet and not requiring you to rewet numerous times before the wedding day.
You need to be sure that the holder is secure in a heavy vase to it will not topple over because of the heavy weight of the florist foam and flowers.  You can weigh it down with marbles, sand or a flat bottomed vase.
Here I attached a heavy bud vase to a broader pillar candle holder with a glass adhesive.  I soaked the holder in water treated with fresh flower food.
I started by greening in the bridal bouquet holder.  I love using the broad green of salal (also known as lemon leaf).  You can see there is plenty of green to create not only this ranunculus wedding bouquet, but still have plenty more for your attendant bouquets, corsages, and boutonnieres.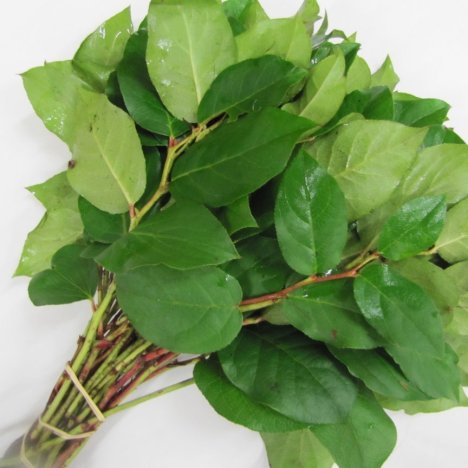 The leaves can be trimmed down shorter for insertions in the bouquet foam.  The leaves naturally twist on the natural stem, so you can control showing of the top side of the leaf by using a simple stapler if needed.
Begin by inserting leaves to create the outer collar ring.  Insert the leaves at a slight upward direction, so that the leaf tips curve down naturally towards the bottom handle.
Work your way upward, tilting the leaves upward as you get closer to the center. This ranunculus wedding bouquet will have a framework leaves to help fill out the design.
The key to interesting designs is to mix in different flower and greenery with different looks and textures.  Leather leaf fern is very affordable and one bunch can generally do 4 - 5 bouquets.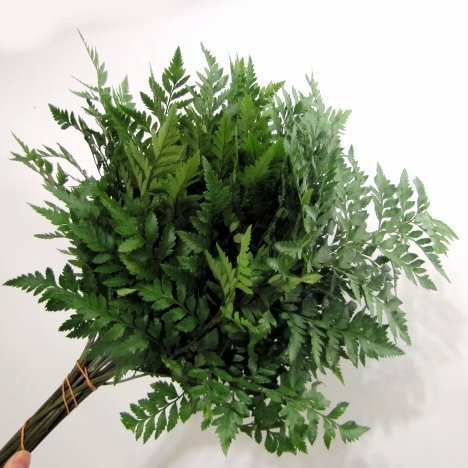 I'm also including seeded eucalyptus to add the in the soft sage green of the round leaves and interesting seed accents.  
Now that my ranunculus wedding bouquet is completely greened in, let's move on to the flowering process.