ranunculus bridal bouquet
Following links on this website and making a purchase could result in a commission to the owner of the website
The first flower of this ranunculus bridal bouquet is adding white scabiosia.  The delicate feathery blooms add a whimsical look nestled against the greenery.  I placed on on the upper right and the lower down.  The key is to face the flower heads in the center facing straight out, and then begin tilting the faces up, down and outwards to create a three dimensional look.  
The ranunculus bridal bouquet should look good from all angles, including both the left and right sides.  If every flower faced forward, you will get a very flat look, rather than natural curved look.  This is important, because your guests are usually seeing the bouquet from the side view rather than front.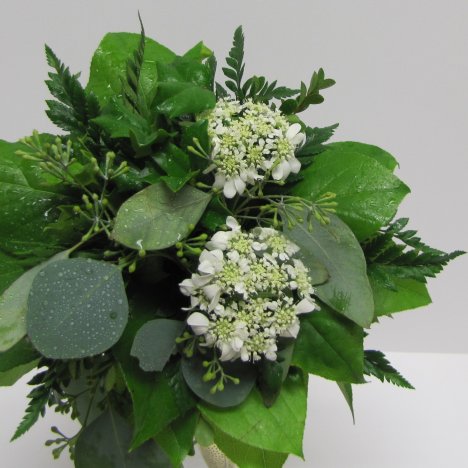 I love the soft blowsy look of ranunculus, opening rather like a small garden rose.  These come in both soft colors and some darker, more vivid, including pinks, whites, lavenders, deep burgundy, yellows and red shades.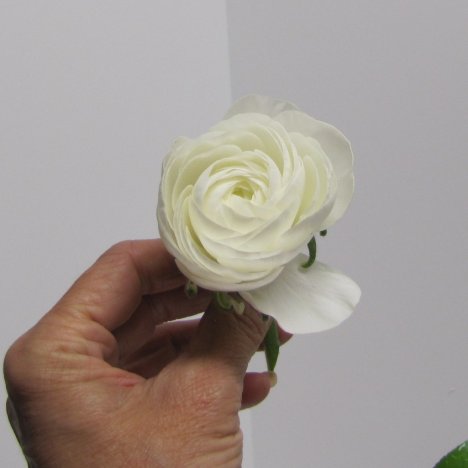 My first ranunculus is inserted into the top, facing upwards.  Notice how it is angled in the opposite direction of the flower below it.
Clustering flowers together in like groups adds a casual flair.  Angling outward and nesting one deeper into the center gives more depth.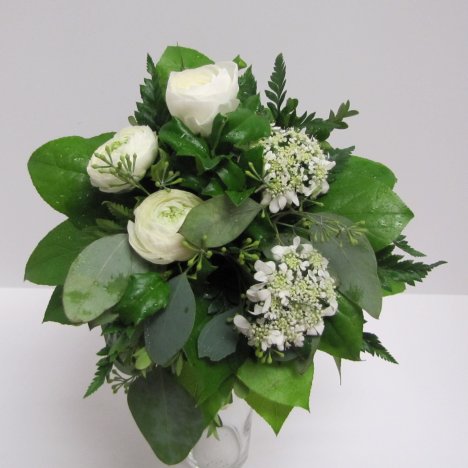 Volk delphinium comes on a long, lovely stalk, which can be cut into separate pieces to add accents of color that will make this bouquet pop.
Cut the pieces on a sharp angle with a floral or other small sharp knife.  Do NOT cut with regular household scissors, as these have different kinds of blades that can crush delicate flower stems, making the cells unable to carry water up the the bloom heads.  This can cause early wilting.
For this particular bouquet, I didn't want to overwhelm with too much color, so I spread out the different lengths of the delphinium at random.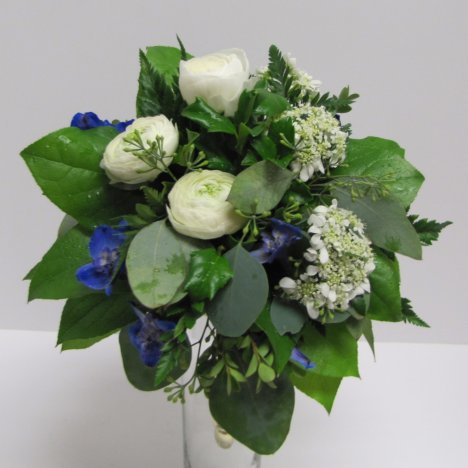 This bouquet is now really taking shape.  Can you pick out the open areas that would be good for more flowers?  You need to look at the "negative" areas - places without a flower head in it.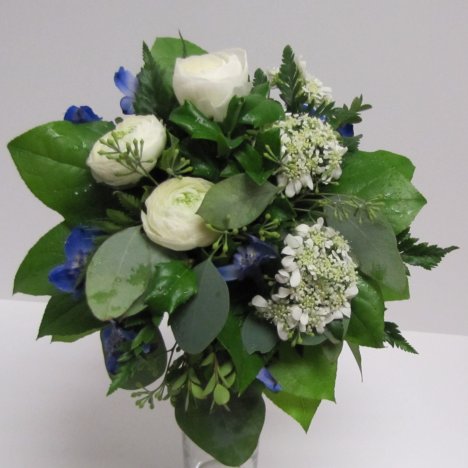 Stock comes in white, cream, lavender, pink, creamy yellow and dark pink and purple.  The heavy head upon arrival look smooshed and flattened, but they just need a cutting under water and placed in a bucket filled with flower food treated water and they'll open full and thick with a luscious scent that is absolutely delicious.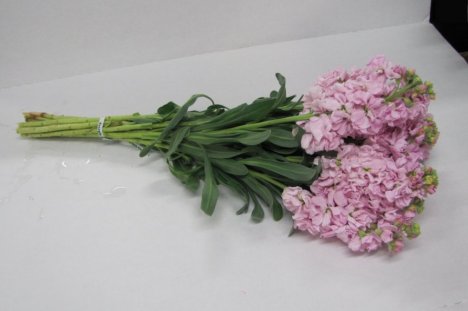 A grower's bunch is ten stems.  Cut them into smaller sections for a hand held bouquet, cutting at a slant angle.  It fills in quickly and looks similar to hydrangea, but is much more hearty and less prone to wilting.
Add in one or two pink scabiosa and your bouquet is completely flowered in!  Feel free to add in more smaller or filler flowers, but be sure to alway calculate a recipe to follow, and then stick with it as you design to be sure the flowers are all accounted for.
I order flowers by using a flower calculator.  This ensures you have enough flowers to do all your designs, allowing for a few excess flowers to fill in the gaps.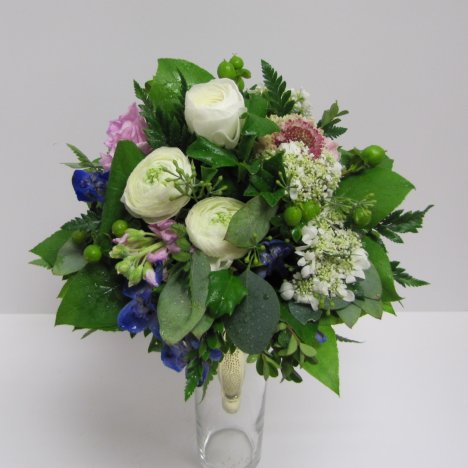 As you can see, it takes less flowers to create a lovely design when using decorative greenery.