prom corsage ribbon
Following links on this website and making a purchase could result in a commission to the owner of the website
Choose a corsage ribbon that is narrow and looks proportionate to the size of your final corsage.  I generally prefer #3 ribbon, which ranges from 5/8" to 9/16th inch width.
This particular ribbon has a sheer center and a satin edging.
It comes in 11 different colors and is a beautiful accent to any corsage.  I like it because it has enough stiffness to make a crisp bow.  Too limp of a ribbon makes a droopy bow that is hard to work with.

I use light colored or white florist tape for covering the wire used to secure the bow.  Green tape can show up in a sheer or light colored ribbon and isn't as easily hidden.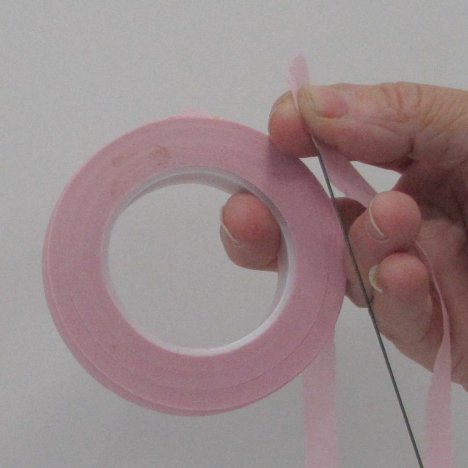 Start at the top and pull gently in a downward motion while turning the wire.

You may want to make up several of these ahead of time, snip in half and have them handy when you are ready to make your corsage bows.

I am attaching the corsage ribbon bow with adhesive . . but just to be sure I'm going to slide the wire end under the corsage bracelet and secure it that way as well.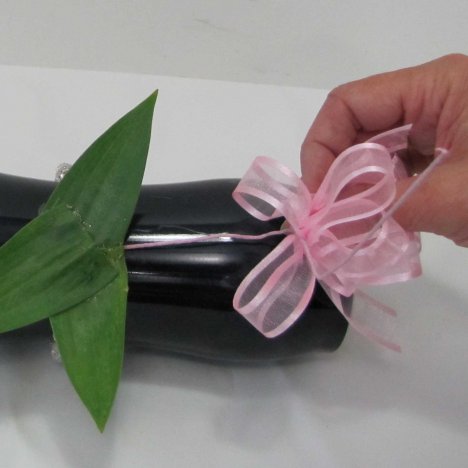 I take no chances on anything coming loose.  So, even though the glue by itself works very well, I like that extra security of having the wire as a back up security.
Put a small amount of glue in the center of the leaves that are already attached.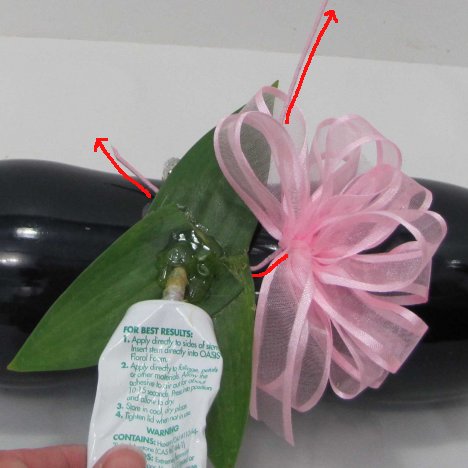 Press the bow down firmly with your fingers on top of the glue.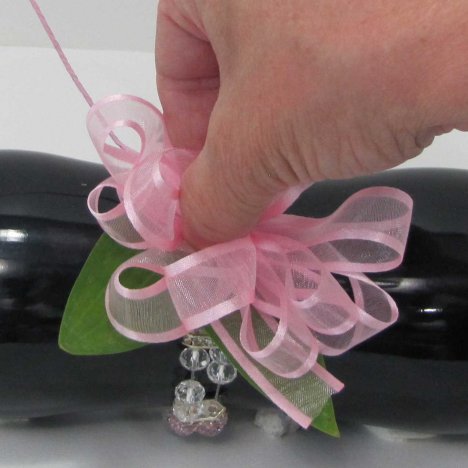 Once glued, take the two ends of the taped wire and twist them together close to the edge of the corsage bracelet.
After secured, snip off the excess wire with wire cutters.  Be sure to twist the cut ends of the wire inward and not leave them exposed to scratch skin or snag clothing.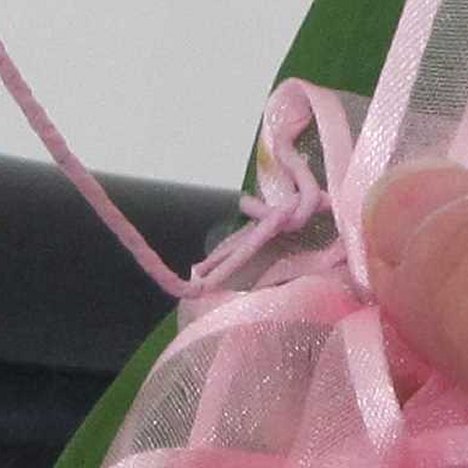 The pink florist tape blends in seamlessly with the pink ribbon and conceals well.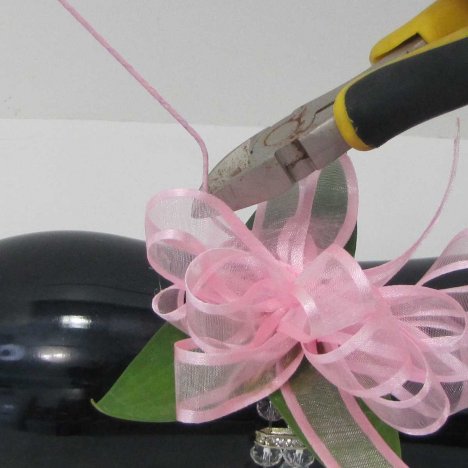 Use your finger to insert in the different loops and give them a tug and a twist to fluff them up and be sure that none are flattened in an awkward way from the glue.

I like to make a corsage with fresh greenery.  In order to keep the greens from wilting, I use Leafshine to seal them.  Commonly found in flower shops, florists use leaf polish to clean fresh foliage and plants.

It's wise to soak fresh leaves in a tepid bath for about 15 - 20 minutes before using in order to temper the leaves.  This and Leafshine will help extend the life of your corsages.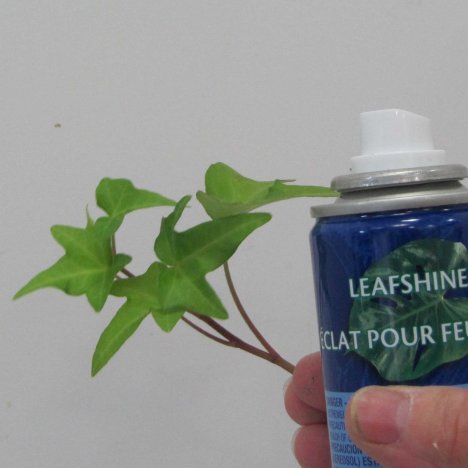 You can use florist adhesive to secure the leaves and flowers into the corsage.  Run a bead of the glue at the stem line and then bury it into the bow that is already attached to the corsage bracelet.