prom corsage
Following links on this website and making a purchase could result in a commission to the owner of the website
You can make a wrist corsage really pop by adding some decorative accents such as pixie pins.  Shorter than regular corsage pins, these measure only 1" long and come in 10 different colors.  There are a hundred to a box, so it's a real bargain that can add a lot of interest to corsages, boutonnieres and wedding bouquets.

Shorter pins are more suited to corsage work.  If you have to use the longer pins, be sure to safely cut them down to size. 
Dip the sharp points into the floral glue before inserting into the corsage.
Tuck them into the heart of the bow, making sure the sharp point is safely buried.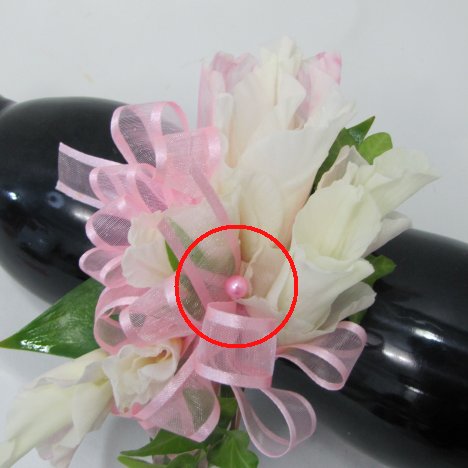 Be careful not to push so hard that the points come out on the underside of the design.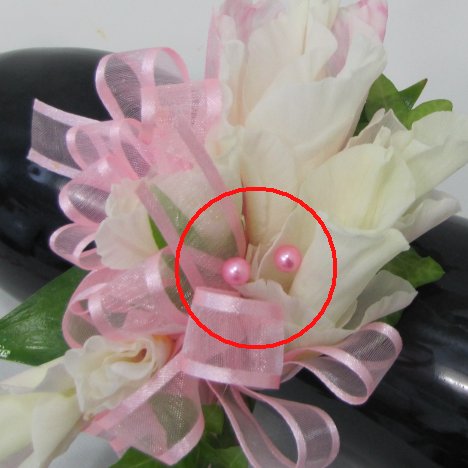 Cluster a few of the pins for greater impact, then scatter some more throughout the corsage.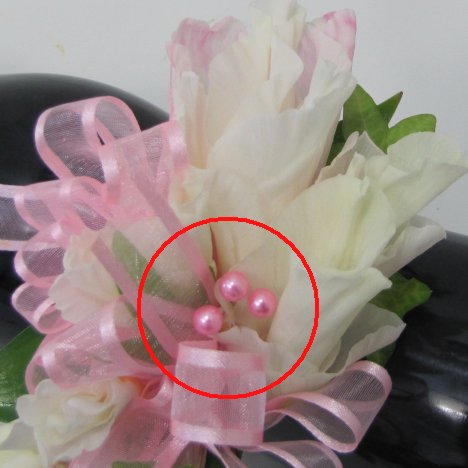 You can even insert the pins directly into the flower heads themselves, tucking the point down into the florist tape wrapped around the flower stem.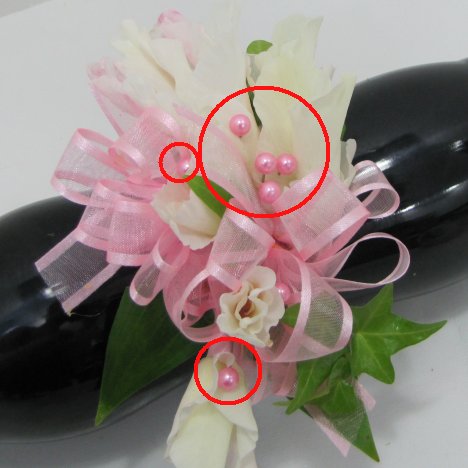 Look at your design from all angles, making sure it's pretty from the sides as well as from a top view.

Now let's move on and have some more fun by adding laser leaves and metallic wire to this wrist flower.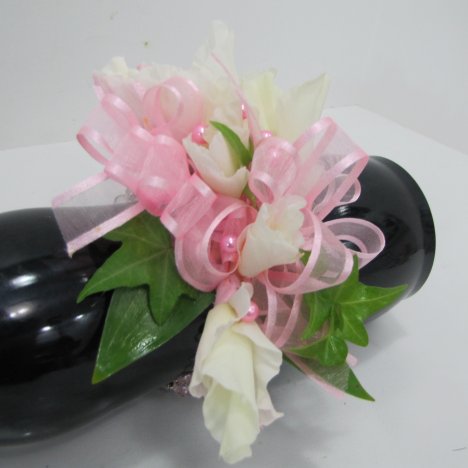 You can make a wrist corsage go from "ordinary" to "dazzling" just by adding a few extra design elements.  Florists refer to this as upgrading.  You can pay dearly for this through a professional shop, but in reality the extra glitz costs very little.
I love adding laser leaves to an elegant corsage meant for a special dance or to wear as a mother's corsage.  These flowers come in a variety of colors and feature three different leaf styles in each package.
SORRY - THIS PRODUCT HAS BEEN DISCONTINUED BY THE MANUFACTURER.  
If you want a similar look, consider purchasing white leaves and spraying with opal or glitter sprays.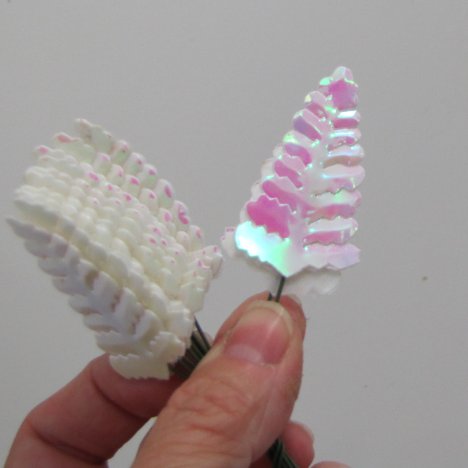 I'm using the white iridescent fern leaf in this particular corsage. You can feel free to also add the other assorted leaf styles as well to your own design.

Cut the wire off shorter and dip into floral adhesive before inserting into the corsage.

Tuck it under the bow, the greenery and other places.

Remember these accents are to frame and show off the flowers.  Do not overload so many into the design that they overpower the beauty of the flowers themselves.

As long as you don't move the corsage, it's not necessary to hold each leaf until it's glued in.  Simply slide it into place and let the glue dry on it's own.

I move around the edge of the corsage, placing the laser leaves where I see a gap in the design.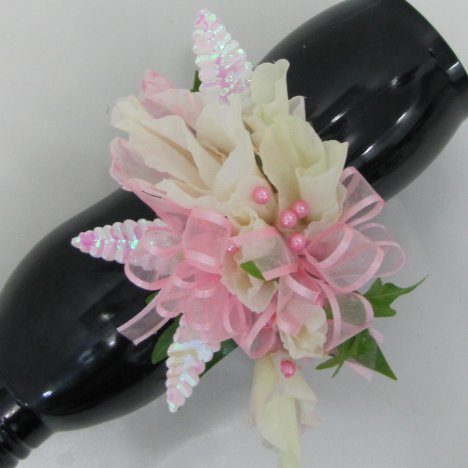 Take care to hide the mechanics.  Adding a leaf here or there can cover up a glue joint or  hide florist tape.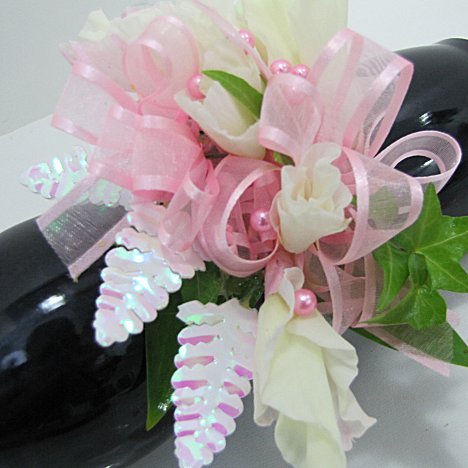 Add as many leaves until you are pleased with the overall effect.  You'll note I've left an open space on the right side - but I have plans to fill that space with a different design accent.